I've only recently been introduced to Century 21 Department Stores, and so far, I love what I see. I browsed through the site and found some amazing items! There's such a wide selection of stylish, fashionable and classy pieces. I'd love to go on a shopping spree at Century 21. Since I don't have one of their department stores nearby, I can easily shop online. After browsing through the site, I've come up with a "Wish List" of 5 items I'd love to have. It was super hard to stop at just 5 items. There's so much to choose from, I could've easily added a whole lot more.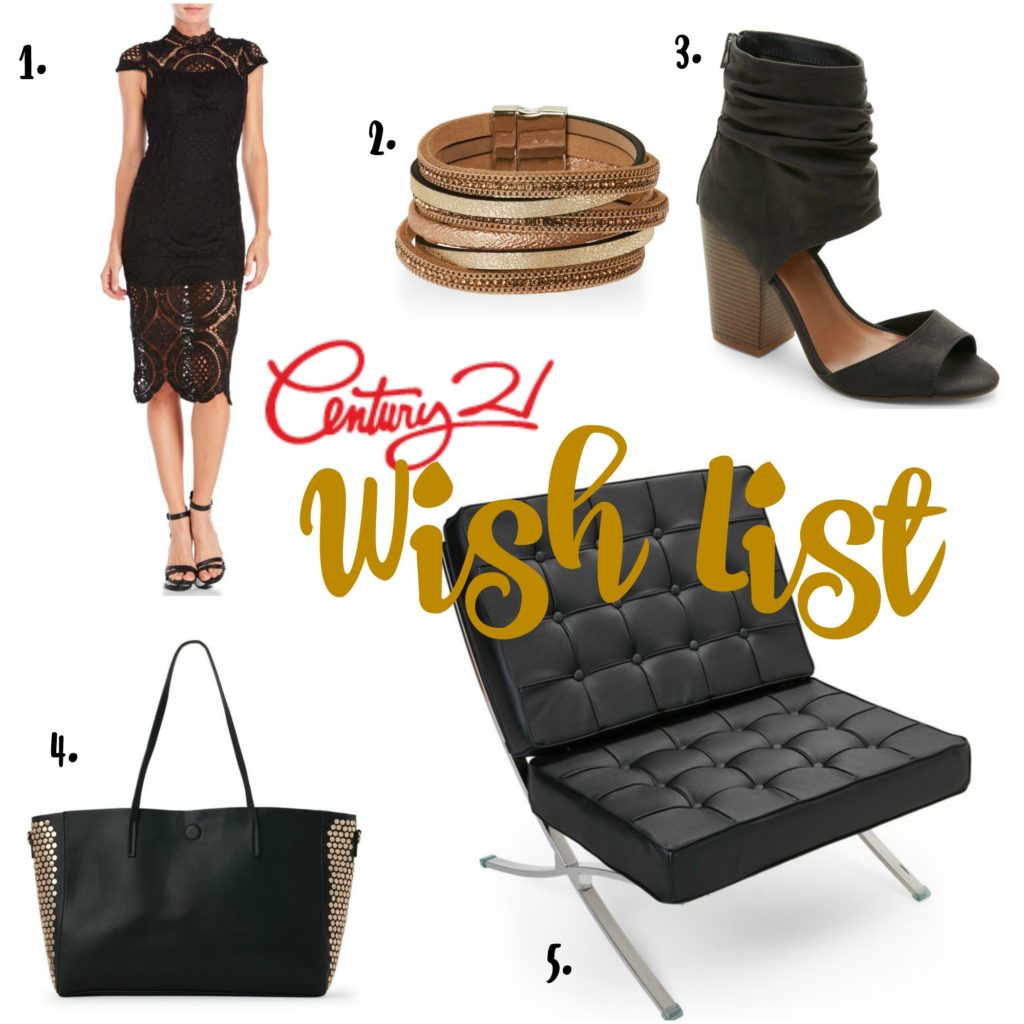 Disclosure: This is a sponsored post on behalf of Century 21. All thoughts and opinions are my own.
1. ROMEO + JULIET COUTURE – Mock Neck Lace Midi Dress ($44.99)
2. ELISE M. – Gold-Tone Multi Strand Bracelet ($19.99)
3. UNDER ONE SKY – Black & Cognac Honeycomb Studded Reversible Tote ($39.99)
4. INDIGO RD. – Dark Grey Ivana Peep Toe Cutout Booties ($39.99)
5. FINE MOD IMPORTS – Black Pavilion Leather Chair ($249.99)
Century 21 Department Store, a NYC icon for more than 50 years, is legendary for its exceptional offering of designer brands at amazing prices. Century 21 remains a leader in high-end off-price fashion retail, offering men's, women's and children's apparel, footwear, outerwear, lingerie and accessories, along with beauty and home goods at select stores and online at C21Stores.com. The retailer is headquartered in Downtown Manhattan with 10 stores total. Locations in New York include Lincoln Square, Brooklyn, Queens and Long Island. There are three stores in New Jersey: Paramus, Morristown and Elizabeth. Century 21 Department Store opened its first store outside of the New York Metro area in Philadelphia, Pennsylvania and continues to expand in new markets.
What do you think? Do you like the items I chose? Which one's your favorite? Browse through the site and let me know what some of your favorite pieces are.