Disclosure:  I received product for review purposes.  All thoughts and opinions are my own.
I absolutely LOVE chocolate.  When I heard about the Mystery Chocolate Box, I was definitely intrigued and was excited to learn more.  If you like chocolate, and surprises, this is the perfect box for you!
Each month you'll be sent 3 bars of chocolate.  The outer wrappers of the bars are removed, so the actual ingredients are a mystery.  As you savor each bar, you try to guess what's inside.  A guessing card is included in the box so you can write your guesses as you eat.  Mystery Chocolate Box is also a game.  Visit the site and submit your guesses.  If you guess correctly, you'll get a prize!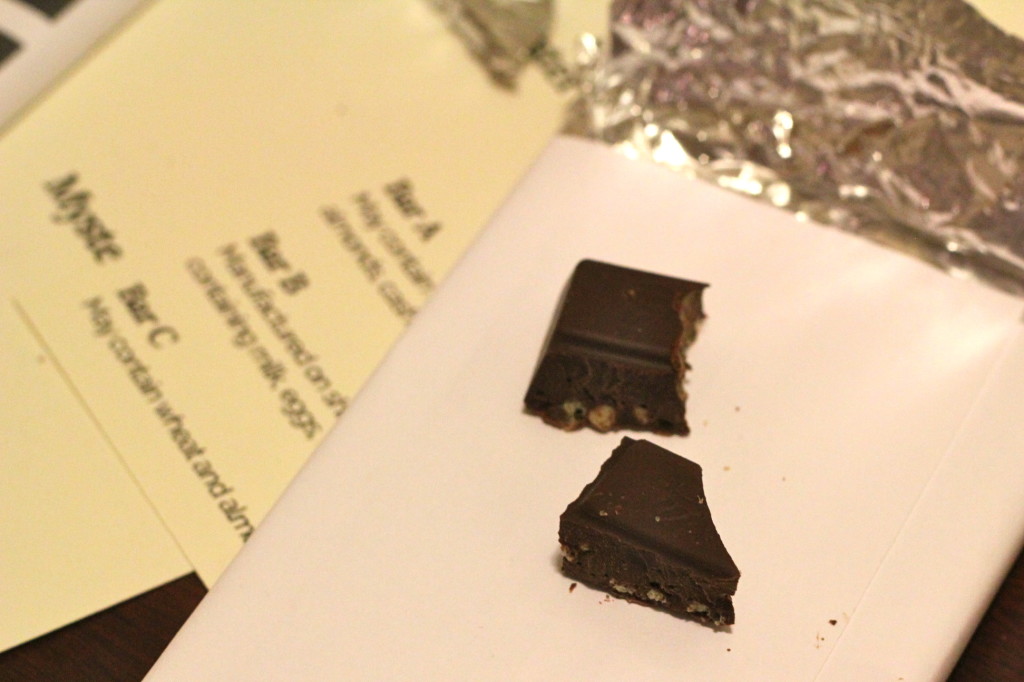 Mystery Chocolate Box is perfect for chocolate lovers.  It's also a fun activity to do as a group.  I loved doing it with my family and can see it becoming a regular monthly routine.  It would be something we could all look forward to each month.
I explained the concept to my husband and daughters before we tried each piece.  We had a great time tasting and guessing.  It's funny how everyone comes up with different ideas as to what flavors they taste.  Of the three, there was one bar that was pretty easy to guess, but with the other two we couldn't quite guess the ingredients.  So of course, we had more..and more.  The chocolate bars taste great and you can tell they are high quality chocolate.  Each box contains premium, full-size gourmet chocolate bars.
A monthly subscription to Mystery Chocolate Box is $17.95.  You can also purchase a 3 month subscription for $50.85, or an annual subscription for $191.