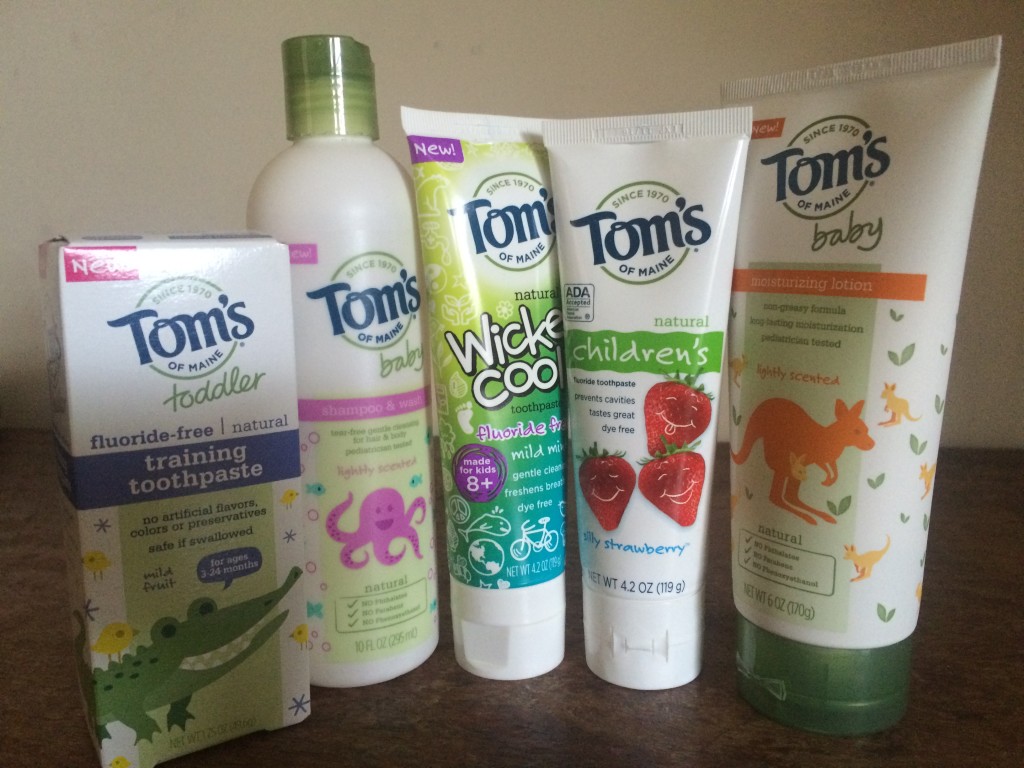 Disclosure:  I received these items for review purposes.  All thoughts and opinions are my own.
It's amazing how many harmful chemicals and ingredients can be found in our every day products.  It's scary really.  When my oldest daughter was born (she's 8 now), I didn't really realize that most of the products I used, from toothpaste to shampoos and baby wash, contained such harmful chemicals.  I never thought of reading the labels, and even if I did, at that point I probably still wouldn't have got it.  Over the years, I've learned more and more about the harmful chemicals that can be found in our every day items.  The more I learned, the more aware I became about the products I chose to purchase for my family.  Tom's of Maine, is one of the brands I trust when it comes to personal care products that are safe for my family and the environment.
Tom's of Maine offers a wide variety of personal care products from oral care, to body care, baby care, and lip care.  I recently received a few samples of children's toothpaste as well as baby shampoo and moisturizing lotion.  We've been using Tom's of Maine toothpaste for a while now, but this was our first time trying out the baby products.
Tom's of Maine children's toothpaste comes in fluoride and fluoride free options.  We received theWicked Cool! mild mint flavored toothpaste and the silly strawberry flavor as well as the training toothpaste for toddlers.  Tom's of Maine toothpastes are free from artificial flavors, dyes, and sweeteners.  You won't find any artificial chemicals, preservatives or synthetic additives in this toothpaste.  The silly strawberry flavor is made with natural, great tasting ingredients including real strawberries and other natural flavors.  For the older kids, Tom's of Maine developed Wicked Cool! toothpaste.  It comes in a mild mint flavor that helps to fight cavities, strengthens enamel, and freshens breath.  Although it was made for kids 8 and up who are ready to leave fruity flavors behind, my four year old likes it just as much as my 8 year old.   The fresh mint flavor used in Wicked Cool! comes for peppermint oil with a hint of menthol for a cooling feeling.  A 4.2 oz. tube of Tom's of Maine children's toothpaste can be purchased for an affordable $3.49-$3.99.
Every parent wants what's best for their baby, right?  If you have a little one, I highly recommend Tom's of Maine baby products.  The Baby Shampoo & Wash is gentle, tear-free, and safe for delicate skin.  It's made with a hypoallergenic formula of plant-based ingredients and has a nice, light fresh scent (it's also available in Fragrance Free). Like all Tom's of Maine products, it contains no artificial colors, fragrances, or preservatives.  In addition to the Baby Shampoo & Wash, the baby Moisturizing Lotion compliments the Baby Care line.  It includes plant-based ingredients such as shea butter, aloe and vegetable-derived glycerin.  The Baby Moisturizer retails for $10.99 for a 6 oz. bottle and the Baby Shampoo & Wash is $9.99 for a 10 oz. bottle.
Want another reason to buy Tom's of Maine products?  10% of all their profits go back to helping people and the planet!  Each year they donate to nonprofit, community based organizations committed to human, healthy and environmental goodness.  Tom's of Maine is a great company with awesome products.  The next time you're out shopping for personal care items, look for Tom's of Maine.