Disclosure:  I received this product in exchange for my honest review.  All thoughts and opinions are my own.
Nawgan is an alertness beverage that was specially formulated to sharpen focus and boost concentration. The ingredients in Nawgan help you focus, while containing about the same amount of caffeine as a cup of coffee.
Nawgan comes in six flavor options including mandarin orange, strawberry kiwi, lemonade, mango lemon lime, red berries and grape.  Some of the flavors have 45 calories while the others have no calories at all!  I didn't expect to like the taste as I've had zero calorie beverages before and they really didn't taste good.  Well, I'm happy to say all of the Nawgan flavors I tried don't taste pretty good.  My husband said they taste like a flavored water.
The first time I tried Nawgan was on a night where I had to make a ti-leaf headpiece, ankle piece and bracelets for my daughters hula competition.  I had never made these before and knew it wasn't going to be an easy task.  My daughters Kumu (hula teacher), was the one to teach us.  At first, I wanted to give up because it seemed so complicated and confusing.  There were three of us making the headpieces for our daughters, and it really surprised me when I turned out to be the first one to figure it out!  I was never really good at this sort of thing, but for some reason I caught on quickly and was able to finish before anyone else.  In fact, I finished so quickly I was able to help one of the other moms finish hers.
Was it the Nawgan drink that helped me to focus on the task at hand and figure it out?  I really think it did help!  Normally, I would have gotten frustrated, but on that night I kept at it, and didn't give up.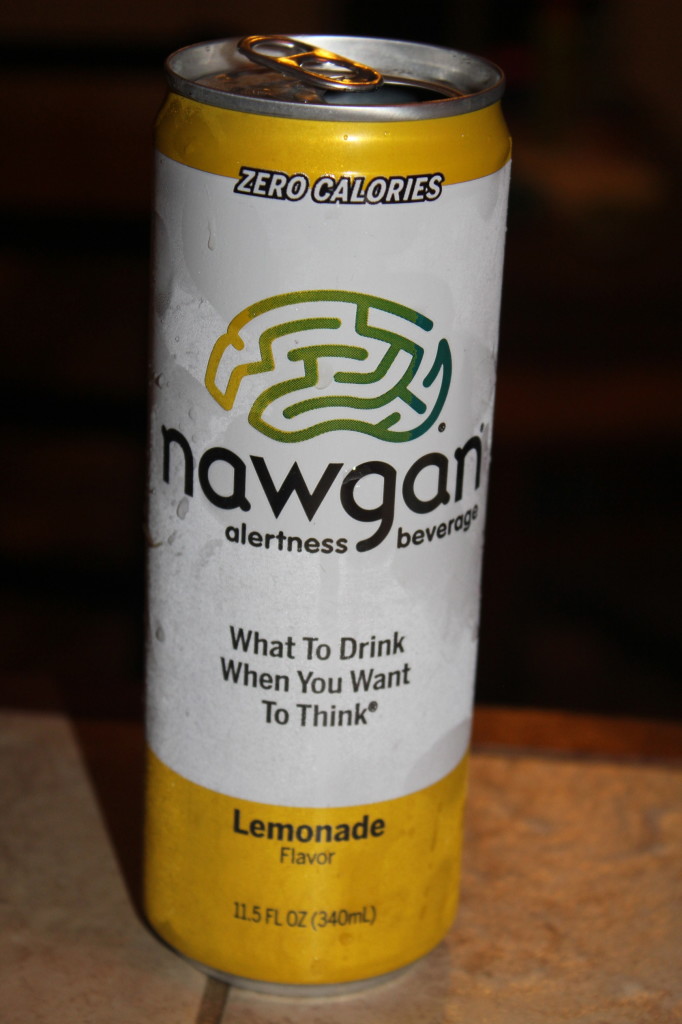 They key ingredients in Nawgan are:
Cognizin® Citicoline
Cognizin® citicoline, is an interesting compound that contains a unique combination of choline and cytidine. Choline is available in many foods that we eat (e.g. potatoes, cauliflower) but cytidine isn't widely available in foods consumed in Western diets, which is a shame because cytidine is great for your brain.
Studies show that people who consume 250mg of Cognizin®daily experience improved performance on a test of attention (McGlade et al., 2011). Every can of Nawgan contains 250mg of Cognizin® citicoline to keep your brain alert and churning like a well-oiled machine.
D-alpha tocopherol acetate
(natural vitamin E)
Like Nawgan, vitamin E is very unique. Unlike other vitamins, there's actually a difference between the synthetic and natural forms of vitamin E. Synthetic vitamin E only shares about a 12% similarity with its natural counterpart, making it less likely to be used and absorbed by the body. That's why Nawgan only uses natural vitamin E. And in providing 50% of your daily value per serving, we keep your vitamin intake in check.
Alpha-glyceryl phosphoryl choline

Alpha-glyceryl phosphoral choline provides a second source of choline for our body.   When combined with the citicoline, Nawgan provides a good source of choline (95mg, or 17% of a recommended intake of 550mg).

Caffeine

When people think of caffeine, they think of the "energy" that it provides. The energy that comes from caffeine is really an increase in mental alertness. Caffeine works by activating the adenosine system in your brain. This results in your brain becoming more "active". Nawgan contains around the same amount of caffeine as a cup of coffee.
Nawgan is a great drink for anyone looking to increase their focus and concentration.  If you think it might be of help to you, definitely try it out!  You can purchase Nawgan online.  Prices start at $27.46 for a dozen.