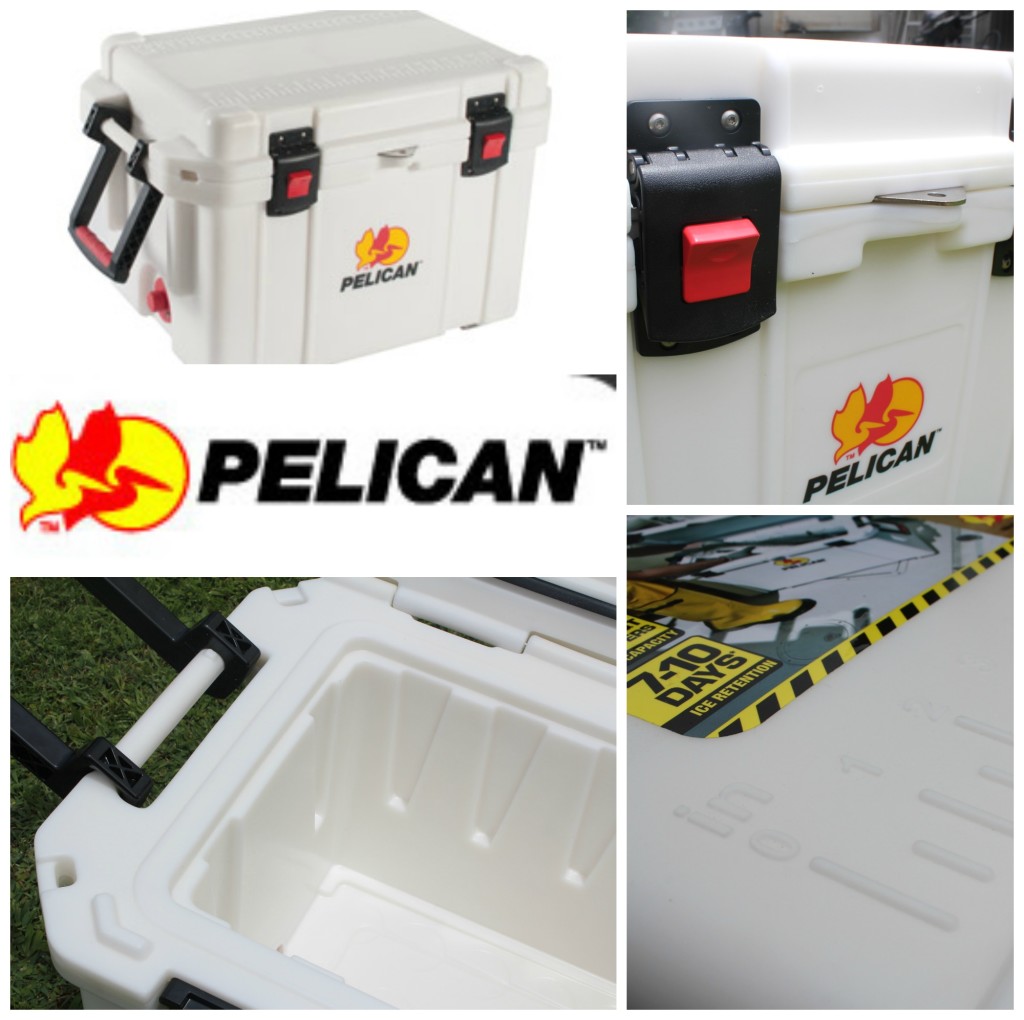 Disclosure:  I received this item for review purposes.  All thoughts and opinions are my own.
I received the Pelican ProGear 35 qt Elite Cooler for review.  When my husband saw the cooler he got very excited!  It turns out he's seen Pelican coolers in his favorite fishing store, and has wanted one for quite a while.  He said he'd heard great things about the cooler and has some friends who use them on their fishing boats.
This cooler is known to keep ice up to 10 days depending on such factors as sun exposure, wind, ice type, and how frequently you open the cooler.   It has a freezer grade gasket and 2″ polyurethane insulation.  I haven't had the chance to test the cooler for a long period of time, but I did recently use it to keep our food cold on a trip home from Costco.  We live over an hour away from Costco, so we always have to bring a cooler for the ride home.  The cooler worked well at keeping our food nice and cold.  I also noticed how the inner walls of the cooler were also very cold when we got home, even though we hadn't added any ice, just our cold foods.   It's also kept our drinks extra cold on a recent trip to the beach. Even sitting in the hot sun, our ice lasted all day.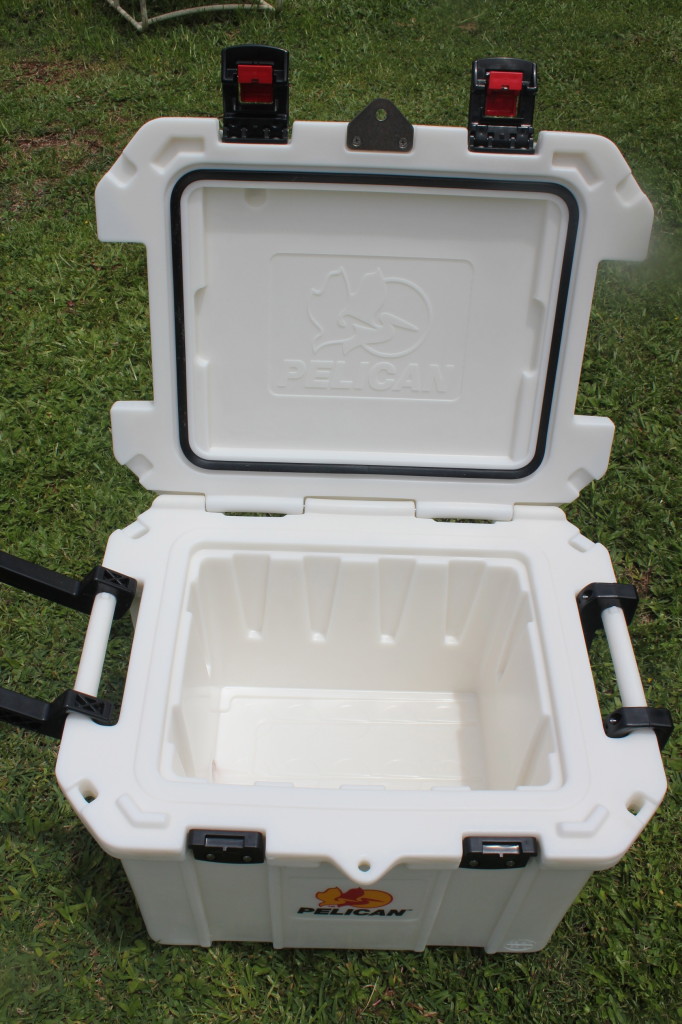 The Pelican ProGear 35 qt Elite Cooler is built tough.  In fact, it has a Bear Resistant Certification from the Interagency Grizzly Bear Committee.  This certification involves intense impact and penetration testing by use of visual inspection, mechanical methods and captive Grizzly Bear testing over extended periods of time.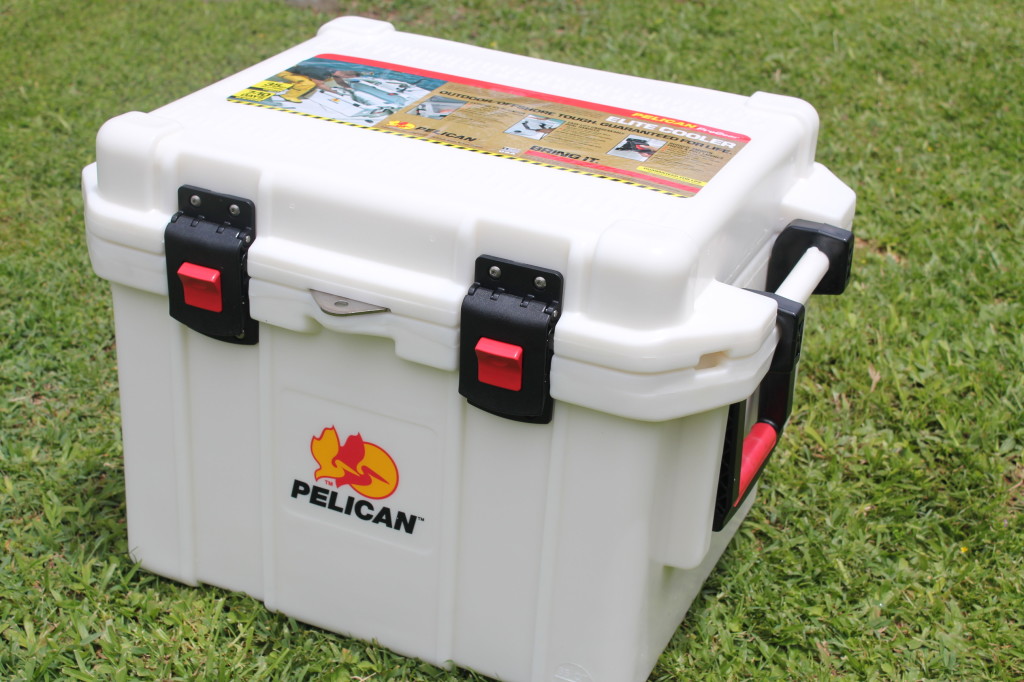 It's a heavy duty cooler, that is built to last.  It even offers a lifetime guarantee.  The cooler is assembled in the USA with US and foreign parts.  Because it's such a heavy duty cooler, it is bulky and heavier than regular coolers.  The 35 qt. Pelican weighs 32.16 lbs.  The exterior dimensions are, 26.41″ x 20.00″ x 18.75″ and the interior dimensions are, 15.75″ x 12.00″ x 11.50″.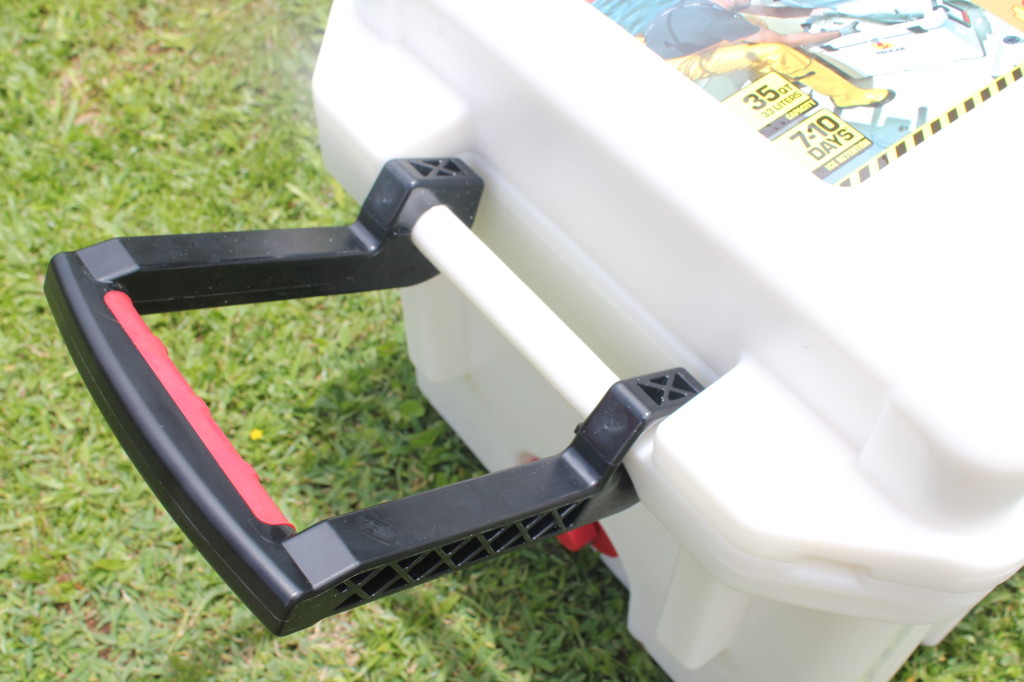 The cooler features:
Dual Handle System (Molded-in & Hinged Handles)
Press & Pull Latches (Wide for Gloved Use)
Molded-In Tie Downs
Non-Skid & Non-Marking Raised Feet
Molded-In Lock Hasp, Stainless Steel Plate
Sloped Drain & Tethered Threaded Plug (Garden Hose Attachable)
Corrosion Resistant Stainless Steel Hardware
Integrated Fish Scale on Lid
The Pelican ProGear Elite Cooler is an outstanding cooler!  I highly recommend it.  I can't wait to bring this cooler on a camping trip this summer.  I just know it'll do it's job, and do it well!
The Pelican ProGear 35 qt Elite Cooler retails for $$259.95.  It comes in Marine White and Outdoor Tan.