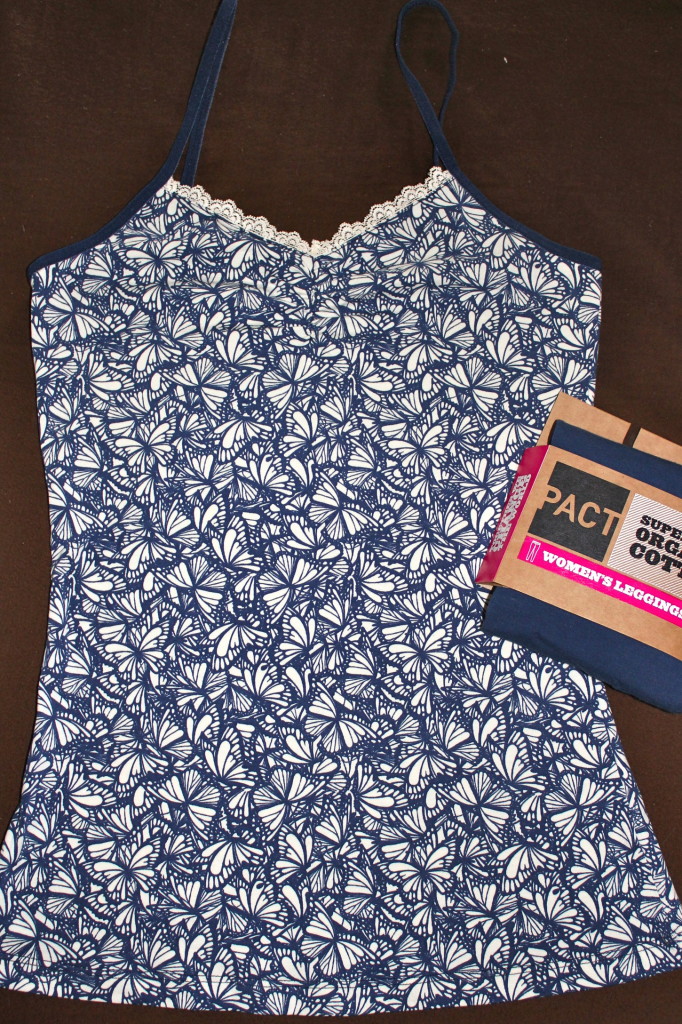 Disclosure:  I received these items for review purposes.  All thoughts and opinions are my own.
PACT is obsessed with a big idea: super soft organic cotton that makes the world a better place.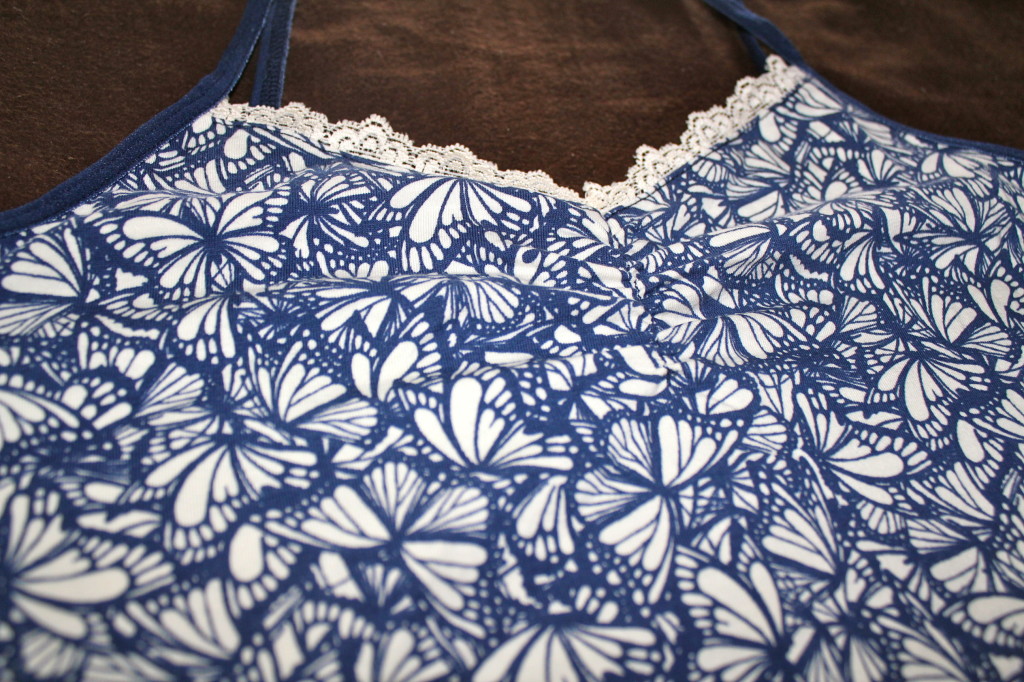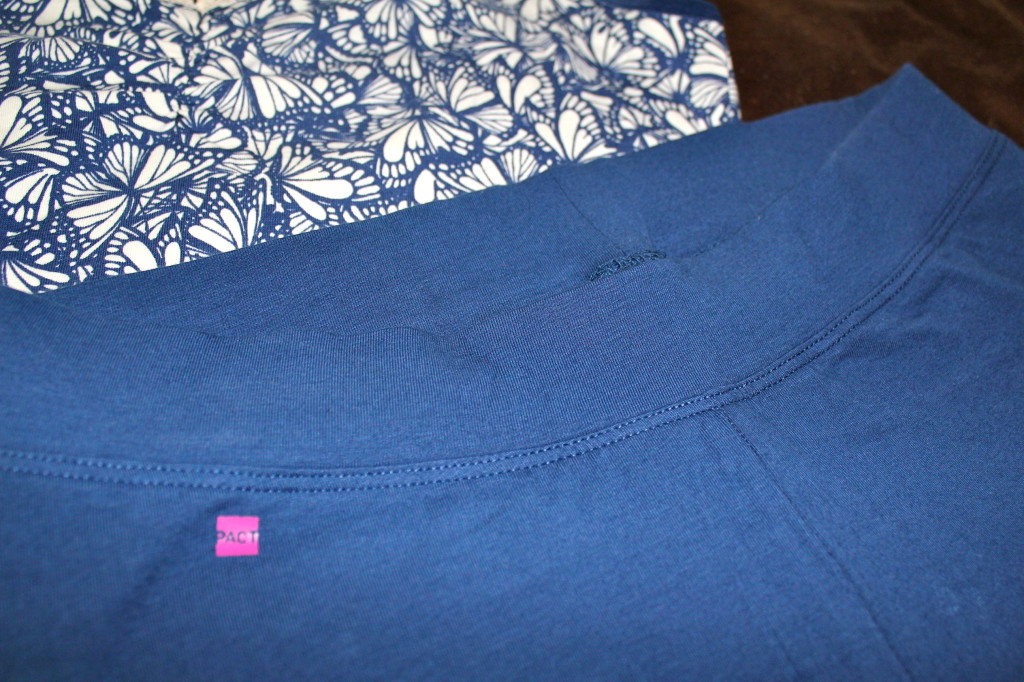 I received some underwear, socks, leggings and a camisole from PACT.  When I opened my box of goodies I was surprised to see some organic cotton packed away with the pieces of clothing.  It was so neat to see what these clothes are made from!  All of the items from PACT are made of super soft premium organic cotton.  You can feel the softness in the fabric.  It feels great against your skin.
All of the pieces I received are simple and well made.
The Women's Butterfly Camisole is great for every day use.  It's made of 95% organic cotton and 5% elastane.  It features a rushed neckline and vintage lace trim.  The print was designed to honor traditional hand knitting and the women who turn this skill into a business.  It's a limited edition print, so get yours while you can!  It sells for $24.00.
The Navy Everyday Leggings are the most comfortable pair of leggings I have ever used!  They are so soft and smooth.  The fabric is not too thick or too thin, but just right.  I also like the wide waistband as it fits so well.   These leggings are also very versatile.  You can wear them with sweaters, under dresses, with a t-shirt, or even paired with the Butterfly Camisole.  PACT Leggings retail for $29.99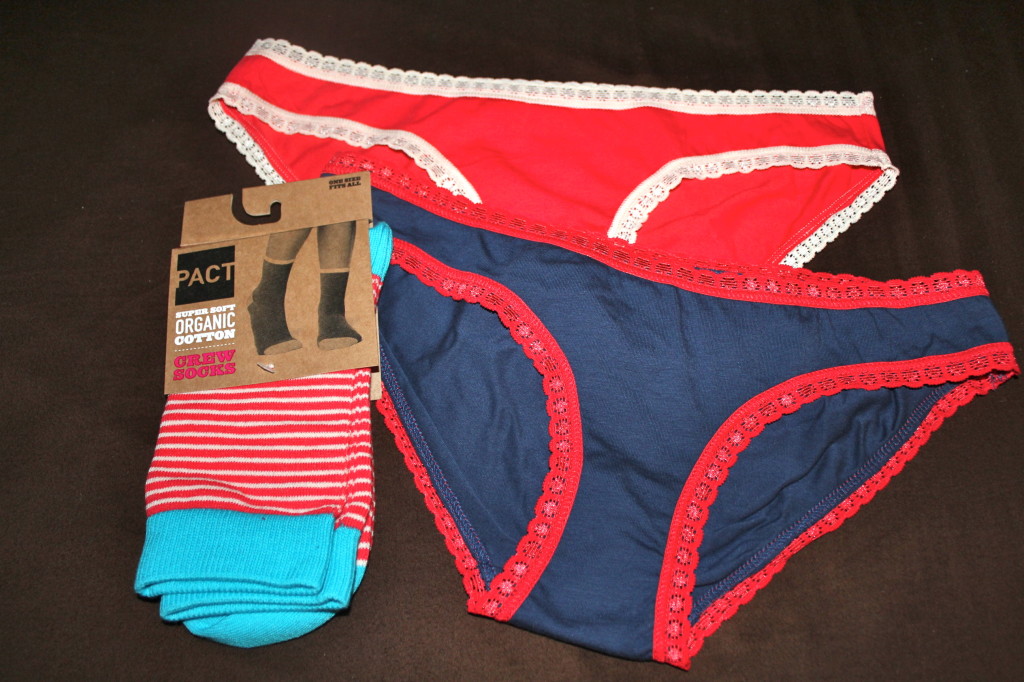 I received two bikini style panties in navy/watermelon and watermelon.  The navy/watermelon  is a navy panty with watermelon trim.  The watermelon colored panty has a white trim.  I love the vibrant colors.  It can be hard to find good quality underwear.  If quality is what you want, I'd highly suggest these.  They are also very comfortable.  They retail for $17.00 each.
The last item I received from PACT is the Women's Watermelon Railroad Stripe Crew Socks.   PACTS crew socks come in a variety of fun designs and color combinations.  They are soft and comfy and made of 90% organic cotton, 7% nylon, 3% elastane.  You can purchase a pair for $10.00.
As you can see all the pieces I received from PACT have a few things in common.  They're all stylish, comfortable, of high quality and made with premium organic cotton!
I love that PACT really cares about their product and the people who use and make them.  PACT goes to great lengths to make sure their entire supply chain, from the growing and harvesting of the organic cotton to the final sewing and all the processes in between, are as clean and responsible as possible.  It all starts with the growing of non-GMO cotton seeds.  The cotton is grown without the use of harmful chemical pesticides or fertilizers.  You can rest assured that the cotton they use is 100% all-natural organic cotton!  Their factories are certified according to GOTS (Global Organic Textile Standard) ensuring the highest level of environmental and social responsibility in the world.  Their yarns and fabric are dyed using non-toxic water based dyes that go easy on the environment, yet keep their colors bright.  The fabric is then rinsed using water recycling systems to conserve water.  Their garments are sewn in clean, safe factories where workers are treated well and paid well.