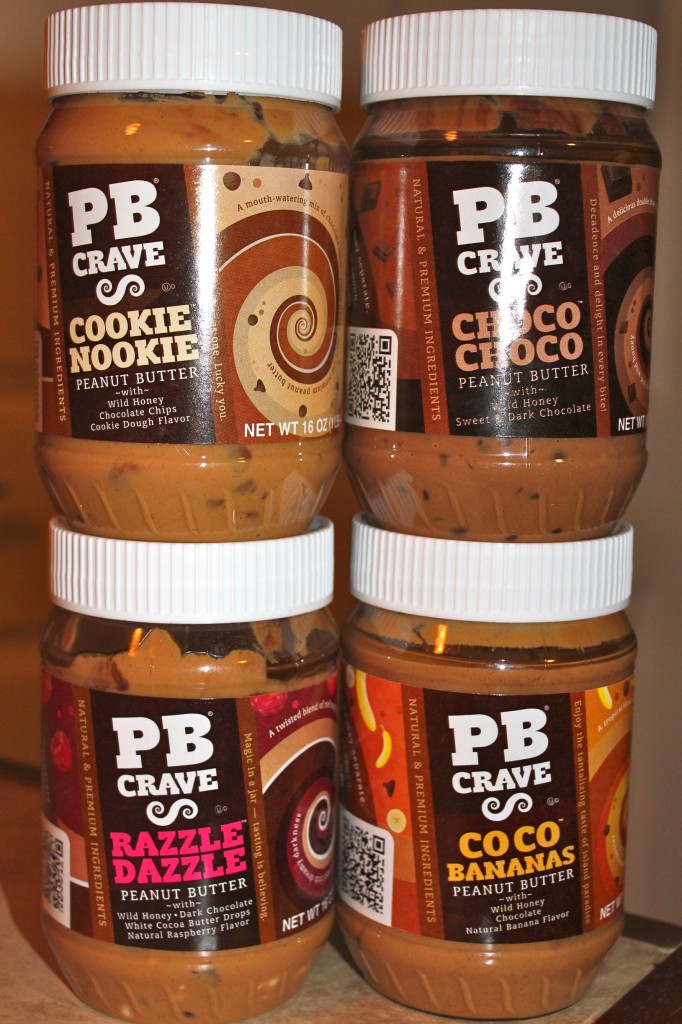 I love peanut butter!  Until recently, I had never tried anything other than creamy or crunchy peanut butter.  I had seen flavored peanut butter, but never had the chance to try it for myself.  When I received my box of PB Crave I couldn't wait to get started with my taste test!
PB Crave offers four tasty flavors including Razzle Dazzle, Cookie Nookie, CoCo Bananas, and Choco Choco.  I was most excited to try the Cookie Nookie flavor which is a mix of chocolate chips, cookie dough flavor, wild honey, and premium peanut butter.  Sounds amazing right?  It's a combination of three of my favorite flavors, peanut butter, chocolate, and cookie dough!  The cookie dough flavor was subtle.  The creamy peanut butter was the most outstanding flavor in the mix.  It's really thick, so a little goes a long way!  CoCo Bananas has a yummy banana flavor and smells really good.  Choco Choco is made with wild honey, sweet & dark chocolate and is perfect for chocolate lovers like myself.  And last but not least, Razzle Dazzle.  Razzle Dazzle has a raspberry flavor and includes wild honey, dark chocolate and white cocoa butter drops which you can see in the picture below.
PB Crave Peanut Butter is natural.  It does not include high fructose corn syrup, hydrogenated oil, or artificial flavors which are all things we are trying to stay away from.  It tastes great on toast.  We also enjoyed using it as a dip for crackers, pretzels, and apples for our mid-day snack.
Want to try some PB Crave?  You can purchase a 3-pack of 16 oz. jars for $17.97 on the PB Crave website HERE.
Disclosure:  I received these samples for review purposes.  All thoughts and opinions are my own.