Petzel's Tikka & Tikkina Headlamps offer hands-free lighting.  They are lightweight, compact, and easy to use. There are many times when a headlamp like this could come in handy.  It's one of the things my husband keeps in his truck and there's been multiple occasions that he's glad he has it in there. Everyone can find a use for a headlamp at some time or another.
The Tikka and Tikkina Headlamps are perfect for camping, repair work and home use. There are times when flashlights aren't the best option because you need your hands to be free, in those times these headlamps are your best option. The headbands are adjustable, so they'll work well for both children and adults.  They're well-made and durable.  I'm hoping to get a lot of use out of these.

The Tikkina offers 80-lumen brightness and a wide beam for proximity lighting. It features a push-button for easy, quick lighting mode selection.  The headband is removable and washable. It runs on 3 AAA batteries which are included.  The Tikkina comes in four color options – black, green, blue and pink.  I received the green which is sort of a light olive green color.
The Tikka offers a little more brightness when compared to the Tikkina.  It offers 100-lumen brightness.  It features Two lighting modes: mode favoring burn time and mode favoring brightness. Its phosphorescent reflector allows the lamp to be located in the dark. Like the Tikkina it runs on 3 AAA batteries and is weather resistant. The Tikka comes in a choice of black, brown, red and white.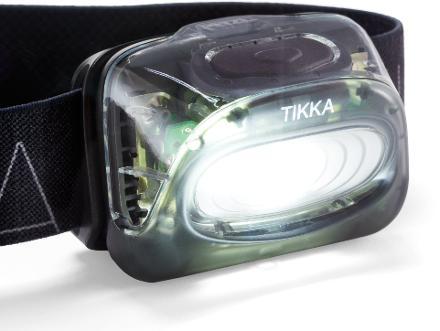 Both headlamps would make great gifts for the upcoming Holidays. Everyone should own a headlamp, and this one's a good choice. It's useful, well-made, and looks great too. The Tikkina has a MSRP of $19.95 and the Tikka has an MSRP of $29.95.