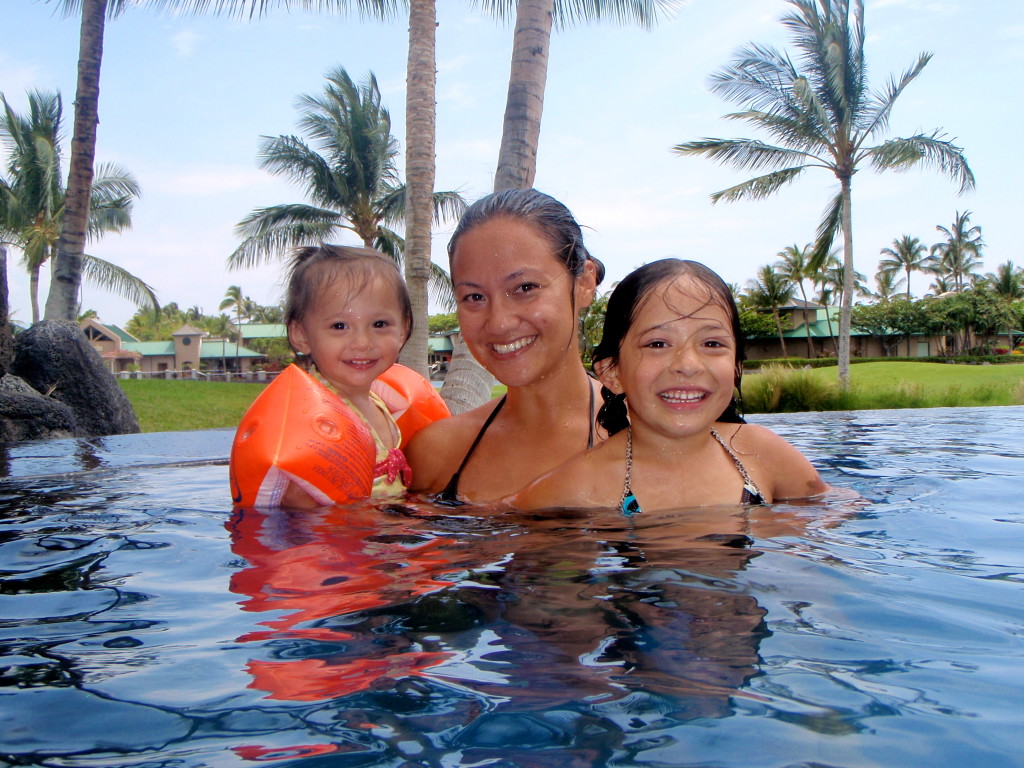 In Hawaii, we're surrounded by the beach, and we get to go often. But, pool days are pretty rare. So, having a pool day is a special treat! We were lucky to have had a pool day a couple weeks ago, so when I found out we'd be staying a night at the Fairway Villas, I was looking forward to more time lounging at the pool! We were spending time with my cousins. Family time is always nice.
The Fairway Villas had an infinity pool that was absolutely beautiful. The only problem with that, as I later found out, is it isn't so safe for 21 month olds who like to climb. My little one would swim to the edge and try to pull herself up as she looked over and watched the water flow over the sides. My girls love the pool! Kanai'a, my youngest, definitely lives up to her name, which in Hawaiian means "dolphin". I love the calming effect the water has on her. She can be pretty wild, but throw her in a pool, and she calms right down.
Waikoloa is usually sunny, and although we had bits of sunshine, we had our fair share of clouds as well. Luckily, even with the little drizzle of rain, it doesn't get too cold. And even if it did, the jacuzzi is always nice!  We had a wonderful, relaxing time.  A mini vacation that was long overdue!  If only we could spend every day lounging at the pool.  Now that would be the life!