Sun Bum Sun Care products, created in 2010, was formulated to protect those of us who live and love in the sun. Living in Hawaii, we are always out and about and spend countless days at the beach. How could we not when we're surrounded by the beautiful Pacific Ocean? Because we're out in the sun so much, it's so important to protect ourselves with good sun care products. I love Sun Bum for all the great products they offer.
Last Christmas I purchased some Sun Bum products for my hubby's Christmas Stocking.  I got him the Spray Sunscreen and the Face Stick.  He's a surfer, and spends a lot of time out in the ocean, so I figured sunscreen would be the perfect gift for him. One day, while my husband was out surfing and the girls and I were relaxing on the beach, I decided to give his face stick a try. He hasn't seen it since! I absolutely loved it so much I didn't want to give it back. It's super convenient and easy to use. Not only does it work well, it smells amazing too. I could not get over how good it smelled. Sun Bum's original line of sunscreen's and lotions contain their signature banana fragrance, which my whole family really enjoys. I need to be sure to keep it away from my five year old though – it smells so good, she'd probably try to eat it! The SPF 30 face stick offers Broad Spectrum UVA/UVB Protection.  It's water resistant (80 minutes) with a smooth, light non-greasy formula.  It's hypoallergenic, gluten free, PABA free and oil free. It's one of my favorites from Sun Bum and it's always in my beach bag. I don't leave home without it!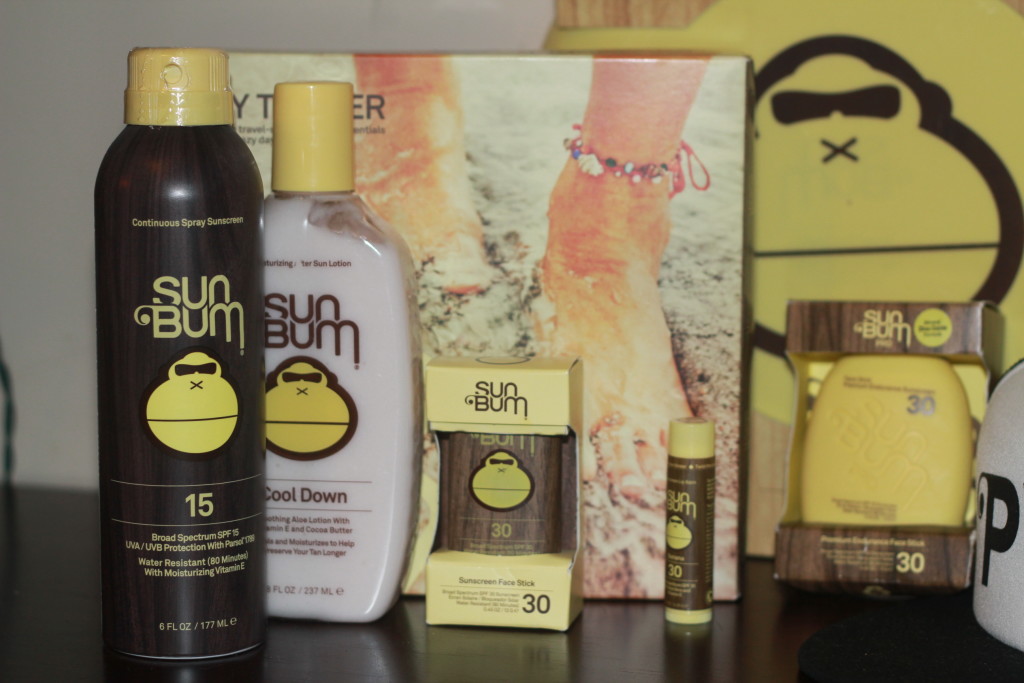 Along with the Original Sun Bum products, they also have a Signature line which I have yet to try out. I'll have to get some for my hubby as it was specifically designed to offer the very best broad spectrum protection to those who work and play hard in the sun. It will never bleed into your eyes, never make your hands slippery, and won't come off during even the most rigorous activities in the water, wind, or blazing hot sun. It sounds like the perfect sunscreen for my surfer hubby.
Sun Bum also has a line of hair care products which includes Beach Formula Shampoo and Conditioner, Sea Spray, 3 in 1 leave in and Shine on. I love these just as much as I love all the sun care products. They also have some cool lifestyle products which are lots of fun and perfect for any beach or pool goer. Products include beach towels, a beach football, t-shirts, hats and more. The hat I got says "PYLA". Guess what it stands for? "Protect Your Lazy Ass".  Hilarious and I love it! It' so true, don't ever be too lazy to apply some sunscreen when going outdoors.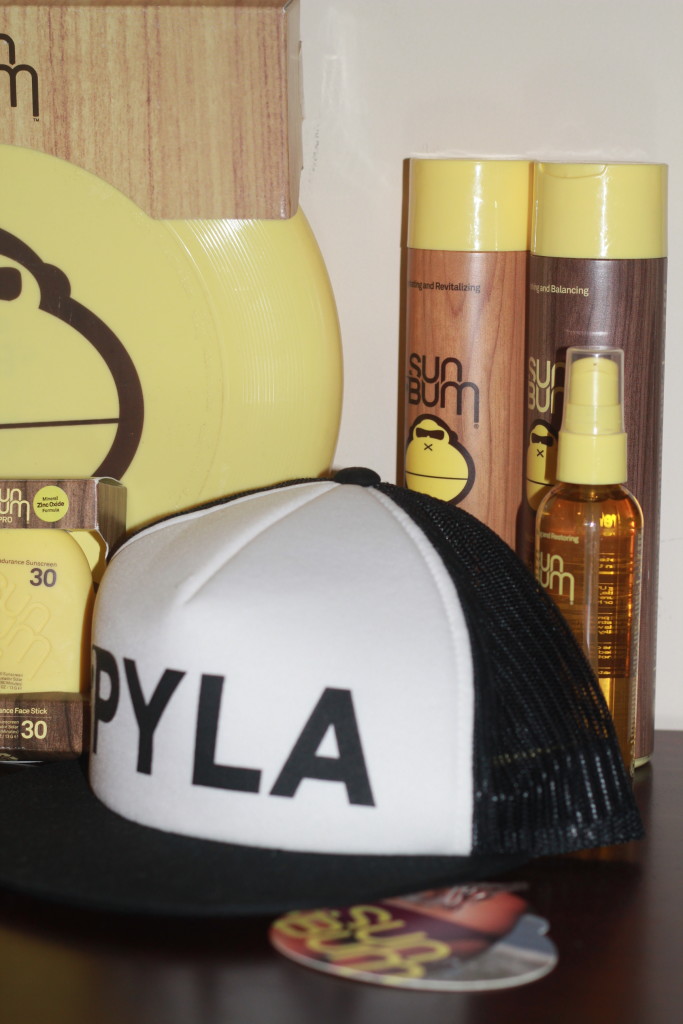 I've already recommended Sun Bum to all of my friends and family and was excited to share it here on Livin' The MOMMY life to share with all of you. Sun Bum products make a great gift any time of the year. It's a useful gift I'd love to receive. You can even add a few items together and give a Sun Bum gift basket to the sun lover in your life. They'll be sure to love it!