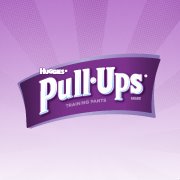 I am so excited to have been chosen to be a part of the Pull-Ups "First Flush" Ambassador Program.  Being a mother of a two year old can be a time of many challenges and new experiences, potty training being one of them.  My daughter has shown more and more interested in potty training lately, but usually runs on over to the potty only once she has already gone in her diaper.  She'll take off her diaper, but it is already too late.  She is getting there, but we still have a long road ahead.  I think transitioning from diapers to Pull-Ups will really help as she'll have a much easier time getting her Pull-Ups on and off.  What's funny is, a few months ago she did have her "First Flush" experience.  I was so excited, only to find out it was a one time thing.  She hasn't gone in the potty since.  She's getting to be such a big girl, and I know as soon as I know it she'll be potty trained and Pull-Ups will be a great big help in getting her there!

I'll soon be the host of a Pull-Ups "Why Wait – Let's Celebrate! First Flush Party"  I'm looking forward to the party as I know quite a few toddlers who are ready for this big step!  In fact, my niece was born just three days after my daughter, and I know she'll enjoy being a part of this party!  It's time to get these little ones out of diapers and move on up to Pull-Ups.
Do you have a little one who is ready to start potty training? You can be the host of a First Flush Party too!  Sign up for your chance to be a host through Facebook HERE.  Sign ups are only open through the end of December, so don't wait, go and sign up today!
"Disclosure:  I am participating in a campaign on behalf of Mom Central Consulting for Pull-Ups. I will be receiving product samples to facilitate my review and to host a party. I will receive a promotional item as a thank you for participating.