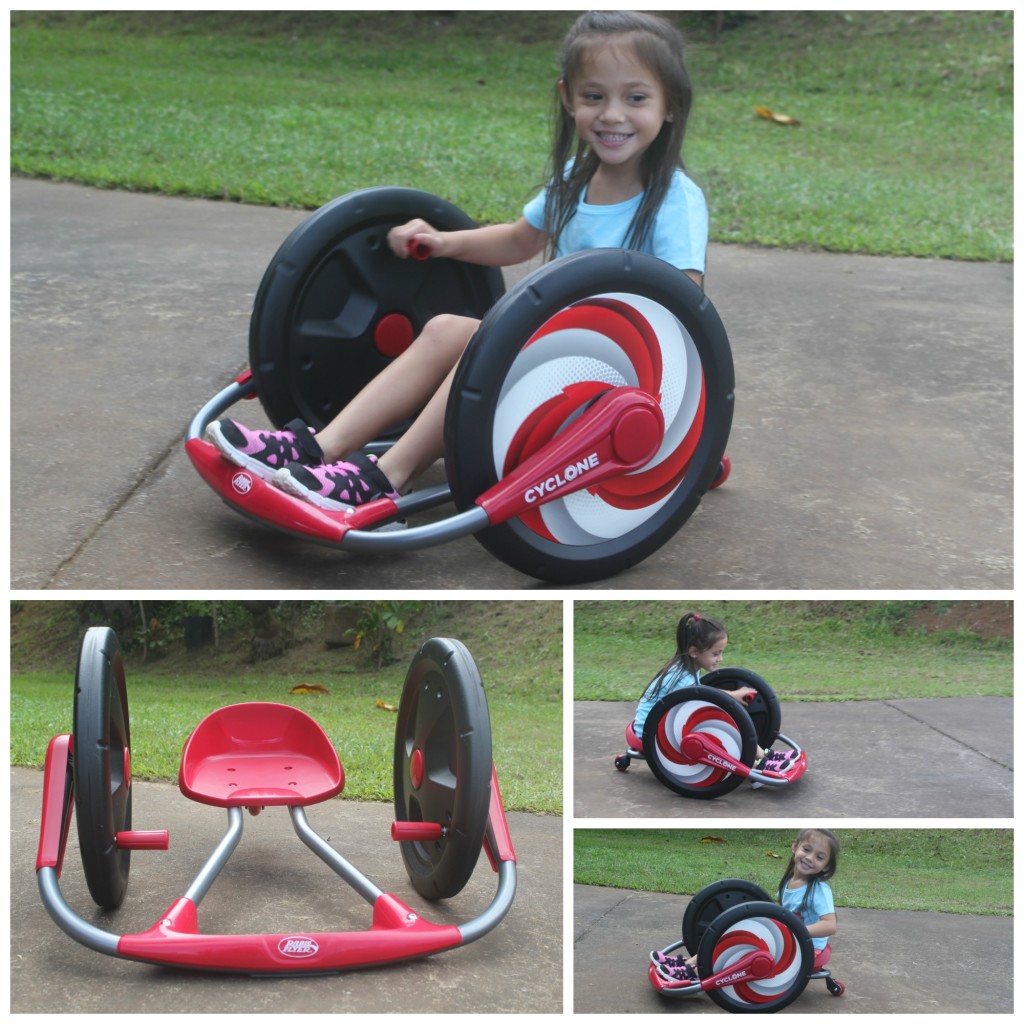 Disclosure:  I received this item for Gift Guide inclusion.  All thoughts and opinions are my own.
The Radio Flyer Cyclone is an awesome new ride-on for kids.  It features two 16″ wheels for a smooth, fun ride.  Kids are able to spin 360° on the Cyclone, and what kid doesn't love spinning?! They can also zoom forward and roll backwards with ease.
In order to make the Cyclone go, kids will have to turn the wheels using the hand grips connected to the insides of the wheels.  I was surprised with how fast my 4 year old got the hang of it.  She figured out how to go forward, backward, and in circles within minutes of jumping on the Cyclone.  The Cyclone is a lot different than a bicycle because rather than using your feet to go, you use your hands and arms!  Your feet and legs get a break while your arms get a workout.
The Cyclone was fairly simple to put together.  There aren't many pieces, so I was able to put it together by myself pretty quickly.  Once built it's very sturdy thanks to it's solid steel frame.  I'm sure we'll get years of use out of the Radio Flyer Cyclone.  We received the Ziggle from Radio Flyer last year and it has been used quite often throughout the year.  Every kids who comes over just has to try it out!  I'm expecting the same with the Cyclone.
The Radio Flyer Cyclone is recommended for children ages 3-7 years old and up to 69 lbs.  It weighs a little over 10 pounds.  It's a great toy to keep kids active.  It's perfect for getting kids off the couch and away from their iPads and video games.  The Cyclone will definitely get them moving, whether it's inside or out, and they're sure to have a whole lot of fun.  The Radio Flyer Cyclone retails for $49.99 and will make a great gift for the holidays!