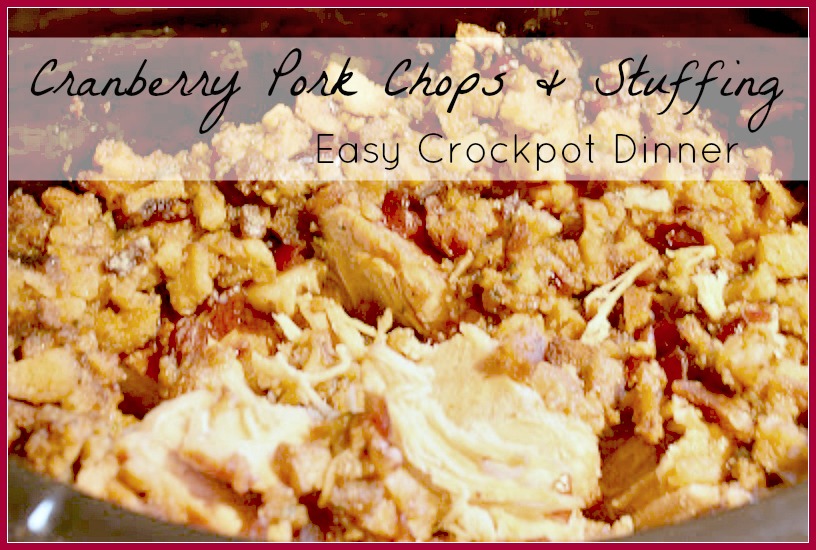 If only there were more hours in a day!  Like many other mothers out there, my days are busy.  With so much to do, and so little time, I love finding ways to make dinner time easier.  On days I know I won't have time to prepare dinner for my family, I often use my crockpot.  It's one of those things I think everyone should own.  I've put mine through a lot of use, and I can't imagine life without it!
One of my favorite crockpot meals is Cranberry Pork Chops & Stuffing.  It's a delicious meal that's so simple to prepare.  Being that it takes just a few ingredients, it can be prepped in just about 10 minutes tops.  This is one of the meals my whole family enjoys.  If you don't have, or don't eat pork chops, I'm pretty sure this meal with taste just as good with chicken breast instead.  You can serve it as is, with rice, or mashed potatoes.
I love my crockpot as it makes cooking dinner so easy.  Just put the ingredients in, and you can go on with your day without having to worry about it until it's time to eat.  If you don't already have a crockpot,  what are you waiting for?  Get one now!  You won't regret it.
Cranberry Pork Chops & Stuffing Easy Crockpot Dinner
Ingredients:
3 medium potatoes
3 pork chops
1 box of stuffing mix
1 cup hot water
1 block of butter
1/2 cup dried cranberries
Directions:
First you cut up 3 potatoes into big chunks and add it to the crockpot (you can use more potatoes if you'd like),
Add a little salt to 3 pork chops and place them onto the potatoes,
Next, open up a box of stuffing mix and add a cup of hot water to it as well as 1/2 a cup of cranberries.
Place the stuffing mixture onto the pork chops.
Slice up one stick of butter and place it on top of the stuffing.
Cook on the low setting for about 7 hours.  Enjoy!
If you decide to try this yummy meal, be sure to come back and let me know how you liked it.