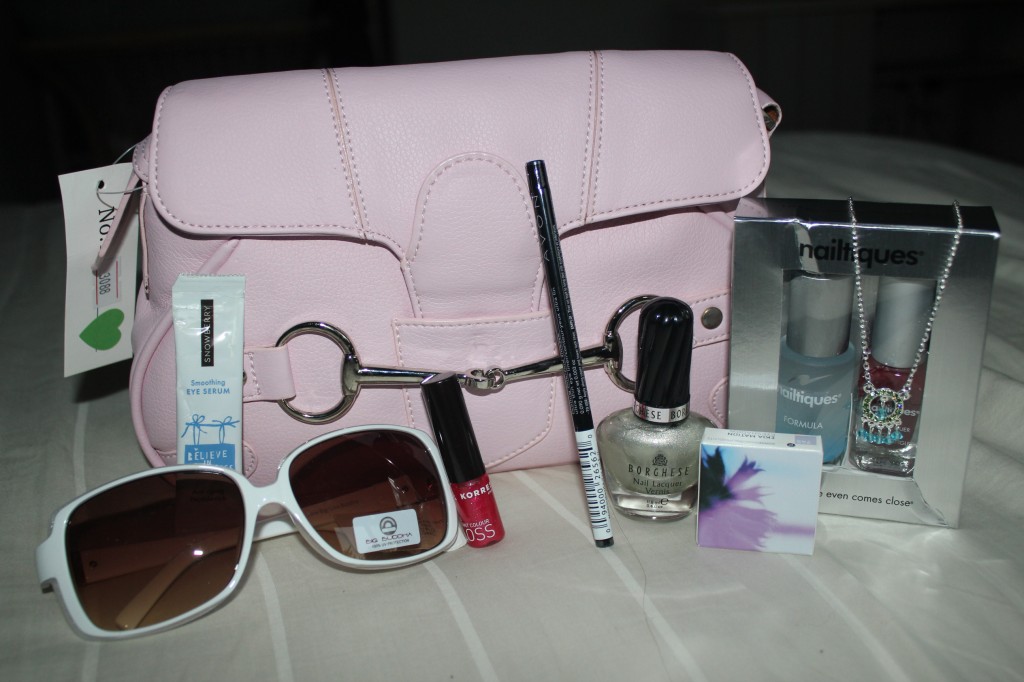 Subscription boxes are the best thing ever, and I love finding out about new ones.  I recently came across the Red Carpet Box, and I am so excited to be sharing it with all of you.  This box is amazing, and for just $30.99 a month ($25 for the box + 5.99 shipping) you sure do get your money's worth!
When my package arrived, I was so excited to see that it was gold!  Yes, gold!  I had never before seen a gold package, and that really got me anxious to open it up and see what was inside.  I was surprised with how much products fit into that package!  Everything but the purse was nicely wrapped in tissue paper and ribbon.  I thought that was so neat, it was just like opening a present!  From the start I couldn't help but think what a great gift this would make for someone.  I LOVE surprises and this bag was sure filled with surprises, more than I could have ever imagined.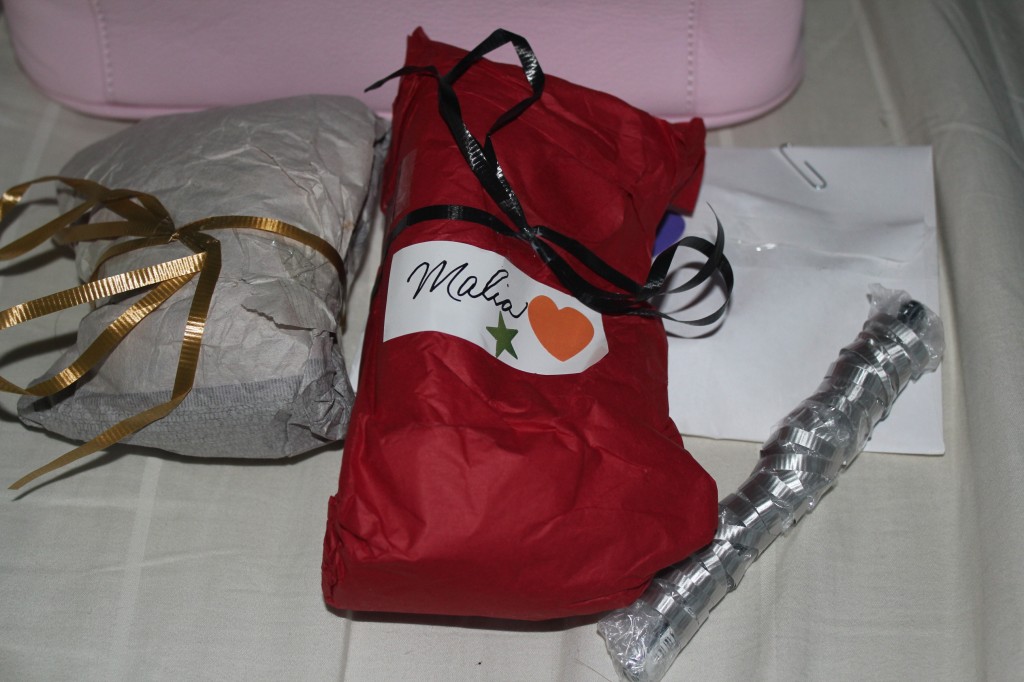 I quickly got everything out of the package, one of which was a very cute light pink purse!  You can imagine my excitement as I never thought I'd get a purse in a subscription box.  There was one more product wrapped in tissue paper along with a surprise that I'll talk about a little later.  The surprise was a sneak peak into what you'll find in November's Red Carpet Box.  Upon opening the purse, I found it was stuffed with more items, all wrapped up and ready to be opened.  I couldn't wait to see what each item was.
In total, the October Red Carpet Box included 8 items.  There was a list of contents included that neatly listed each item.  First off I received some makeup.  Included in the bag were Korres Eye Shadow, Avon Eyeliner, Borghese Nail Laquer, and a Korres Lip Gloss Sample.  The lip gloss sample is nicely sized, and will last a while!  This month's sponsor is Nailtiques and they provided the Nailtiques Nail Protein and Color Laquer.  There was a bonus sample packet of eye serum also included.
But wait, that's not all!  I was thrilled to receive the Big Buddha Sunglasses. Included in each bag was a random pair of Big Buddha or Betsey Johnson Sunglasses.  Mine are white, and I'm so happy with them.  What I really like is that I normally wouldn't have bought a white pair of sunglasses, but after trying them on I found that they fit well and look pretty stylish.  I must say, they were a great addition to this month's box.  Also, in the box was a pretty necklace on a silver chain.  The last item as I mentioned before was the purse.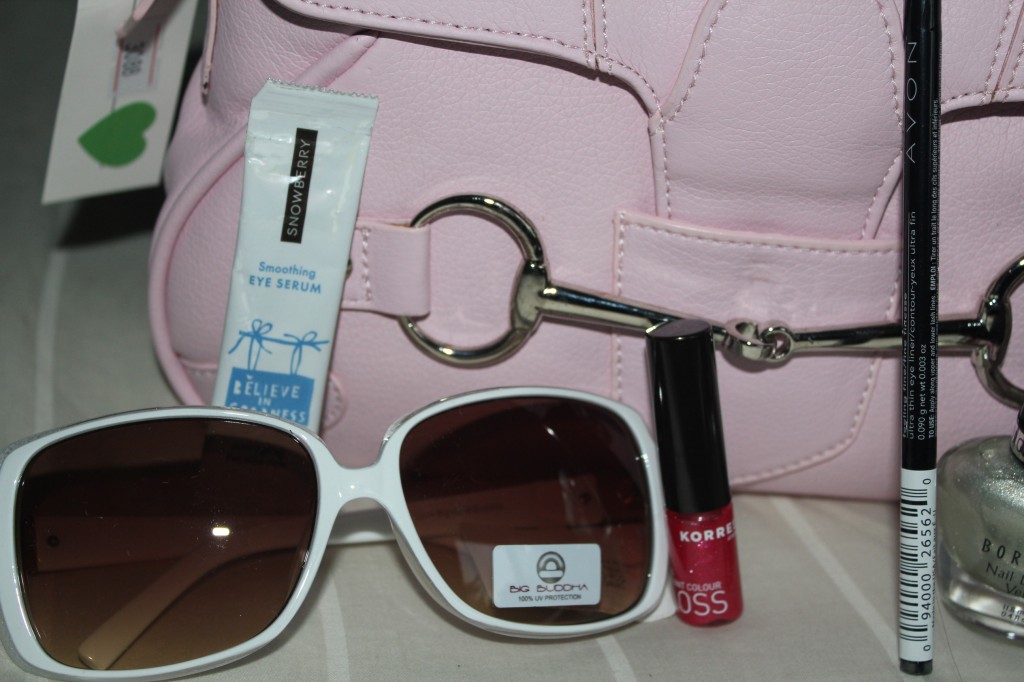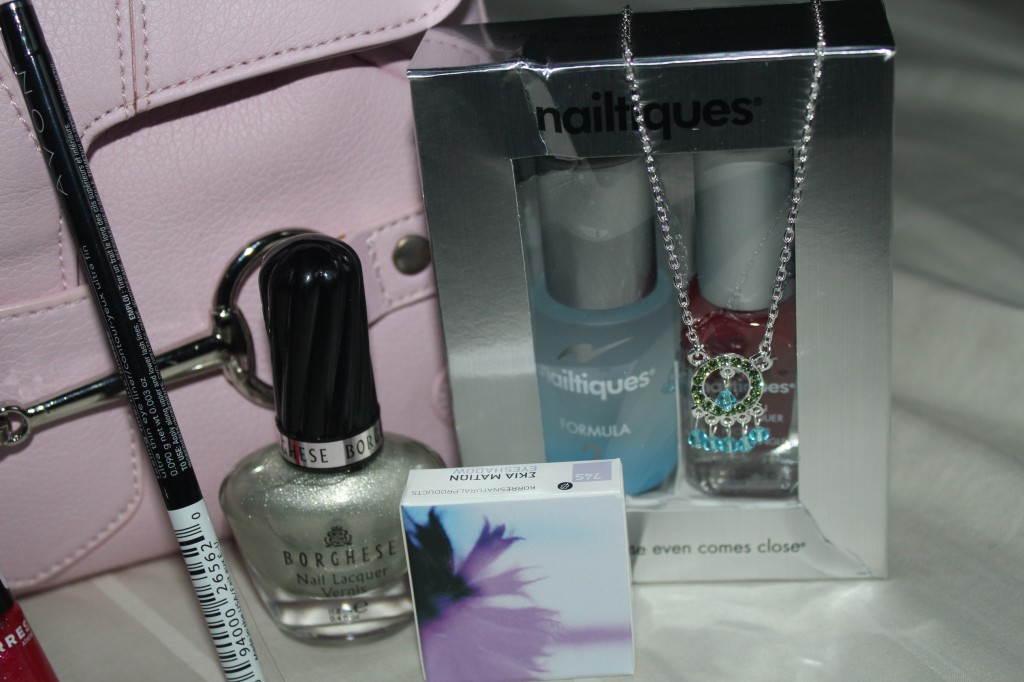 If you have never tried a subscription box before, I highly recommend you start with this one!  If you are one who already loves subscription boxes, give the Red Carpet Box a try.  You won't be disappointed.
There are only 50 Red Carpet Boxes available each month. If you order a November box you'll have the option to choose an Urban Decay Package which will feature a couple great Urban Decay Products.  There are 25 Urban Decay Packages available and the other 25 will include the Korres Kings & Queens Bath set along with 2 full sized products.  Both packages will include Swarovski Jewelry and other fashion goodies.  Doesn't that sound amazing?  Be sure to get your orders in starting November 1st as supplies are limited!
Follow Red Carpet Box on Facebook for the latest info!
 Disclosure: I received this product for review purposes.  All thoughts and opinions are my own.