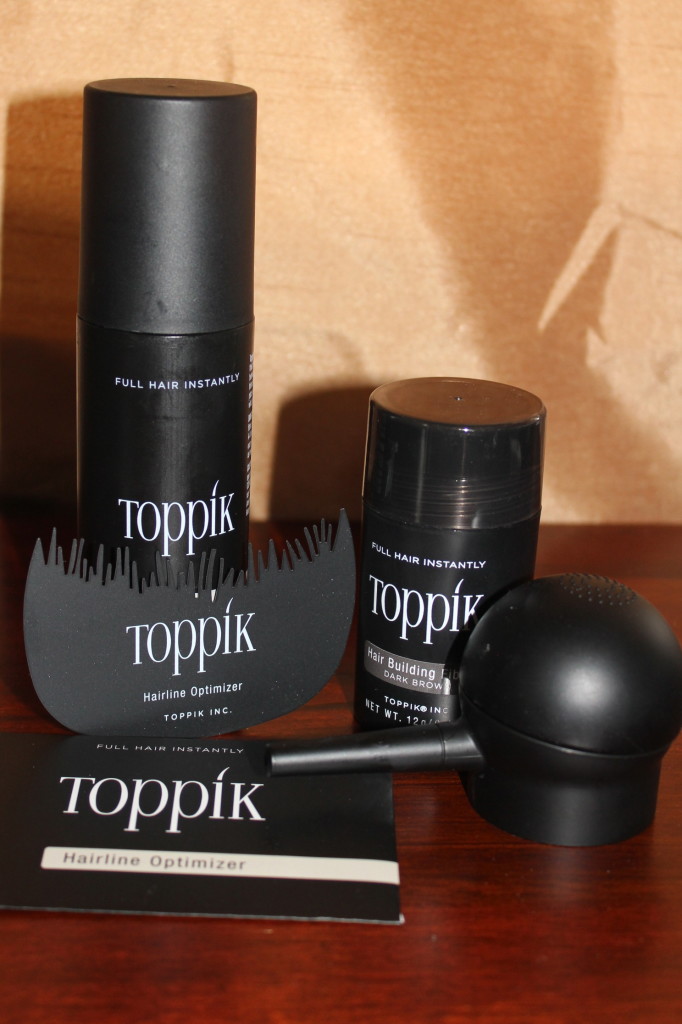 Disclosure:  I received this product for review purposes.  All thoughts and opinions are my own.
At 30 years old, my husband is already dealing with thinning hair. It's actually been going on for a couple years now, and is getting more and more noticeable as time goes on.  He hasn't really tried any products, but has been hoping to find something that actually works.  When I was offered to try out Toppik, I took the opportunity.  I figured it would be a great time for my husband to give it a try.
We received the Hair Building Fibers in Dark Brown, FiberHold Spray, Spray Applicator, and Hairline Optimizer.  The fibers come in various sizes and colors.  Color selection includes Black, Dark Brown, Medium Brown, Light Brown, Medium Blonde, Blonde, Auburn, Gray and White.  With all those color options you should be able to find one that matches your hair color.
According to the Toppik website, "Toppik Hair Building Fibers instantly make thinning hair look thick and full. It's Keratin fibers cling to existing hair and in seconds fill in all thinning or balding area. Toppik won't come off in wind, rain or perspiration. It is totally undetectable, even from as close as two inches. All you will see is thicker looking hair!"  Doesn't that sound great?  I was definietly excited to have my husband give it a try and see the results.
I helped my husband apply the product.  At first I used the spray applicator, then I just shook it right out of the bottle.  When I used the spray applicator, there was one dark brown spot that could be seen on my husbands scalp, it was as if the powder didn't spread evenly.  There were no directions, so I'm not sure if I used it wrong.  Anyway, I decided to just shake it on his balding spots and it was very easy to do.  I was pretty amazed with the results.  I don't know how it worked, but it did!  The thinning spots were definitely harder to see.  The powder really helped to disguise it.  Looking at the before and after pictures, I'm thinking if I applied a little more it would have offered full coverage.   We didn't go out that day, we stayed home, but the effects lasted for the whole day.  We didn't try it out in wind or rain so I can't say how well it would last in those conditions.  The FiberHold Spray is supposed to help to strengthen the bond between the fibers and the hair and it is said to last in wind, rain and perspiration!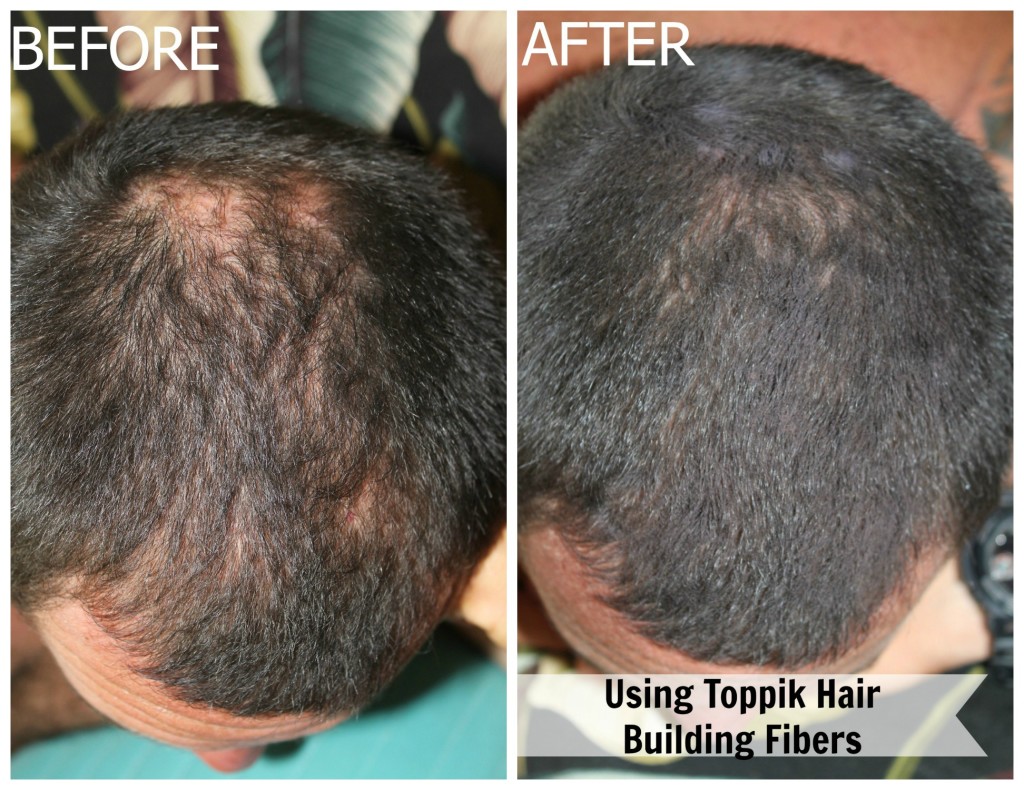 If you or someone you know is dealing with thinning hair, it's definitely worth giving Toppik a try!  This product offers temporary effects, so if you are looking for a permanent solution to hair loss, this wouldn't be the product for you.  Although it would be something you can use while you look for a permanent solution.  Or if you're like my husband, you may only use it occasionally.  He wouldn't use it on a daily basis, like at work, when he wears a hard hat all day anyway!  But, he may try using it when he goes out.
Have you tried any products for thinning or balding hair?  I'd love to hear if anything has worked for you.