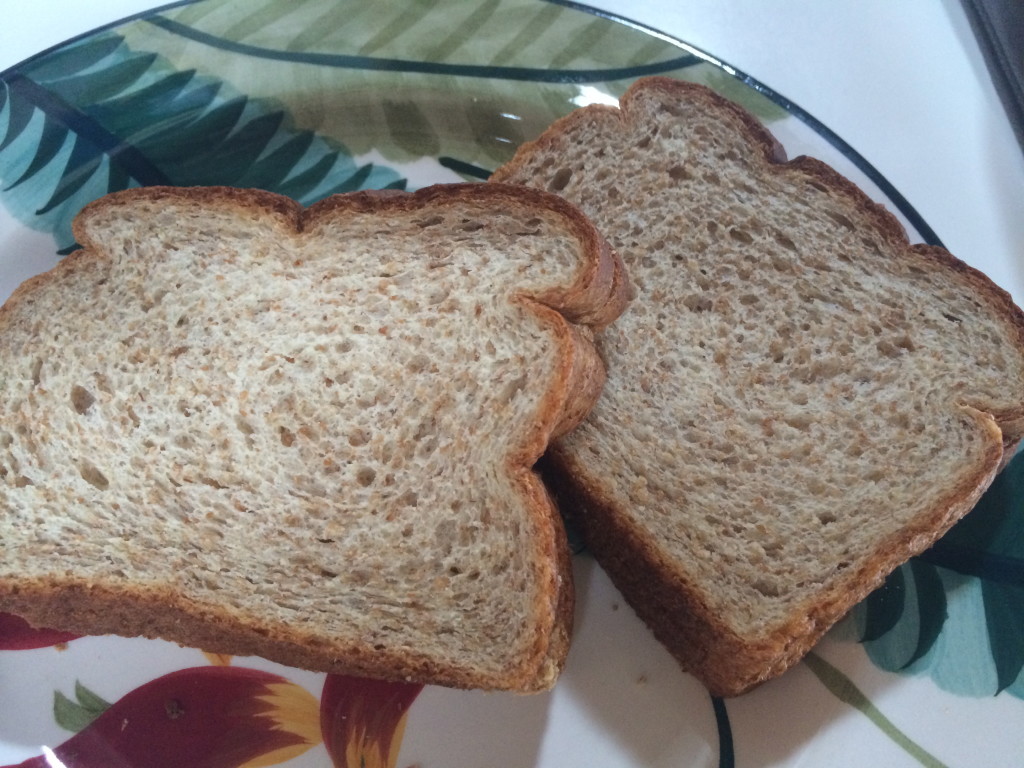 Disclosure:  "I participated in an Influencer Activation on behalf of Mom Central Consulting for Roman Meal. I received product samples to facilitate my review and a promotional item to thank me for participating.
The first thing I noticed when I opened my box containing a loaf of Roman Meal Bread was how soft it was!  Roman Meal Bread is always baked fresh locally.  Roman Meal partners with more than 90 regional bakeries throughout the US so you can have freshly baked bread delivered to your grocery store. Roman Meal Company is family owned and operated and has been around since 1912.  They were one of the first companies to offer whole grain bread across the nation.
I think it's great that Roman Meal is able to offer their customers freshly baked bread.  Because of this, they're bread is never frozen or shipped for long distances.  I always know I can count on Roman Meal to have freshly baked bread for my family to enjoy.  We go through a lot of bread in our house.  We all eat bread daily, weather it's toast for breakfast or a sandwich for lunch.
Because Roman Meal offers whole grain bread, I can rest assured that it's a healthy choice for my family.  The bread is made from a whole grain blend of whole wheat, whole rye, wheat bran, wheat germ and flax meal with hints of honey and molasses.  One serving has 21 grams of whole grain which is more than 40% the recommended daily value.  Whole grain is an essential part of my families daily intake.  Roman Meal bread is a good source of vitamin D, calcium, and fiber.  Whole grains aid digestion and are known to help with weight management.  Studies have shown that eating whole grains may reduce the risk of heart disease.
Although my family usually doesn't get too creative with our loaf of bread, there are many recipes that can be made using Roman Meal bread.  Their website is full of awesome recipes, many of which I'll have to try!  One recipe I saw that I can't wait to taste is the Fresh Peach & Nectarine Whole Grain Cobbler.  It sounds absolutely devine!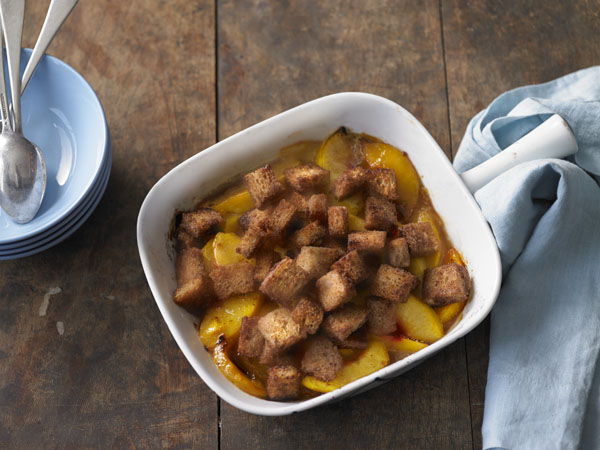 Fresh Peach & Nectarine Whole Grain Cobbler
This easy dessert combines fresh summer fruit with whole grain cinnamon toast.
Prep Time: 10 Minutes Cook Time: 10 Minutes Ready In: 20 Minutes Servings: 6
Ingredients:
4 slices 3 tbsp 5 tbsp 1 1⁄2 tsp 6 cups
Roman Meal bread
Butter, melted
Sugar, divided
Ground cinnamon
Nectarines and peaches, peeled and sliced Vanilla ice cream (optional)
Directions:
Trim crusts from bread slices and cut into 1/2-inch cubes. Place bread cubes on a foil- lined baking sheet. Let stand for 2 hours or overnight.
Place bread cubes in medium bowl; drizzle with butter and sprinkle with 3 tablespoons sugar and cinnamon. Stir gently until evenly coated. Return to foil-lined sheet tray.
Preheat oven to 375°F. Grease 9-inch baking dish.
Place sliced fruit in baking dish; sprinkle with remaining 2 tablespoons sugar.
Bake fruit for 10 minutes. After 10 minutes, place sheet pan of bread cubes in oven.Bake for an additional 8 to 10 minutes, stirring bread cubes once, until bread cubes are

crisp and fruit is bubbly.

Remove from oven; top fruit with cinnamon toast bread cubes and vanilla ice cream ifdesired. Serve immediately.
Nutritional Information Per Serving:
Calories: 190
Total Fat: 7g Cholesterol: 15mg Sodium: 120mg
Total Carbohydrate: 27g Dietary Fiber: 4g Protein: 3g
Whole Grains: 7g
*Roman Meal's Baked Fresh Sweepstakes is ongoing through the month of September*
One grand prizewinner will receive $2,500; several others will win free bread coupons!

This sweepstakes ends September 30th.

You will receive a $1 off coupon when you enter the sweepstakes.
Enter the Sweepstakes through the Roman Meal Facebook Page HERE
I am also giving one lucky winner coupon vouchers to you can try Roman Meal Bread for yourself.
Enter to WIN coupon Vouchers for a FREE loaf of Roman Meal Bread
ends 09/17/14.  Open to residents of the continental US only.