October is National Non-GMO Month.  So, I'm sure some of you are wondering what GMO's are and why don't we want it?  GMO's are Genetically Modified Organisms.  It is the direct human manipulation of an organisms DNA in a laboratory environment.  It's unnatural, so why would we want to be putting it into our bodies, or feeding it to our families?  GMO Foods have only existed in our groceries since the late 1990's which means there hasn't been long term testing on the effects of eating foods that contain GMO's.  I for one, do not want to be the one testing out the long term effects GMO will have on myself or my children.  Unfortunately, many of us are eating products that contain GMO's and we don't even realize it!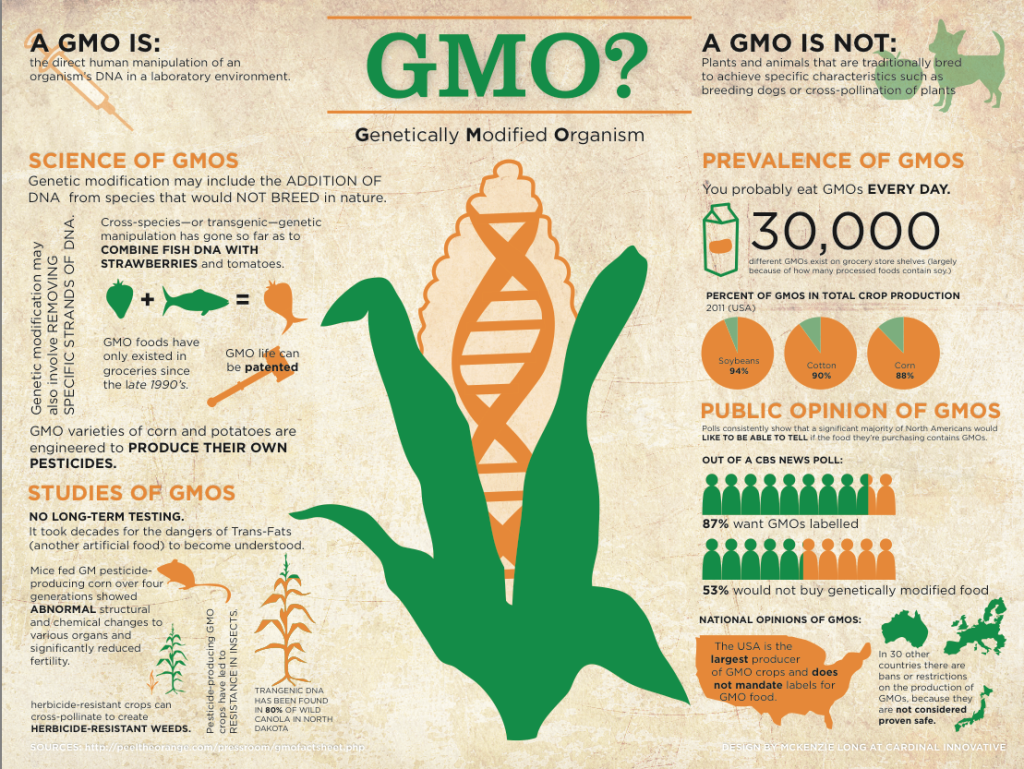 According to Non GMO Project,
In North America, over 80% of our food contains GMOs.  If you are not buying foods that are Non-GMO Project Verified, most likely GMOs are present at breakfast, lunch, and dinner.
The most common GMOs are soy, cotton, canola, corn, sugar beets, Hawaiian papaya, alfalfa, and squash (zucchini  and yellow). Many of these items appear as added ingredients in a large amount of the foods we eat. For instance, your family may not eat tofu or drink soy milk, but soy is most likely present in a large percentage of the foods in your pantry.
GMOs may be hidden in common processed food ingredients such as: Amino Acids, Aspartame, Ascorbic Acid, Sodium Ascorbate, Vitamin C, Citric Acid, Sodium Citrate, Flavorings ("natural" and "artificial"), High Fructose Corn Syrup, Hydrolyzed Vegetable Protein, Lactic Acid, Maltodextrins, Molasses, Monosodium Glutamate, Sucrose, Textured Vegetable Protein (TVP), Xanthan Gum, Vitamins, Yeast Products.
Try checking the ingredient list of a product in your pantry.  Chances are, it will contain one of these ingredients!
Non-GMO Month was created by the Non-GMO Project in 2010 as a platform for raising awareness on the GMO issue.  It's so important to raise awareness and let people know what they are or may be consuming.
PROBAR
is proud to be a Platinum sponsor of Non-GMO Month. Their products do NOT contain GMO's!  With Halloween coming up soon, it's time for us to really think about what we're allowing our kids to eat.
Top 10 Most Common GMO Ingredients in Halloween Candy
1. Sugar (GMO sugar beets)
2. High fructose corn syrup (GMO corn)
3. Corn starch (GMO corn)
4. Soy lecithin (GMO soy)
5. Soy bean oil (GMO soy)
6. Modified food starch (GMO corn)
7. Fructose, dextrose, glucose (GMO corn)
8. Cotton seed oil (GMO cotton)
9. Canola oil (GMO canola)
10. "Other" ingredients: isolates, isoflavones, food starch, vegetable oil
In honor of National Non-GMO month and PROBAR's commitment to healthy all-natural snacks, they are giving away 1 variety box of PROBAR Meal Bars!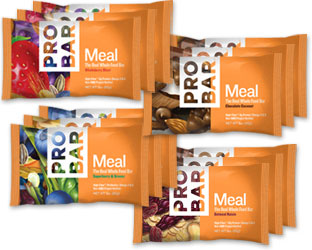 Giveaway open to US & Canada.  Ends 11/05/13
Enter using the rafflecopter below
Disclosure: Prize is being provided by PROBAR, Livin' The MOMMY Life is not responsible for prize shipment.