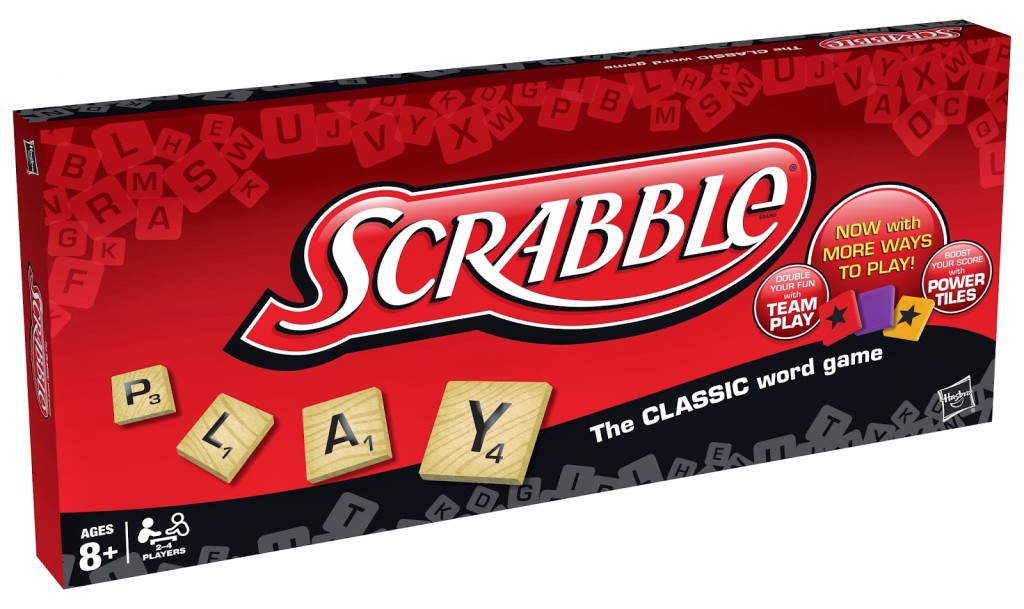 Disclosure:  I was provided with this game for review purposes.  All thoughts and opinions are my own.
Scrabble has always been one of my favorite games.  I actually enjoy word games of all kinds with Scrabble being at the top of my list.  If I ever have a chance to choose a board game to play, it'll be Scrabble.
Scrabble is the CLASSIC word game, and I'm pretty sure most of you have either played it or heard of it.  Scrabble can be played by 2-4 players.  Although it's recommended for ages 8 + up, if you have a younger child who is good at spelling, it would be a great game for them as well.  The Scrabble game I received is a little different than other Scrabble games I have played in the past.  Scrabble now offers MORE ways to play!  Scrabble now comes with 12 "Power Tiles".  There are blank tiles that you can get a score for and there are star tiles which can be used to get new letters without changing a turn or to save a square for a future play.  THese new Power Tiles make the game even more fun and exciting than ever before!
Have you ever heard of the National School Scrabble Program?  To encourage SCRABBLE playing in the classroom, Hasbro offers teachers a specially-priced School SCRABBLE Kit. Each kit costs $95 and includes 6 specially designed wooden SCRABBLE boards, 12 racks, 6 sets of tiles and 6 tile bags plus the most current word source, The Official SCRABBLE Players Dictionary, Fourth Edition.  There are lots of learning benefits through playing Scrabble which makes it perfect for classroom use.
Starting April 25th, the National School Scrabble Championship will be held.  Each team will have two players from grades 4-8.  This years championship will be held in Providence, RI.  I'm sure it will be such a fun event and a great experience for those who enter!
and now for the GIVEAWAY….
1 LUCKY Winner will receive their very own SCRABBLE board game!
Enter using the rafflecopter below.
Giveaway ends 03/18/14.  Open to US Residents only