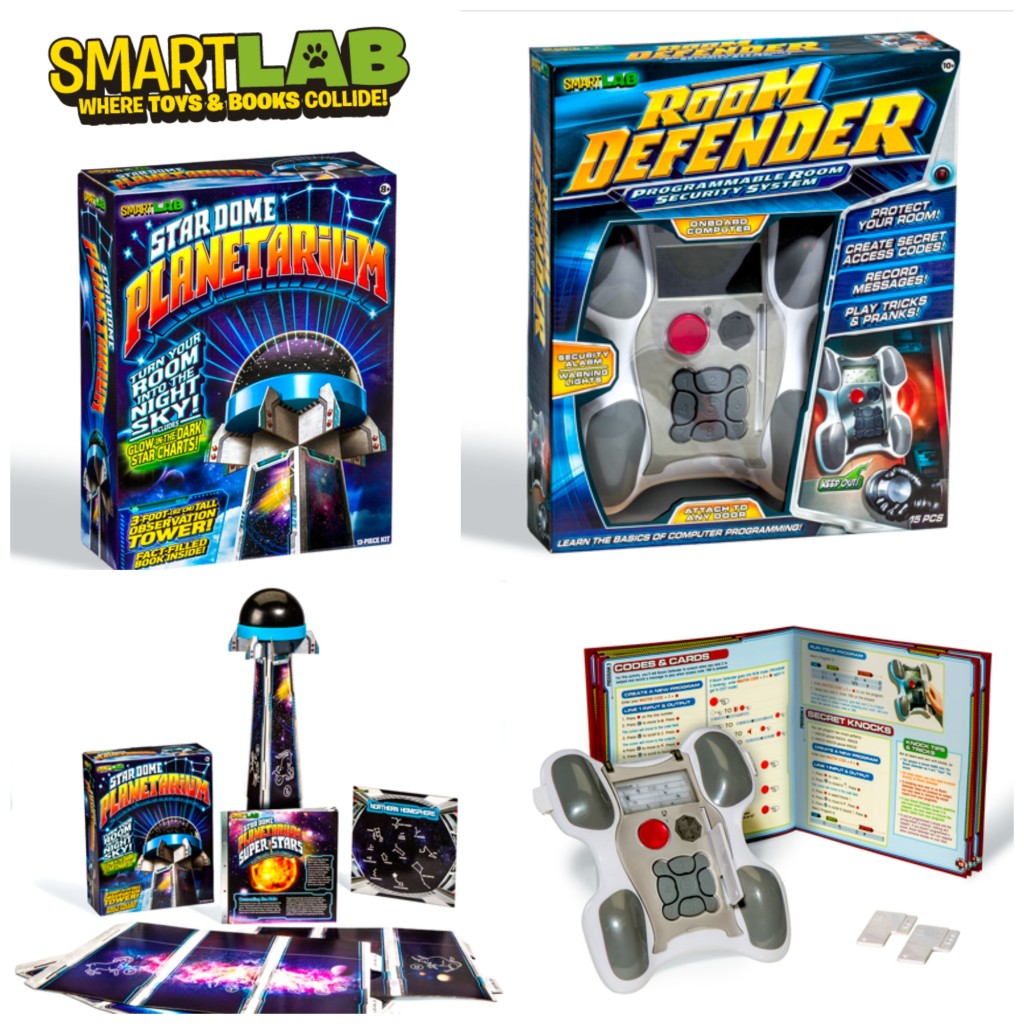 Disclosure:  I received these items for inclusion in the gift guide.  All thoughts and opinions are my own.
SmartLabs toys allow kids to explore, create, and experiment through hands-on learning.  They make educational toys with a book component for kids ages 4-12 years old.  They believe kids learn best through hands-on exploration, so they offer that experience wrapped up in a fun toy and a cool book.
It's always nice to give kids toys that they can actually learn from.  SmartLabs toys make learning fun!  I received the Star Dome Plantarium and the Room Defender.  Both are great at teaching kids something new in a fun way.
The Star Dome Planetarium allows you to bring the night sky inside!    It features a 3-foot tall observation tower that brings your star dome to the perfect viewing height with a 360 degree view.  Glow in the dark star charts are included so kids can track 28 constellations in the Northern and Southern Hemispheres.  The 8 page book that's included is filled with interesting facts and information.  The Star Dome Planetarium is the perfect gift for young astronomers.  It retails for $19.99 and is recommended for children ages 8 and up.
SmartLab Toys Room Defender is a programable room security system.  It's perfect for older siblings who want to keep their little brothers or sisters out of their rooms.  It can be attached to any door and features a security alarm and warning lights.  Kids can protect their rooms, create secret codes, record messages and play tricks and pranks with this awesome toy.  It even includes 10 cool sound effects!  With the Room Defender System kids will learn the basics of computer programming.  The 24-page book includes useful information on computer basics to give the Room Defender personality.  Whoever programs the Room Defender will be able to grant access to their room with secret codes or key cards.  If an unauthorized visitor enters their room when they're away, they will find out!  The Room Defender retails for $39.99 and is recommended for children ages 10 and up.
Be sure to check out Livin' The MOMMY Life's 2014 Holiday Gift Guide for more great gift ideas!