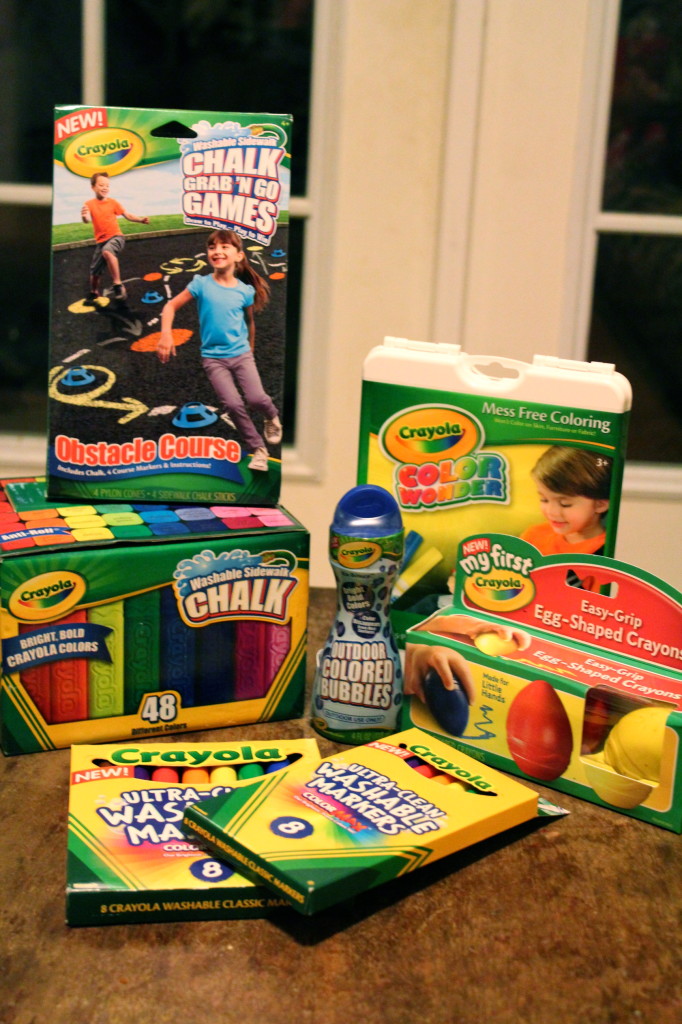 Disclosure:  I received these products for review purposes.  All thoughts and opinions are my own. 
What better way to have some fun this Summer than with a few great products from Crayola.  Whether you spend the days playing outside or on a road trip, Crayola has some awesome products to help make summer time just a little more fun.
I received a great variety of Crayola products including sidewalk chalk, colored bubbles, and the Color Wonder Mini Stow & Go.
The Washable Sidewalk Chalk Grab & Go Games are a fun new product from Crayola.    The Obstacle Course version includes sidewalk chalk, course markers and instructions.  With this kit, kids can design their own obstacle courses.  My seven year old really enjoyed making an obstacle course for her sister and cousin.  It's a great way to get them busy outdoors rather than watching TV or playing on their iPads inside.
The colored bubbles are also lots of fun.  What kids doesn't love bubbles?  The colors magically rub off skin and clean up easily from most surfaces.
I've heard of color wonder markers, but have never had the chance to try them out until now.  If you have a three year old that likes to draw on themselves, this is a must have.  Color wonder markers will only show their color on special color wonder paper!  The Stow & Go kit is perfect for traveling.  It comes with a 15 page mini coloring pad and markers that can be neatly stored in the convenient plastic case.
Sidewalk chalk is always a fun activity for the kids.  They can spend hours drawing, writing their names, or creating fun games like hopscotch or tic tac toe.  We received a box of 48 bright bold colors.  The possibilities to what we can draw and create are endless with such a wide variety of colors.
Keep the kids entertained this summer with all these great products from crayola!