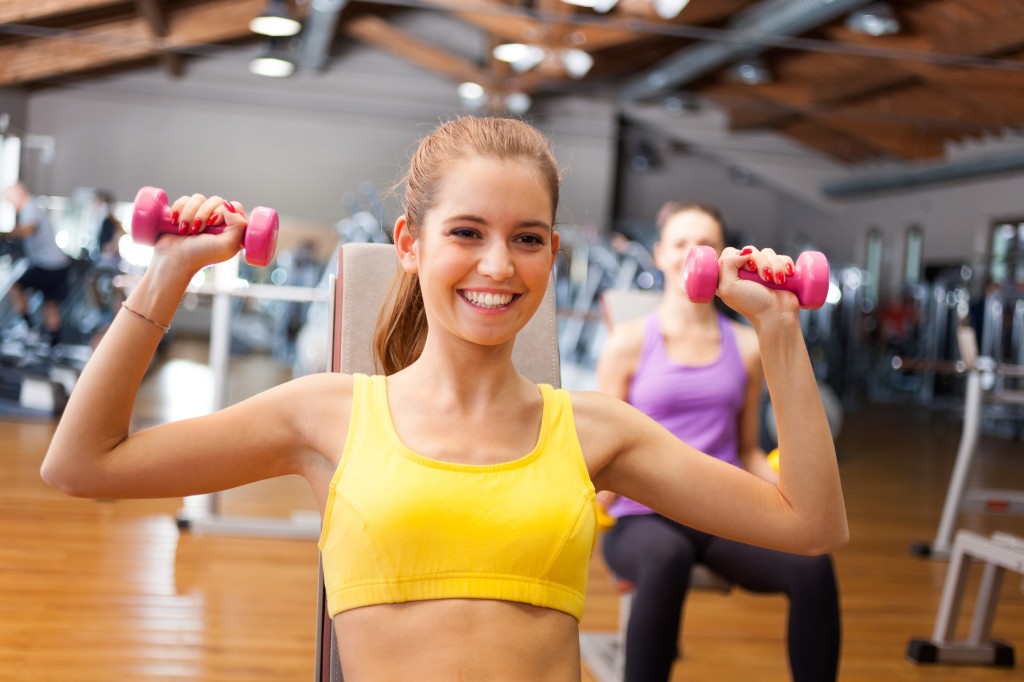 Disclosure:  This is a guest post. 
We've all been through this nightmare scenario one way or another: you're getting ready to go out and you put on your favorite pair of jeans. It's tight all around and gives good definition to your thighs and butt, so you let out a contented smile…
But then your eyes dart up to your midsection, and see the two sides of your tummy seemingly melting on top of your jeans like ice cream on a cone! Mortified, you let out a muffled shriek and cry: "OMG this can't be happening! What is this?"
Get a hold of yourself! The end is NOT nigh. I'll be showing you five tried and tested ways to get rid of annoying belly fat and unsightly tummy rolls. So keep calm, and read on.
1. Go on a diet
To get rid of body fat, you need to lose weight. To lose weight effectively, you need to go on a diet. There a thousands of diets out there in the wild. Some are effective, while others are just plain hype. Paleo, Atkins, South Beach, and Cave Man: regardless of what diet plan you choose, you have to follow that plan to a T and don't deviate from it. Don't hop from one diet to another. Rule of thumb is if you can't pluck it out of a tree, or it doesn't grow out of the ground, don't eat it!
2. Intermittent Fasting
Let me be clear, Intermittent Fasting is NOT a diet! It's an eating schedule, and it's highly effective for slimming down. Here's how: don't eat breakfast! You can have black coffee or tea with no sugar and that's it! Your first meal of the day should be at 12 noon, followed by whatever scheduled eating you have. Your last meal of the day should be no later than 8pm. After 8pm, you won't be able to eat anything. This schedule follows the 16 hr fast/8 hr feed protocol and is highly effective when combined with regular exercise.
3. Move it!
Get off the couch and shake it, girl! Exercise has been proven to blast body fat, especially if you get your heart rate up to the cardio zone. When your heart rate is elevated, your body needs more energy to burn, and the most readily available energy is your fat stores. So get out there and bust a move by getting some dancing lessons, doing Zumba or just lace up your sneakers and go for a run.
4. HIIT Training
If you want to burn through your flab faster, then High Intensity Interval Training is what you should do. HIIT workouts are shorter than steady state cardio (running, biking) but they're more intense. This type of exercise gets your heart rate up fast and does wonders for your metabolism.
HIIT is done by going 110% for a minute or two followed by a period of rest. An example would be running all out for two minutes, then walking for one minute and doing it all over again for a set number of rounds. It also has another added bonus: the afterburn effect, where your body continues to burn calories even hours after your workout. I love it because it's definitely a time saver!
5. Camouflage
Girl, this is war! And in war, pretty soldiers like us wear camo. If all else fails, or if there's a little bit of stubborn tummy roll left in your midsection, pull out a fast one and hide it. Get some form fitting clothes or shapewear that will help conceal those infamous T-rolls. Wear a loose shirt and show off your beautiful shoulders to keep the attention from the shoulder up, or wear a tight spandex slimming tank top to flatten the flab and enhance the curves.
There you have it; five ways you can deal with your pesky tummy roll problems that have proven to be both effective and safe. You don't have to spend a fortune in surgery and radio frequency treatments to look great. All you need is a little creativity, patience and some shapewear!