This is a Sponsored post written by me on behalf of Kmart for SocialSpark. All opinions are 100% mine.
With the Holidays coming up, it's now time to think about shopping for holiday gifts!  For some, it may be hard to make those big purchases all at once.  If this is the case for you, you may want to look into layaway at Kmart.  Kmart offers a great layaway plan.  Just bring your items to the Kmart layaway counter in stores or add to  your shopping cart online.  If you sign up for layaway between 9/09-11/17 you will get free layaway!!  THat's right!  There will be NO service fees if you sign up during this time period!   Just make payments every 2 weeks.  Payments can be made online or at any Kmart register.  The layaway contract is for 8 weeks, and they also offer a 12 week contract for those who may need a little more time.  The 12 weeks contract can be done in stores only and there is a minimum of $300.
With layaway, you can get your shopping done early, just pay every two weeks, and as soon as all payments are made, you can take your items home and get them wrapped in time for the Holidays!
Layaway is a great option when buying toys for the kids, espeically for those popular toys, that are hard to find when it gets closer to Christmas.  Just put it in layaway and you'll be sure to snag the item once it's been paid for.
After browsing through Kmart online, I found a few things I'd put in layaway!  A Nook Color for me and a Radio Flyer Trike for my daughter.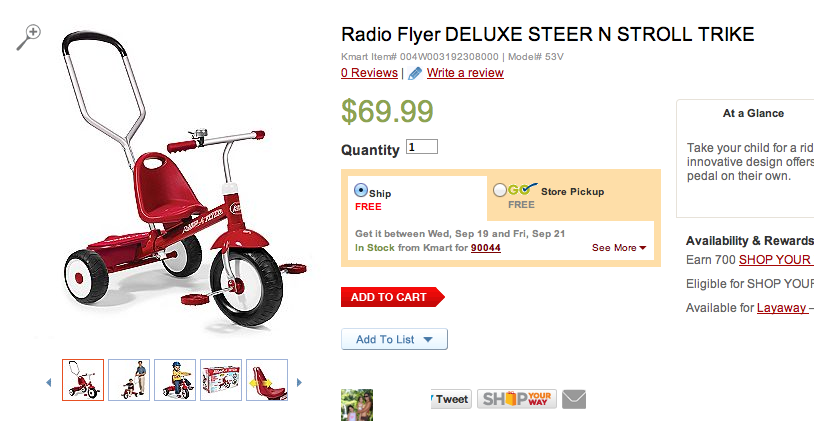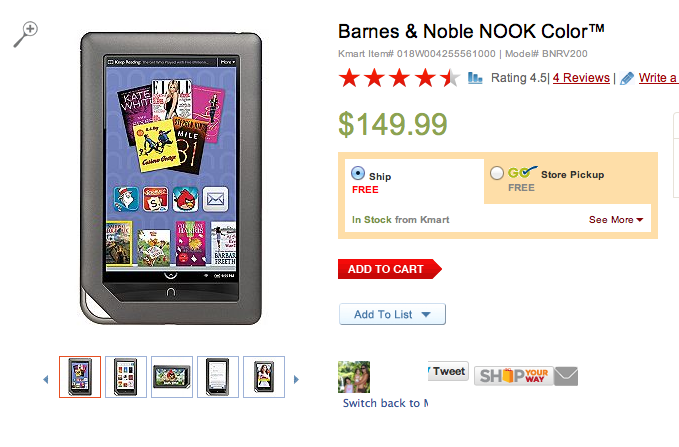 Want to know another great reason to put your items on layaway at Kmart?  Kmart's Big Layaway Giveaway is going on now!  There will be one winner at each store every week starting September 9th through November 17th.  What do you win?  Just put your purchases on layaway at Kmart, and you'll have the chance to win your remaining balance paid off!!  How cool is that?  This is such an awesome opportunity, and there will be LOTS of winners!
So head on over to Kmart and get your Holiday Shopping done early!