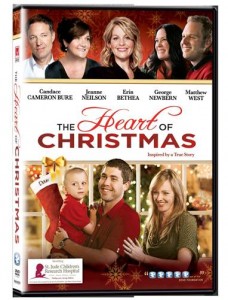 I just got done watching "The Heart of Christmas" and I must say, it was definitely a tear jerker!  I was already in tears less than 10 minutes into the movie.  It was so sad!
Based on a true story, this movie is about a family who finds out their son has cancer.  After months of treatment turns out to be unsuccessful he is sent home to live his final days.  His family decided they want to give him one last Christmas to enjoy,  and with the help of neighbors who love and care for them, they do it, even if it's still October!  This movie really makes you think how precious your time is, and how you should cherish each and every day with those you love.  It was so heartwarming to see the neighborhood get together to be there for this family.  Christmas is a time of togetherness, to celebrate, and be happy for what you have.
and now for the GIVEAWAY….
5 LUCKY winners will receive "The Heart of Christmas" on DVD
*PLEASE Follow directions.  Leaving a comment on this blog post is MANDATORY!  If you do not leave a comment, your other entries will be disqualified.  I don't want to have to disqualify anyone!
Disclosure:  I received a DVD for review.  All thoughts and opinions are my own.  Livin' The MOMMY Life is not responsible for prize shipment.