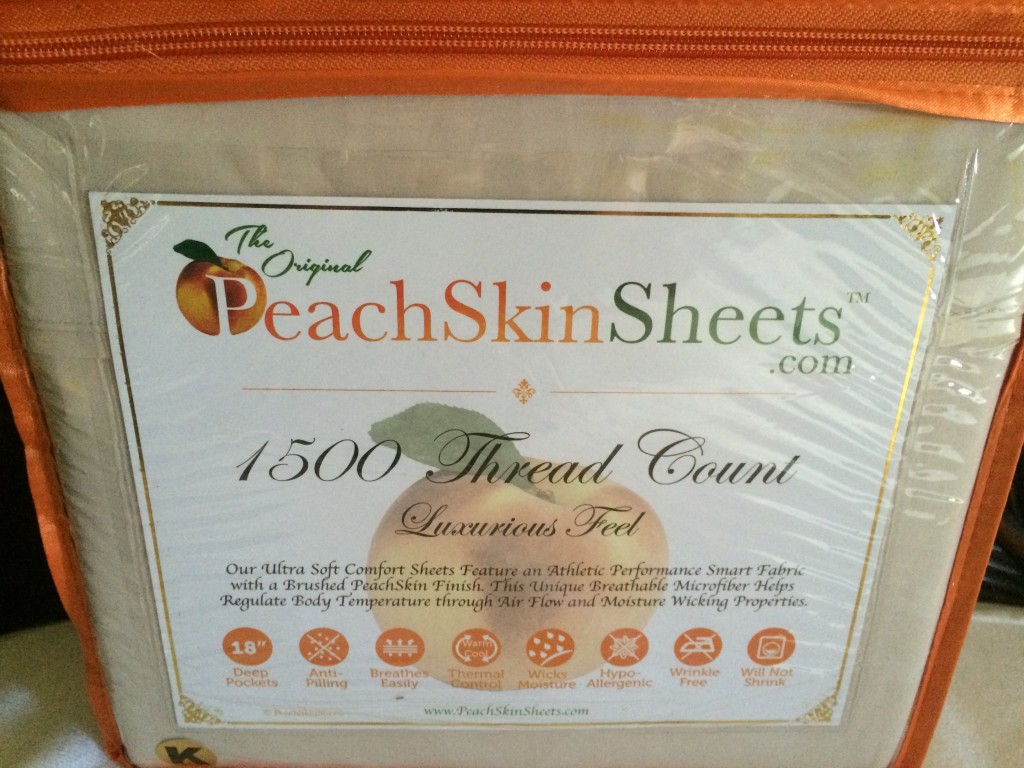 I must admit, I wasn't sure what to expect with PeachSkinSheets.  I've come to love my 100% cotton sheets (they're all I ever use), but was looking forward to trying something new.  I've heard such great things about PeachSkinSheets and wanted to know what all the hype was about. Some have claimed that they're the most comfortable sheets ever.  So, I really had to find out for myself.
Upon opening the packaging I did notice how soft and smooth the sheets were to the touch.  These buttery soft sheets feel great against your skin!
PeachSkinSheets have so many awesome benefits.  You'll just love all it has to offer!
20 Benefits of PeachSkinSheets™ Performance Sleep Fabric
A 21st Century SMART Fabric
Body Temperature and Moisture Management Properties…Warm Sleepers Stay Cool, Cool Sleepers Stay Warm
Perfect for Night Sweats…Athletic Grade Performance Fabric Wicks Away Moisture Rather than Just Absorbing Like Cotton
More Breathable than Most Fabrics Including  Cotton. Advanced Poly Microfibers Breathe Like Workout Clothes to Keep You Comfortable All  Night
Reversible Brushed PeachSkin Finish on Both Sides for Extraordinary 1500 Thread Count Softness Caressing Every Inch of Your Body
18″ Deep Pockets with Elastic All Around Will Fit Memory Foam,  Custom  Number and  Double Pillow Top Mattresses up to 22″-24″
Anti-Pill…No Little Balls (Rolly-Pollies) on Your Fitted Sheets
Strong and Durable … Stands Up To Kids, Pets and Years of Daily Use
Always Ultra Soft Right Out of the Package….No Need to "Break Them In" and Soften with Numerous Washings
Anti-Slip, Non-Sateen Finish Means Softness Without Slipping or Sliding Off Your Bed
Rough Skin and Callouses Will Not Snag and Easily Wear Out Fabric
Comes Out of Dryer with No Wrinkles For a Neatly Made Bed
Hypoallergenic and Great for Allergies, Sensitive Skin, Eczema
Anti-Microbial to Prevent Dust and Pollen from Adhering to Fabric and Aggravating Allergies/Skin Issues
Colors Will Not Fade, Whites Will Not Gray or Become Dingy from  Laundering
Stain Resistant and Lightweight
Dries Super Fast On Medium Heat In Only 15 Minutes
No Shrinkage Means No Fighting Down The Road with Your Fitted Sheet to Make it Fit
Pet Hair Does Not "Weave" Itself into Fabric, and High Performance Yarns Offer Better Protection Against Claws
Fiber Never Treated with Pesticides Like Natural, Non-Organic Fabrics
So, I've only had the PeachSkinSheets on my bed for two nights now and I must say, I'm really enjoying them!  So far, I have had no problems whatsoever.  I've dealt with sheets in the past that wouldn't stay on.  These have stayed on all night without slipping off at all.  They aren't entirely wrinkle free, but wrinkles are minimal.  My cotton sheets look more wrinkled then these after a night of use.  I love that these sheets are anti-pill.  When sheets start pilling, it really bothers me.  So much so, that I have to throw them out.  I'm glad I won't have to deal with that problem with these sheets.
Being that the sheets are brand new, I never would have chosen to test its stain resistance. Unfortunate incidents happen though, and luckily, they passed the test! My husband had a little cut on his face that he wasn't aware of and got a tiny bit of blood on the pillowcase.  I freaked when I saw it, as I thought my new pillowcases were ruined!  Believe it or not, I was able to get the blood out with a washcloth and just a little bit of water.  It was so easy to remove the stain, I was quite surprised!
My sheets are the Almond (Ivory) color.  It's a great color that'll match with everything!  I'm already looking to purchase another set.  There are thirteen colors to choose from though, so I know it'll be a hard decision.  I just might have to collect them all!  Yes, they're that good.  Sheet sets are all $69.95 no matter the size.  It's an amazing price for such a quality set of sheets. They also have certain "Colors of the Month" available.  These colors are on special for just $55.  What a deal!
PeachSkinSheets will make a wonderful gift.  Spoil your friends and family with the gift of a good nights sleep!  They also make a great gift for yourself.
and now for the GIVEAWAY…
One Lucky winner will receive a set of sheets of your choice. Enter using the rafflecopter below. Open to US residents only.