I've always loved browsing through all the amazing, cool and unique items Hammacher Schlemmer offers. Known for offering, "the Best, the Only and the Unexpected for 168 years", Hammacher Schlemmer is a great place to look for a special gift for that special someone in your life. They carry everything from apparel to electronics and toys. There's something for everyone!



I was able to choose one item from the Hammacher Schlemmer site to feature in my Holiday Gift Guide. Boy, did I have a hard time choosing! They carry so many great products, it was very hard to choose just one. I finally decided on something we don't have, but could definitely make use of on future camping trips.
The Queen size Superior Inflatable Bed provides a superior combination of comfort, ease of use, and air retention. Its inflatable circular air coils and internal reinforcements provide support, conform to the sleeper's body shape, and cushion pressure points. At 18″ high, it is easier to get into/out of, unlike other infatable beds that sink on the side when one tries to get up. It has a built-in electric pump that inflates or deflates the bed in 3 1/2 minutes, automatically shuts off when the selected firmness setting is reached, and silently engages to maintain firmness. The bed folds easily for storage in the included bag. It also comes with a removable pillowtop mattress pad. It's basically everything you could want or need in an inflatable bed.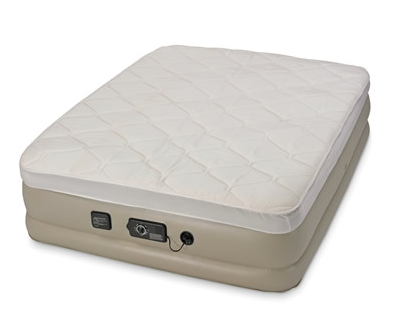 We'll be camping in luxury with this bed! Definitely looking forward to our next camping trip, just so we can make some use out of it. The bed comes in both Queen and Twin sizes. The Queen costs $224.95.
If you're in search of a great, unexpected, unique gift, I highly recommend checking out all the awesome things Hammacher Schlemmer offers. With the awesome selection, you're sure to find something you like.