My family is always using some kind of technology.  Whether it's the TV, computers, or iPads, everyone in this house is usually making use of some form of an electronic device.  Technology can get in the way of spending quality time together as a family.  Yes, you may be physically together, but everyone's doing their own thing.  When we were growing up, life was so different.  We didn't have all the technology that we have today.  As kids, we grew up in a different lifestyle.  I see many differences in the way kids are today compared to how we were when we were kids and I think a lot of it has to do with technology.
I chose to take the Tech Timeout™ challenge.  Being a blogger, I spend a lot of time on the computer.  There is always so much work that needs to be done.  Yes, my blog is important, but my family should always come first.  Sometimes I get so involved in blog work, that the time quickly passes by, and I feel bad that I hadn't spent more time with my daughters.  My girls are growing up so fast, and these are days we can't get back.  We do spend quality time as a family, usually on weekends.  We'll go to the beach, shopping, horseback riding.  Those always turn out to be some of the most memorable moments.
Check out the list below for some ideas on things you can do as a family without technology.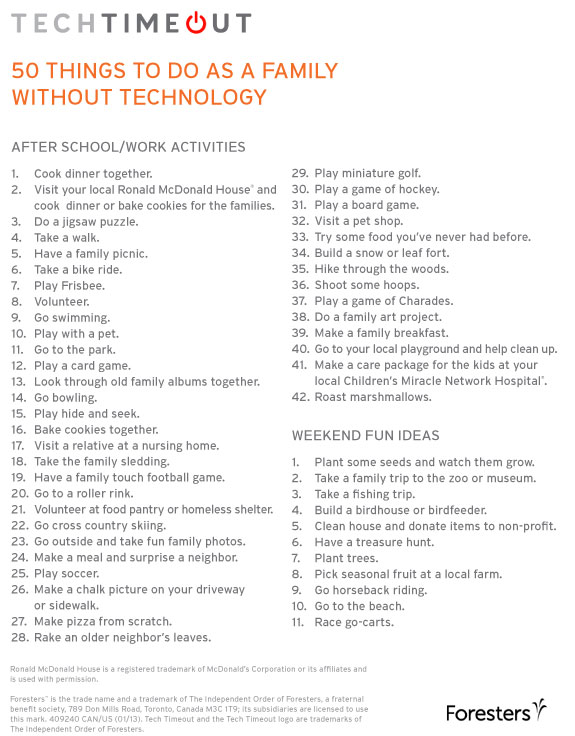 A month or so ago, we had a black-out.  We spent all day with no electricity.  I had no choice but to put blogging aside.  And you know what?  I had a great day!  My daughter and I went for a walk, played in the yard, and did some cleaning.  It was actually quite relaxing, and after that I made it a point to strep away from the computer each day to do something fun with my daughter.
For the Tech Timeout™ challenge I pledged to spend at least 1 hour a day on Friday, Saturday and Sunday without any electronic devices.  I knew it could be done.  Getting my older daughter to turn off the TV, was a little hard.  She fussed a little as she wanted to watch her favorite Disney Channel shows, but she did it.  My family often has the tv on during Dinner.  I decided to take our Tech Timeout during dinner on Friday night.  We had a nice time as a family and got to talk about how everyones day went without any distractions.  It was nice.  On Saturday, we spent the day outside.  The kids played in the yard, on the playground and rode their bikes and Power Wheels truck in the driveway.  I also had them help me make smoothies which we enjoyed outside since it was such a hot day!  My husband went fishing, so it was just my girls and I.  On Sunday, we went shopping.  I needed to make a Costco run and stopped at a few other stores too.  Because we live so far away from everything, whenever we go shopping we make a day of it.  Costco is over an hour away, so whenever we go, we stock up!  Not having smart phones makes it easy to stay away from technology when we aren't at home.  If we had smart phones, I'm sure we would have used them.
Would you be willing to take the Tech Timeout™ challenge?  Have your family take the pledge using the form below.  I'd love to hear what you did during your Tech Timeout!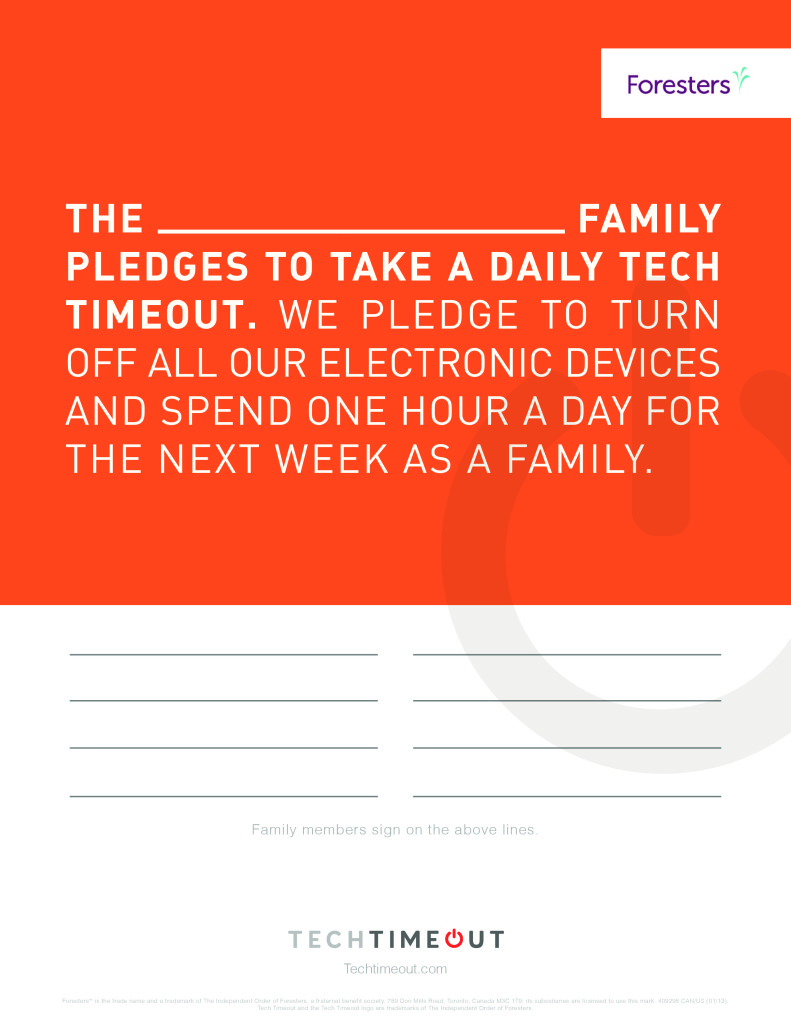 Disclosure: This is a sponsored post. I will receive compensation for writing this post. All thoughts and opinions are my own.