Disclosure:  I was provided with the Twister Dance Rave Game and Giveaway item in exchange for my honest review.
I received the new Twister Dance Rave game from Hasbro Games.  Many of you have probably heard of the original Twister game, right?  It's a pretty popular game that's been around for a while.  My daughter has it and enjoys it!  Well, Twister Dance Rave is a dancing game, and other than the colored dots, It's not much like the original Twister.  It's recommended for children 8 and up.
It's party time! The TWISTER DANCE RAVE game brings the fun with today's hottest music, great speakers and LED lights that shine to create your very own dance floor. Girls will love learning dances and showing off their moves to songs from popular artists, or they can plug their own mp3 players into the console, turning virtually any song into a dance song! The party never ends as players continue to learn new dances by following the lights and moving to the beat on the iconic TWISTER spots in head-to-head or freestyle play. (Requires 4 AA batteries – demo batteries included).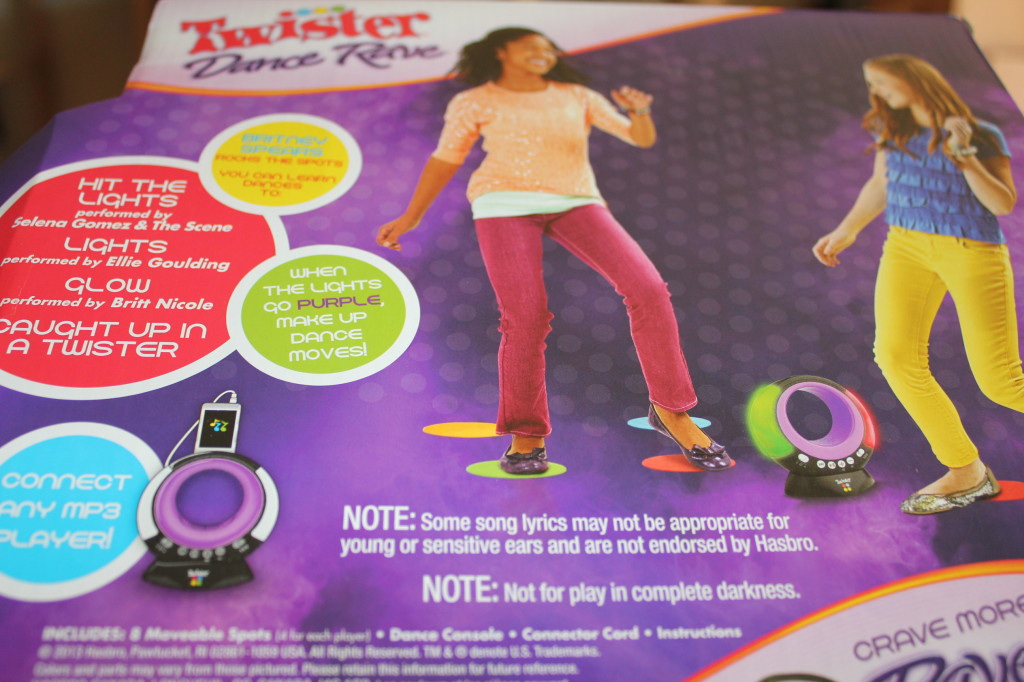 My daughter is almost 7, so she's not quite at the recommended age, but she is a dancer and loves to dance, so I thought she'd really enjoy this game.  The game includes the colored dots and a speaker which is pre-loaded with four songs.  You can also attach any mp3 player to the speaker.  This game can be played with one or two players.  Set up is easy, just follow the pictures to place the colored dots in a certain order on the floor.  Then, you choose one of the songs by popular artists such as Selena Gomez and Ellie Goulding, or plug in your mp3 player and pick a song of your own.
The music was great and got both my girls up and dancing!  The problem we had was with the colored dots.  They stuck to my daughters feet rather than the floor.  It was impossible for her to follow along with the lights as the dots would not stay in place.  We tried it on both carpet and our bamboo floor.  My daughter was barefoot at the time, and now I'm wondering if there would have been a difference if she had been using socks.  I think this game would work a lot better with a mat rather than individual dots.  It works well as a speaker for an mp3 player, and the included songs will get your kids moving, but for it's actual purpose, I wouldn't recommend it.  If we do use it again in the future, I will have to find a way to replace the dots with something that will stay in place.
And now for the GIVEAWAY…
One of you will WIN your very own Twister Dance Rave.  Enter using the rafflecopter below. open to residents of the US.