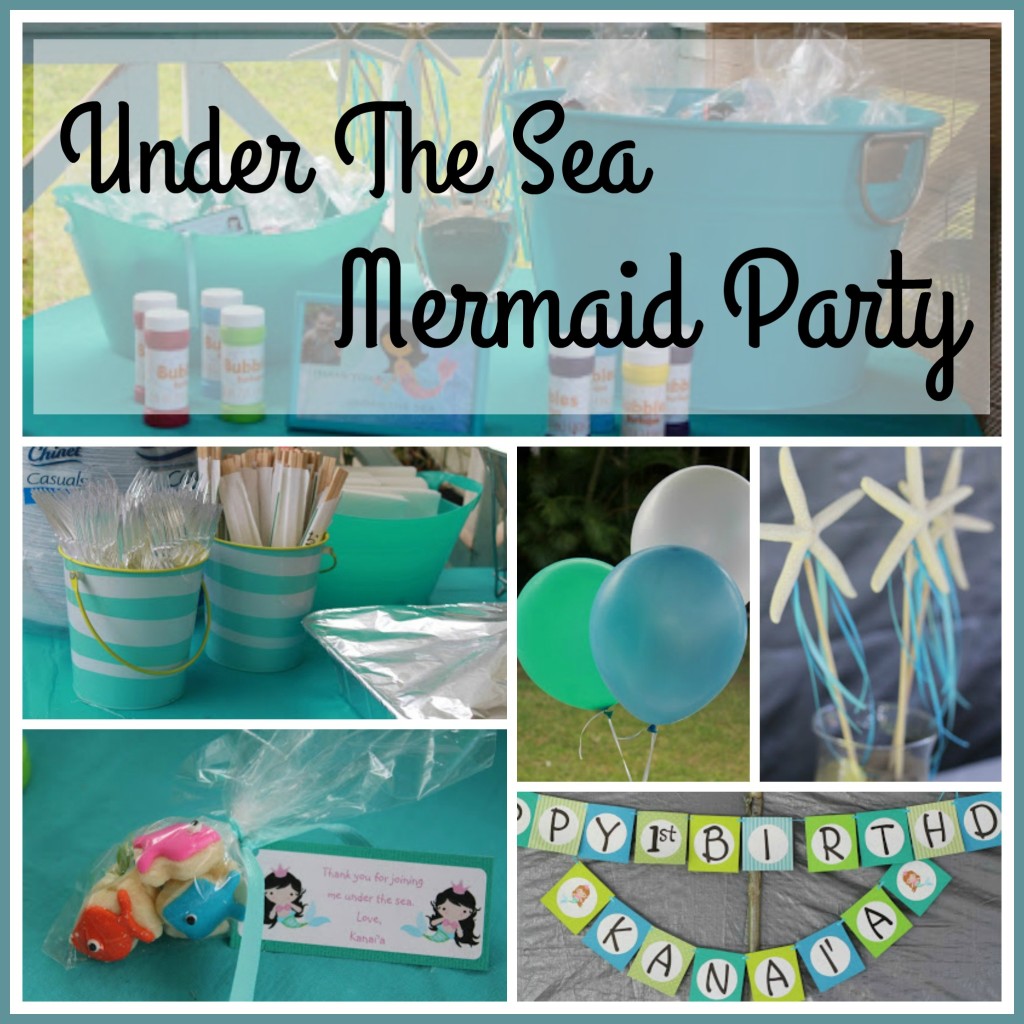 We celebrated my baby girls first birthday yesterday with an "under the sea" themed party. It was a whole lot of fun! I'm so proud of myself for making the sign and decorations.  I'm not the craftiest, but when I put my mind to something, I can definitely get it done.   I think it all came out pretty good, being it's the first time I made everything on my own. My goal was too make it nice and cute while sticking to a budget.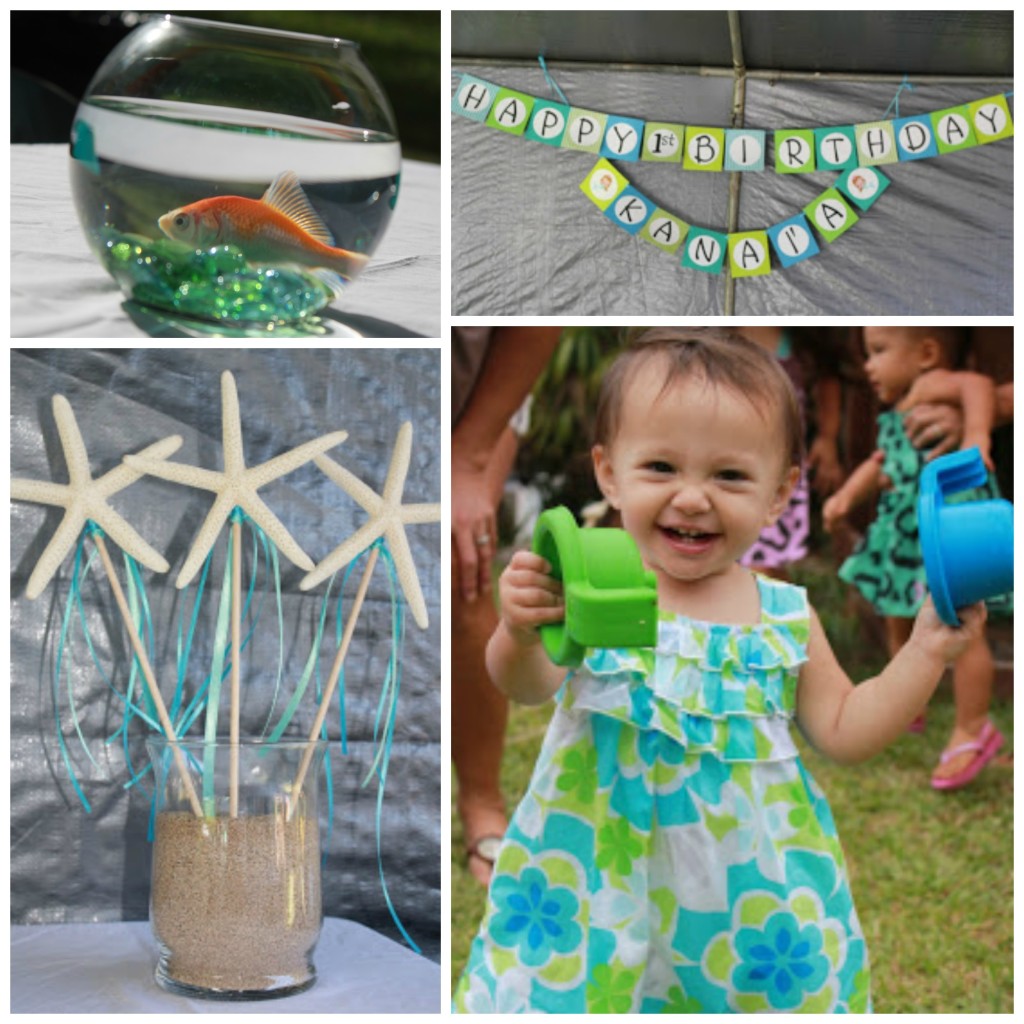 I made the "Happy Birthday" sign using assorted colors of cardstock.  After gluing the letters onto each piece, I joined each square together with some ribbon. I've seen similar banners for sale on etsy for over $20 each, it wasn't very hard to do and I saved a lot of money by making my own.
I put some STARFISH WANDS in glass vases filled with sand, and placed them on the dessert table and the "party favor/gift" table. After the party, I gave them away to the little girls. They loved them!  Starfish Wands are a "must-have" for any Mermaid Party.
The day before the party my husband and I made the last minute decision to get goldfish as centerpieces! We got them at Petco for $0.29 each, and bought their little fish bowls at walmart for a couple dollars. They were a big hit and a great addition to our party decor.
I put together a "party favor" table with goody bags for the kids and fishy cookie favors for the adults.  We also used this area for the "gift table".  I ordered the adorable fishy cookies off of etsy, from
Cookie Mamas
.  I'm so glad I came across them as they were so cute, and made perfect party favors.  They were also very yummy, although they were almost too cute to eat.  The goody bags were filled with snacks, a little beach ball, and a water ball.  They were simple treats that fit in well with the theme.
Metal beverage tubs I found at Target were used to hold the goody bags as well as for the drinks. I also used some smaller metal buckets to hold the forks and spoons. The metal buckets were found at Targets Easter Clearance at 75% off!
We set up an inflatable jumper, water table, and little climber/swing set for the kids to play with during the party. We also attempted to do some face painting (My husband is NOT the best artist), and balloon animals for the kids.
The Birthday Cake was pretty simple, I bought "HAPPY BIRTHDAY" candles as well as a number 1 candle to add to it.
 We ended the party with a pinata! Unfortunately, I couldn't find a pinata that fit in with the "under the sea" theme, but the kids didn't mind! They were excited to get some candy! I also found some cute sea animal finger puppets at Target's dollar spot 4 for $1, that I stuffed into the pinata along with the candy! Even the Big Kids joined in on the fun!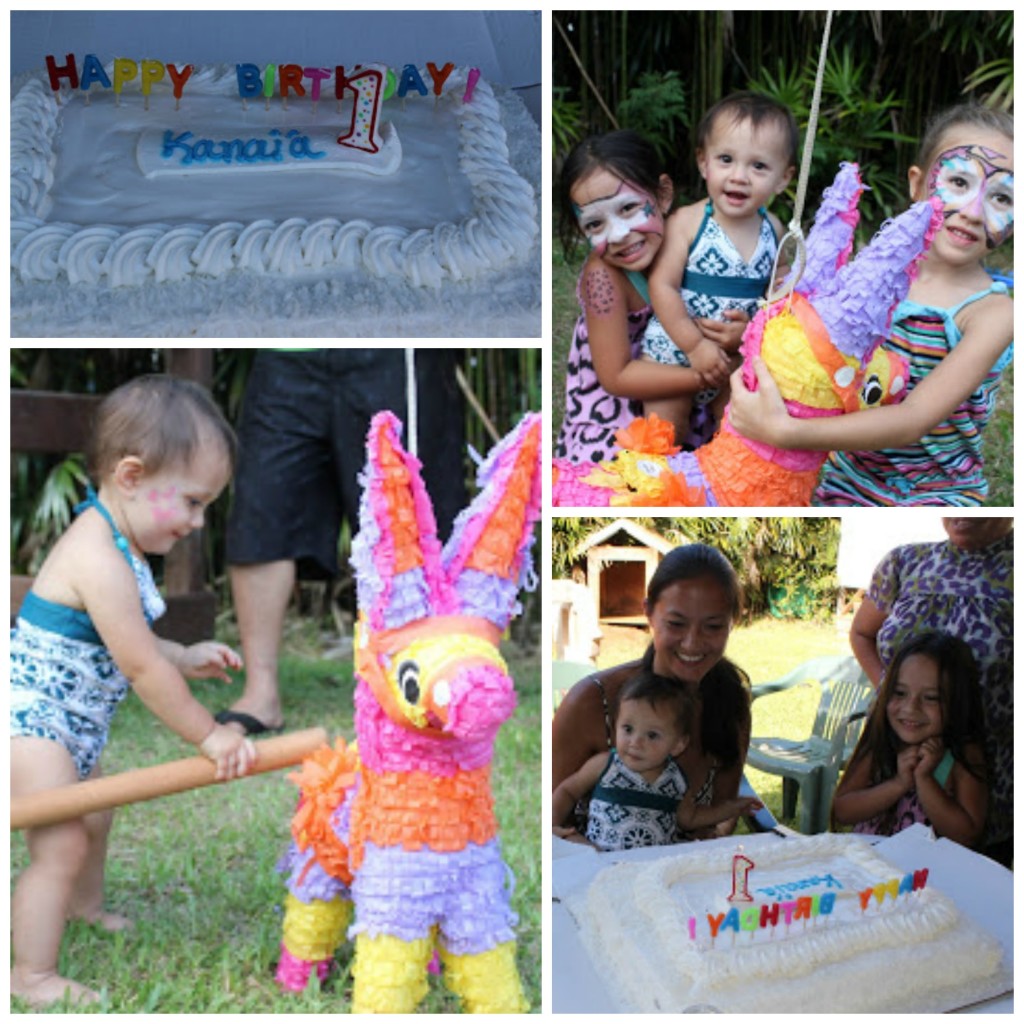 We all had fun! I really enjoyed planning it, and seeing it all turn out well. My 4 year old is already asking for an "animal print" party for her 5th birthday in January! So what do you think? Have you ever planned a themed birthday party? Have any ideas for one?