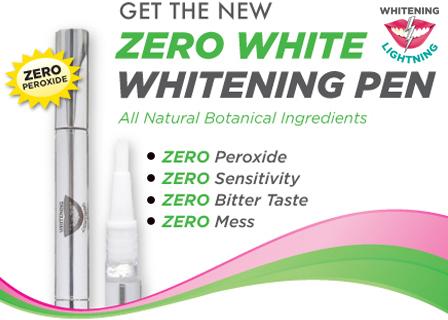 I've been wanting to try a teeth whitening product for a while now.  I wasn't sure what products to try as there are so many out there now days.  My Dentist also offers teeth whitening, but it's not very affordable, and since it isn't a "need" I wasn't going to pay the price just to attempt to whiten my teeth.
When I found out about Whitening Lightning, I was excited to give it a try.  The first product I tried was the ZERO White Whitening Pen.  It contains all natural ingredients and does not  contain peroxide.  The ingredients include Glycerin, SodiumBicarbonate, Ergocalcferol, Potassium Sorbate, Carbomer, Aloe Barbadensis (Aloe) Leaf Juice, Punica Granatum (pomegrante) seed extract, Chamomila Recutia (chamomile) flower extract, Sodium Floride, Flavor, Polysorbate 20.   It also claims that it doesn't cause teeth sensitivity.
Although I always hope for the best, I must say I am a bit of a sceptic when it comes to these sorts of products.  I really have to see it to believe it!
Well, guess what?  I am thrilled to say that this product does work!  Although I wasn't quite sure that I noticed any difference after the first application, I tried again a second time, and I did notice a slight difference in the color of my teeth.  My teeth also appeared to be shinier than usual, as if I just had them polished at the dentists office! I've been using the ZERO White Whitening Pen for a week now and I am so happy with the results! The product is very easy to apply. It's a pen shaped device with a brush at the end. You turn the bottom to get the gel onto the brush, then you apply it to your teeth. You need to dry your teeth before applying the product, I just use a dry washcloth. After you apply the gel, you need to keep a smile on your face for a minute while the product sets. That's it! It's a super easy process with great results.
Before: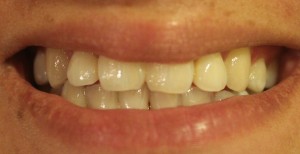 After (1 week of use):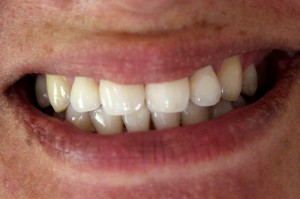 Whitening Lightning also more products on their site including a Super Booster Whitening Pen which I have yet to try and Color Your Smile Lighted Lip Gloss.  Why is it called a "lighted lip gloss?"  There's a built in light!  Neat right?  Upon unscrewing the cap you will find that there's a light on the inside of the cap.  There's also a very handy mirror on the outside of the lip gloss.  It's perfect for applying your lip gloss while on the go!  The lip gloss contains collagen peptides which are said to increase lip volume.  It comes in four different colors with the neutral colored Crystal being my favorite!  It gave my lips a lot of shine with just a hint of color!
Whitening Lightning is offering Livin' The MOMMY Life readers 70% off their order when you use the code: LIVIN70
and now for the GIVEAWAY!
1 lucky reader will win a ZERO White Whitening Pen with a retail value of $79.00 & a Super Booster Whitening Pen with a retail value of $79 = total value $158
Giveaway runs from 7/30 – 8/12/2012