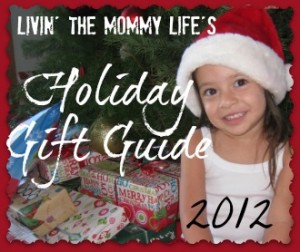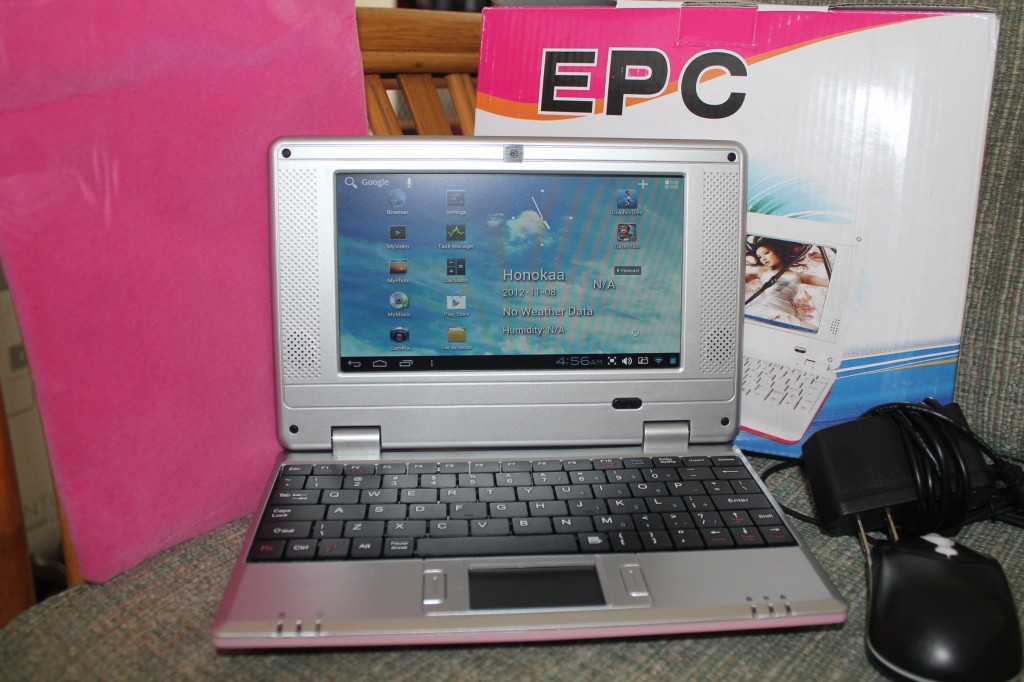 The WOLVOL 7 inch Netbook Tablet PC is a very small and compact computer which makes it perfect for taking on the go.  It is made of plastic, but seems to be pretty durable.  It's a nice light pink color which girls are sure to love.  Included in the box along with the netbook are a velvet pouch, charger, and mini optical mouse.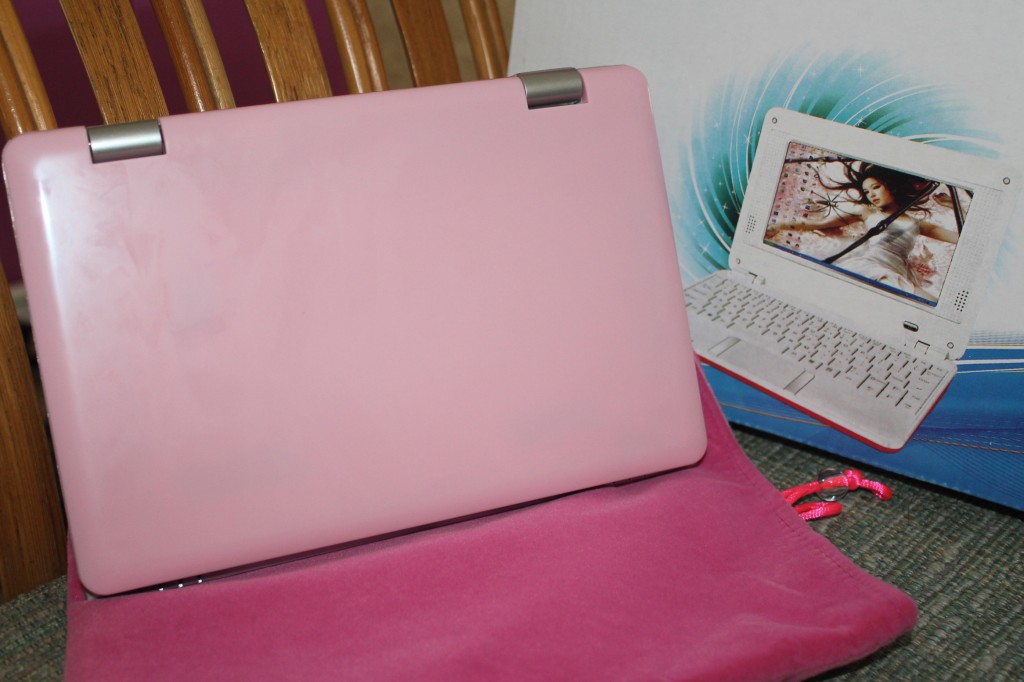 The netbook tablet PC comes with built in WIFI which is great.  I was able to get connected easily.  My daughter always wants to play Disney Jr. and Barbie games online so that was the first thing I tried out with this commuter.  I couldn't get any games to load on Disney Jr, and I have no idea why.  Some of the Barbie games did work, but I found it hard to play with the small screen and the tiny trackpad.  I also tried Netflix, and was taken to the netflix site for mobile devices.  I tried to click on the sign-in button, but nothing happened so I wasn't able to get on Netflix. The pages do load fairly quickly, so that isn't a problem.
I thought this would work great for my 5 year old, but I think it would be too difficult for her to use.  If you don't mind the small screen, this laptop would work well for simple things such as Facebook and checking e-mails which I tested and was able to do.  You can also download  games from the Google Play Store for free, I downloaded a couple and used the mouse to play them. I found it easier to control with the use of the available mouse rather than the trackpad.  The built in camera is a nice feature, especially for something in this price range.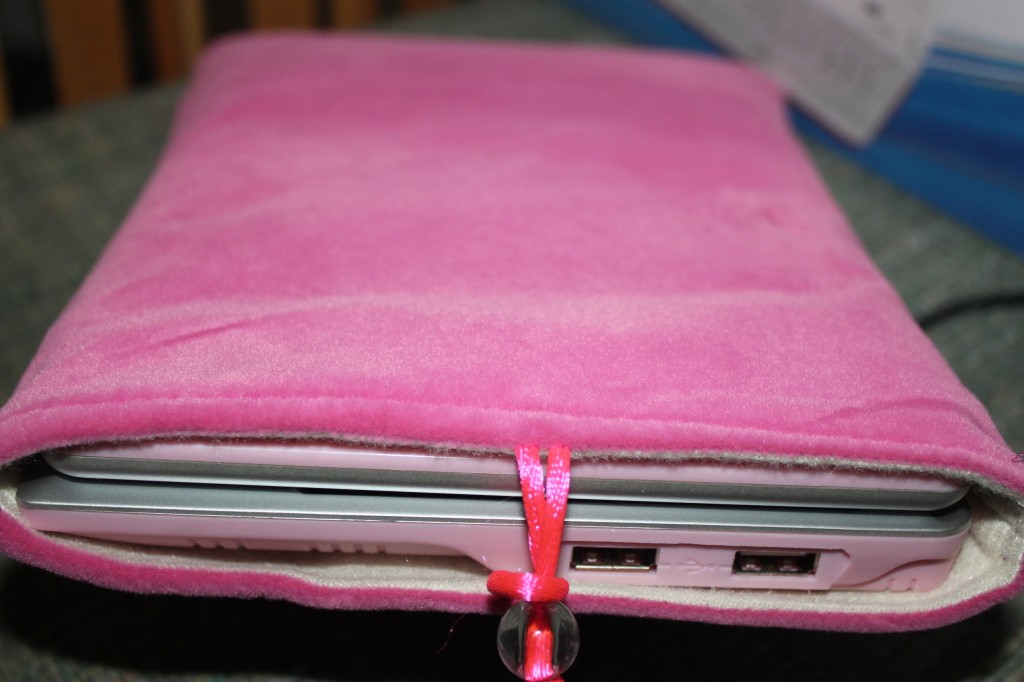 The included pouch fits the netbook perfectly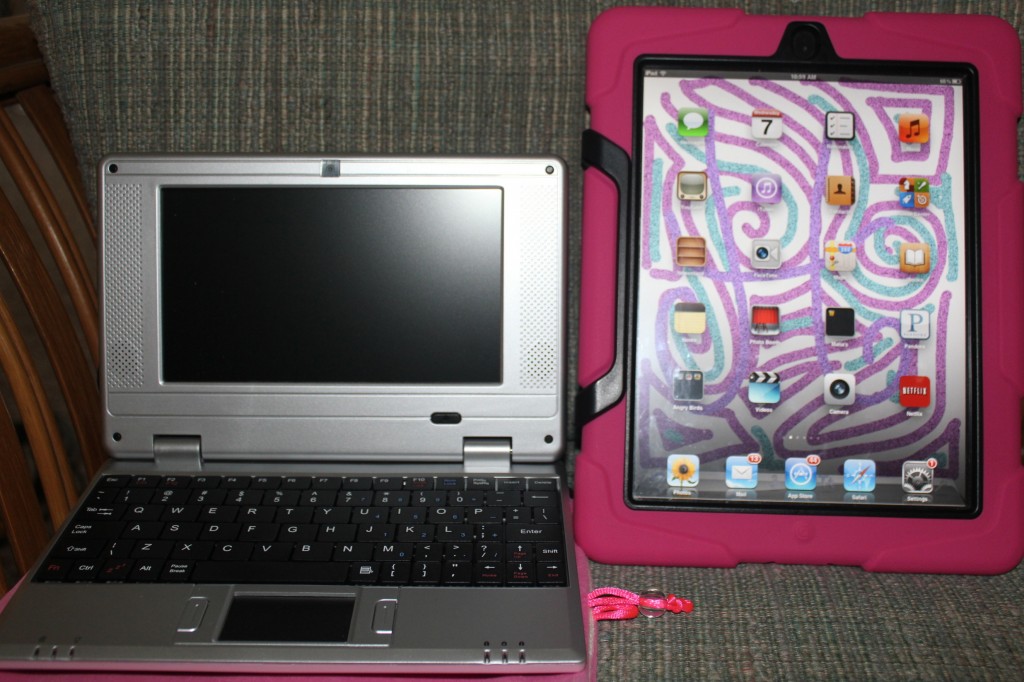 Here's a better idea of the size of this netbook next to an iPad 2
This item includes the newest Android 4.0 system, 1 GB of Internal RAM/DDR and 4 GB NAND-Flash.  There is a SD Card Slot reader as well as MIC in and Headphone out jacks, 2 USB 2.0 ports and a mini HDMI port.
All in all, this is an affordable item, and will work for sites such as Facebook, checking e-mails, and playing games downloaded from Google Play.  I think this would be a good item for older kids or teenagers if you can't afford to spend more.  It's priced at $119.94 and can be purchased at Wolvol.com as well as Amazon.