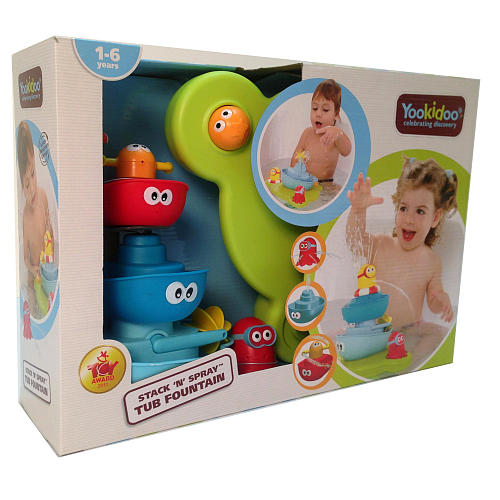 The award winning Yookidoo Stack n Spray Tub Fountain makes bath time extra fun!  Add this to your bathtub, and your kids won't want to get out.  As toddlers my girls enjoyed bath time so much. My youngest is 5 and she still does, especially when there are fun toys like this to play with.
The Yookidoo Stack n Spray Tub Fountain is a great bath toy.  It requires 3 AA batteries, which are not included.  It comes with a base and suction cup which attaches easily to the bottom of the tub. This helps to prevent it from floating away from younger kids.  Older kids can detach it easily if they wish.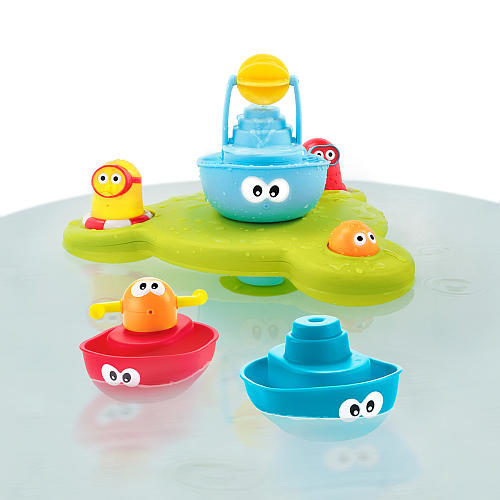 What first caught my eye with this toy was the bright colors the fountain and accessories are made of.  All pieces are durable and well-made.  It's sure to keep kids entertained for quite some time. The Stack n Spray Tub Fountain comes with five stackable boats and figures. Not only is this a fun toy, it can also help with a young child's learning and development.  It will enhance a child's hand-eye coordination and help in developing their motor skills.  It'll also teach them cause and effect as they figure out what the different figures do and turn the fountain off and on with the easy child-operated button.  Kids will be amazed as they watch, play and discover.  The red boat spins and sprays, the blue boat twirls its propeller, the red diver sprays 360 degrees and the yellow diver sprouts hair and squirts from his mouth. Toys that teach, are always a plus in my book.  It's important to make every learning experience fun, and you can, with this awesome bath toy.
Recommended for children as young as one and up to age six, the Stack n Spray Tub Fountain by Yookidoo is highly recommended.  It will make a wonderful gift and bring lots of enjoyment during bath time.  This great toy retails for just $24.99 and can be found at various retailers including Toys"R"Us and Amazon.com.