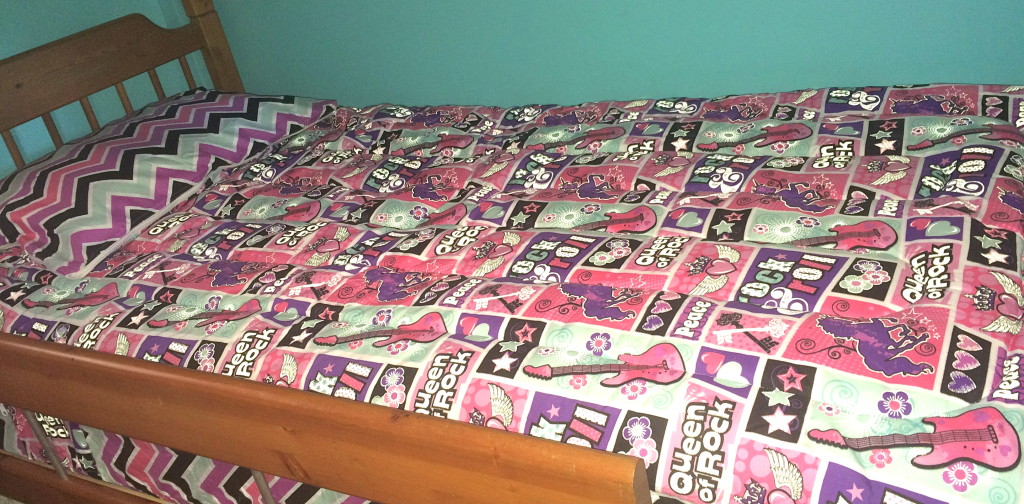 Zip-it is the original zippered bedding.  It's such a brilliant idea.  Not only is it perfect for kids, it's wonderful for moms too!  With Zip-it Bedding, kids can make their beds easily all by themselves.  As a mom, I love anything that helps make my life simpler.
We received the Rock Princess design.  My girls were ecstatic when they saw it.  They literally jumped for joy and couldn't wait to put it on their beds. They had seen it on TV and were excited to try it out for themselves.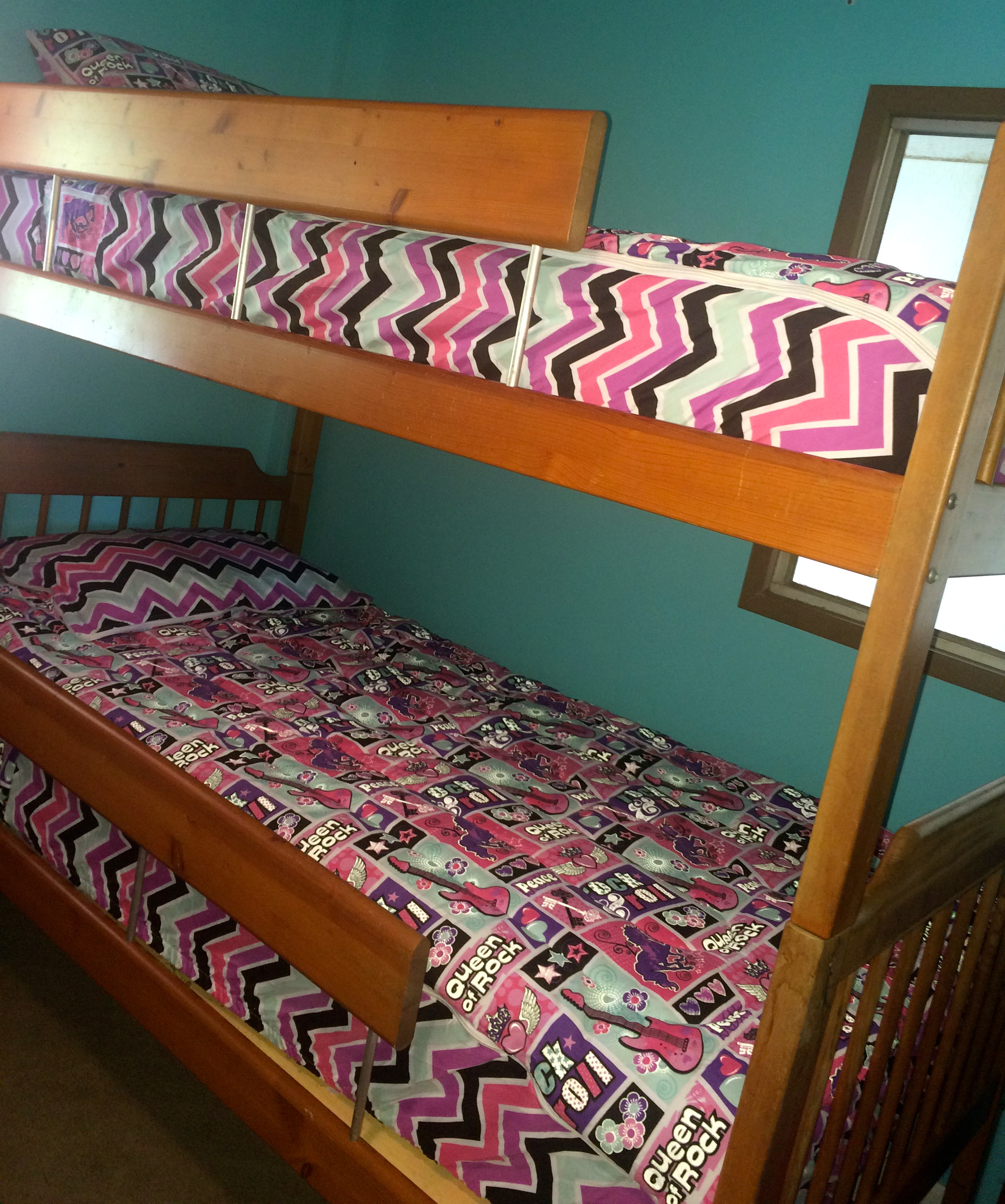 Zip-it bedding is made of 100% polyester fibers. The bedding set includes a zippered comforter and fitted sheet and a matching pillowcase. One side of the comforter features a fun rock n' roll design with unicorns and guitars, the other side is a black, purple, pink and turquoise chevron design.  It's reversible, so the girls can choose either side and change it up when they feel like it. It works just like a sleeping bag with zippers on each side.
The Zip-it bedding has some really great features. There are secret pockets on each side for kids to store their stuff.  I know they'll definitely be using those pockets for sure. The set even glows in the dark. You really can't get bedding much cooler than that!
Kids will love sleeping in their Zip-it bedding. It's so soft and cozy they're sure to get a great nights sleep and they'll stay nicely tucked in all night. One of the greatest things about Zip-it Bedding is they won't mind making their beds every morning because it's so easy to do.  No more dealing with messy, unmade beds. All they'll have to do is zip up the sides and they're good to go!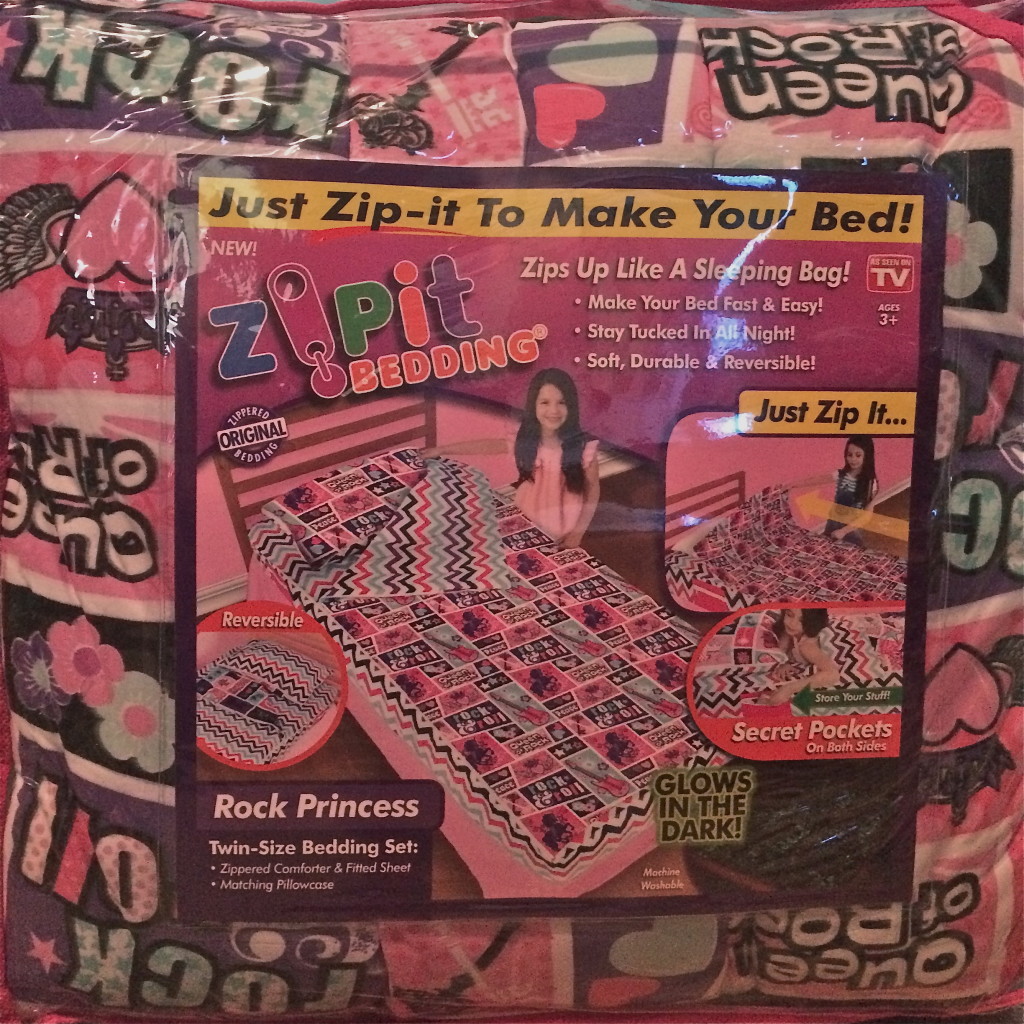 Zip-it Bedding will make a great gift for girls and boys of all ages.  There are various designs to choose from including outer space and wild animals, so you're sure to find one your child will like. There's even some new styles for teens. The twin size bedding sells for $59.99 and the full/queen sizes can be purchased for $79.99.