Valentine's Day is right around the corner. A day to show your loved ones just how much you care. A day to celebrate those you love. If you're looking for some gift ideas for that special someone in your life, you've come to the right place! Featured in this year's Gift Guide you'll find 6 items that are sure to be well received.
Looking for a gift for a wine lover? We've got you covered! Someone who loves to be organized? We've got the perfect thing. Makeup addict? Look no further. Beach bum? She'll love these!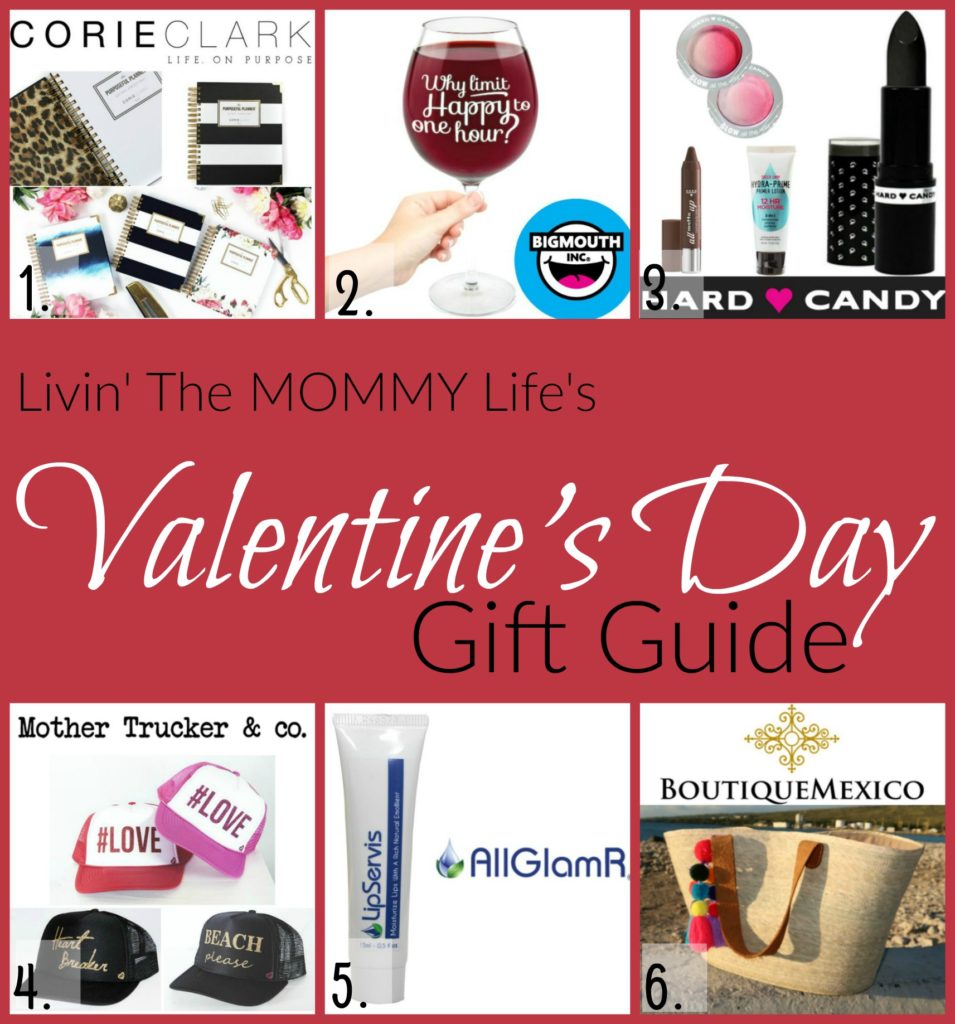 1- Corie Clark Daily Purposeful Planner – $52
The Purposeful Planner™ 2017 Daily Edition is awesome. It's my dream planner. The one I've been looking for all my life! The 395 page daily planner includes an inside pocket for storing loose papers and receipts, life and goal planning worksheets to help you live your life on purpose and with intention, Budget sheets, Menu plan sheets, Goal sheets, Daily plan sheets, and Master task lists for every month, and so much more. This planner is jam packed with all you need to live a purposeful life. The planner is approximately 9″ x 9 3/4″ x 1 1/2″ including binding. It's beautiful, and very well made.
2- Big Mouth Inc. Happy Hour Gigantic Wine Glass – $15.99
There's no such thing as too much wine! The Happy Hour Gigantic Wine Glass from BigMouth Inc. holds an entire 750 mL bottle of wine. It's a fun and practical gift for any wine lover out there.
3- Hard Candy Assorted Makeup – $5.00 +
All Matte Up Hydrating Lip Stain, Fierce Effects Daring Color Lipstick, Ombre Blush and Sheer Envy Hydrating Primer Lotion are just a few of the great products offered by Hard Candy. With Hard Candy, you'll find great products at affordable prices.
4- Mother Trucker & co. Trucker Hats – $25
These hats are just too fun. They feature a variety of awesome sayings. I especially love the black hats with sparkly gold designs. My favorite color combination for sure. Beach babes will enjoy the  "Beach Please" and "Just Beachy" hats while the "#MOMLIFE" and "FITMOM" hats are perfect for mommies everywhere!
5- AllGlamR Lip Servis  – $40.50
Lip Servis is a wonderful product that's just what I needed. It reduces fine lines and surface folds creating naturally fuller, healthier, more defined lips. It features a complex blend of safe, irritant-free ingredients which directly stimulates collagen and hyaluronic acid synthesis while restoring optimal moisturization when worn alone or under pigmented lip products. Lip Servis is paraben free and made right here in the USA without harmful additives and irritants. Products are never tested on animals.
6- Boutique Mexico Ibiza Palm Tote – $108
The Ibiza Palm Tote is lightweight and surprisingly supple. The geometric weave adds texture and strength while the leather straps give it some serious style.  The best part? The colorful pom poms are just too cute and add the perfect finishing touch to this awesome tote! The bag is quite spacious. It's perfect for a day at the beach.