Floor lamps are more than just vessels for light. In addition to bringing light into our homes, lamps bring character. Not all lamps are created equal, however. Most lamps designed throughout history have ceased to be manufactured or sold. The few that have survived the harsh realities of global consumerism and rapidly changing tastes did so for a reason: their designs are timeless.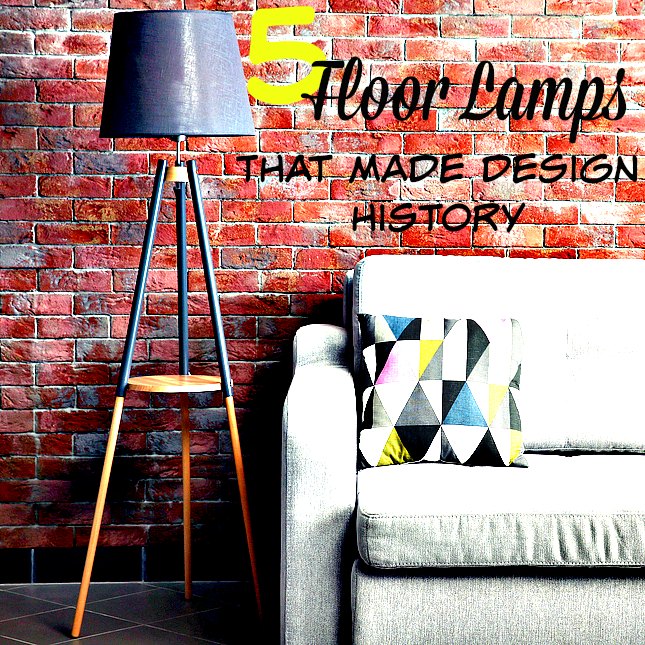 While many lamps have left lasting impressions, here are five game-changing floor lamps:
1. Louis Poulsen AJ Floor Lamp by Arne Jacobsen (1960)
The product of a commission to design the SAS Royal Hotel in Copenhagen, complete with all furnishings, the Louis Poulsen AJ Floor Lamp is the oldest piece on our list, first appearing in 1960. Boasting direct, down-facing light, the AJ Floor Lamp's flared shade is adjustable. Made entirely of steel, this instantly recognizable and delicate floor lamp is as powerful as it is attractive.
2. Arco Floor Lamp by Achille and Pier Giacomo Castiglioni (1962)
A modern design classic, and one of the oldest lamps on our list, the Arco Floor Lamp by renowned designers and brothers Achille and Pier Giacomo Castiglioni, filled the need for an overhead lamp without the standard accompanying hole in the ceiling that was standard at the time. This simple and beautiful designs is still one of the most popular, and instantly recognizable, floor lamps on the market. The lamp design consists of inserting a steel arch, to which the large, dome-shaped aluminum shade is attached, into a heavy marble base. The lamp can light up to 8 feet away from its base, making it perfect for dining rooms or reading areas.
3. Stylos Floor Lamp by Achille Castiglioni (1984)
This glowing metallic beam and its accompanying grand white plastic shade have been turning heads since 1984. This thin, cylindrical lamp towers over spaces, measuring 77.6 inches (6 feet, 5.6 inches) in height, and floods them with a soft light. The Stylos floor lamp's unique beam structure houses a halogen flood lamp at its base, which emits a combination of reflective and diffused to light the room with a "cool beam," and an additional incandescent bulb at the top to provide additional diffused light. When completely illuminated, the combination of the two different bulbs looks like a giant candle, which is perfect for traditionalists.  Each bulb can also be controlled by its own switch which makes for more customized lighting.
4. TMM Floor Lamp by Miguel Mila for Santa & Cole (1961)
The winner of Spain's 1962 ADI-FAD Critics Award, the Santa & Cole TMM Floor Lamp bridges the gap between nature and man-made elements. The wood base seems to float the pristine white lampshade, giving off a serene vibe and lifting the spirits of any space. This adjustable lamp works for any space, from lighting up a bedroom to brightening a cozy reading chair in your book nook. The TMM is the second oldest piece on our list and a true testament to the wonders of Spanish industrial design of the 1960s.
5. Ipnos Floor/Table Lamp by Nicoletta Rossi and Guido Bianchi for FLOS Lighting (2013)
FLOS Lighting's award-winning Ipnos Lamp is the youngest fixture on our list. This Italian-made lamp's unique design is as much about the architectural lines as it is about the light it gives off. The LED lights are hidden in the top portion, giving off a glow more than strong light. The ethereal vibe of this piece is uniquely its own. On-point with the minimalist philosophy of modern design, and with an indoor and outdoor model and various finishes, FLOS Lighting's Ipnos lamp's simplicity and versatility makes it a refined addition to any living room, study, patio, or bedroom.
Regardless of your personal style or tastes, the above floor lamps will complement any room in your home.