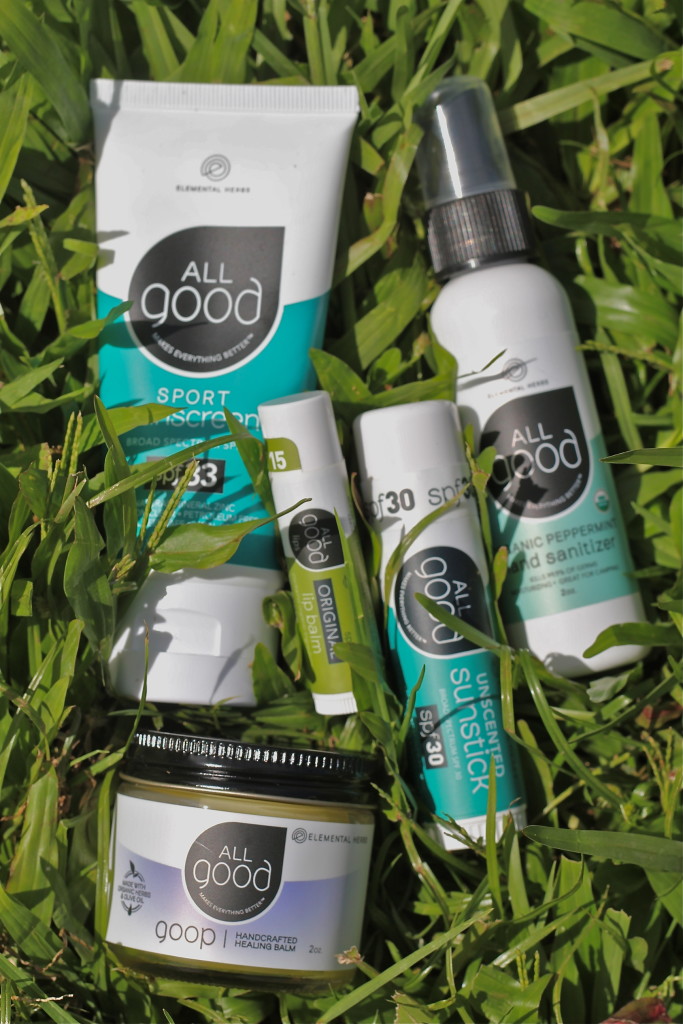 Elemental Herbs believes in good – feeling good, doing good, all things good! Their products are made with all-natural, organic ingredients and are formulated to heal so they not only feel good on you, they make you feel better.
Born from Elemental Herbs, All Good's mission is, and always will be, to offer the purest, most elemental ingredients and organic herbs in natural healing products that are good for people and good for the earth.
The All Good World Traveler Set is a great and useful gift for just about anyone.  It includes 5 wonderful products that are perfect for taking on the go.
The products you'll find in this set are:
All Good Original SPF 15 Lip Balm
All Good Sunscreen Sport SPF33 (3 oz.)
All Good Goop (2 oz.)
All Good Organic Hand Sanitizer (2 oz.)
All Good Unscented Sunstick SPF30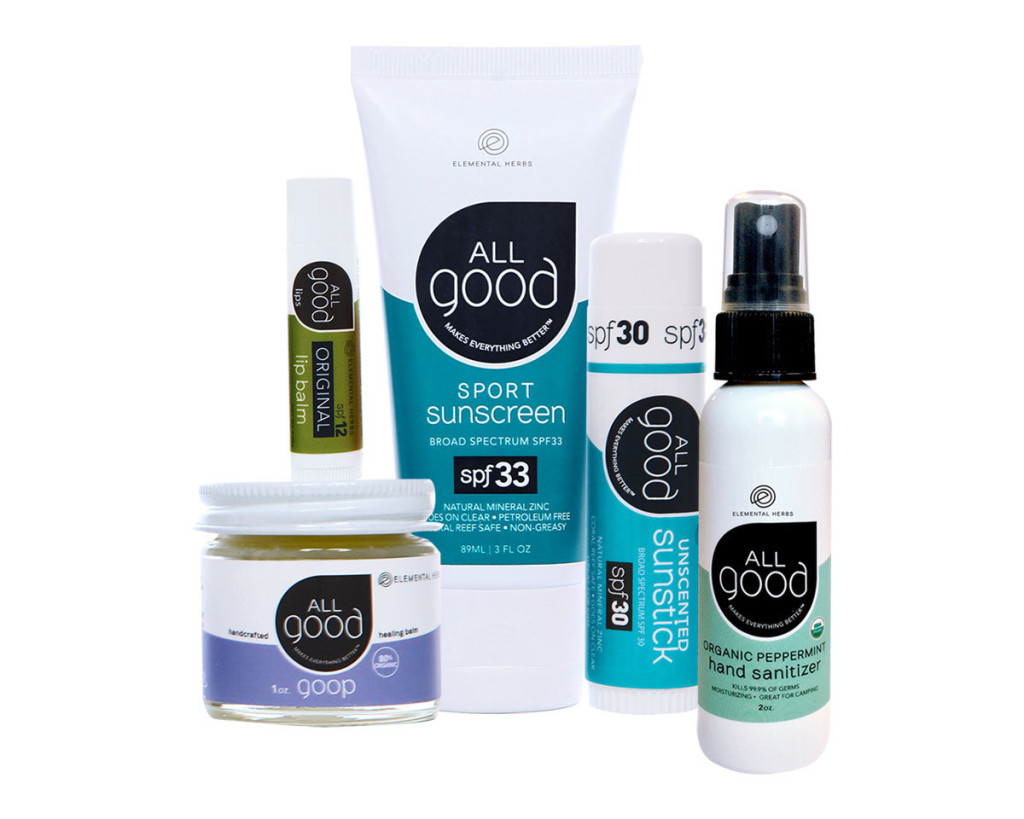 The All Good Original SPF 15 Lip Balm is certified organic.  It includes Zinc Oxide 2% (Non-nanoparticle). Organic Calendula*, Organic Comfrey*, Organic Lavender*, Organic Plantain* and Organic Yarrow* Infused in Organic Extra Virgin Olive Oil* with Organic Beeswax*, Organic Essential Oils* and Non-GMO Vitamin E. It offers great protection and hydrates dry lips.  It's been formulated to keep lips soft and smooth with natural, safe ingredients.
The All Good Sunscreen Sport SPF33 is made to keep you safe from the suns harmful rays.  The SPF 33 sport sunscreen contains the safest sun protection ingredient: pure non-nano zinc oxide. It's safe for coral reefs, your kids and safe for you! It offers UVA/UVB Broad Spectrum Protection is 100% GMO Free, Hypo-Allergenic, Gluten Free, Vegan, Non-Nano, PABA Free, Paraben Free and it's Biodegradeable.
The All Good Goop is my favorite product included in this set.  This awesome healing balm was the first product to ever hit store shelves.  It's strong, yet gentle and can be used in many ways.  This organic healing balm is great for cuts, minor burns, sunburn, insect bites or stings, dry skin, diaper rash, blisters, scars and more.  It's one of those products everyone can use at one point or another.
The All Good Organic Hand Sanitizer has a refreshing peppermint scent.  It kills 99.9% of germs and is recommended for washing hands and water free bathing.  It's a must-have item I like to have on hand at all times.
The All Good Unscented Sunstick SPF30 makes applying sunscreen to the face so easy.  It's especially useful when applying sunscreen on my girls.  It's a beach essential that I won't leave home without.  It includes non-nano Zinc Oxide as well as skin-saving certified organic oils, including jojoba, coconut and avocado.
The All Good World Traveler Set would be a great gift for anyone who enjoys the outdoors.  It includes some wonderful products and makes a great first set to try out some of the great things offered.  Once you use these, you'll most likely be back for more!  You can purchase this set for $41.41.