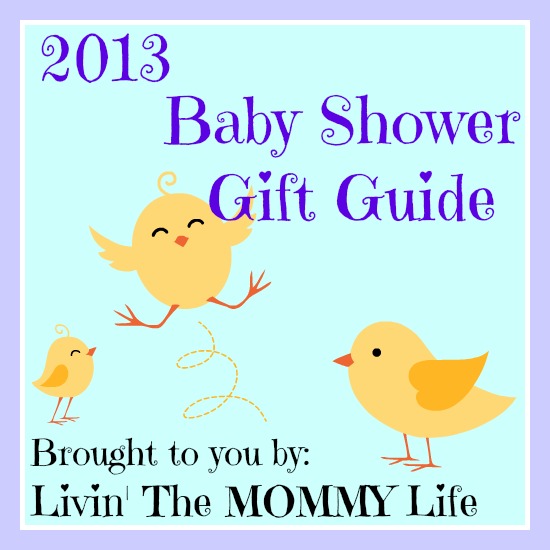 It's been almost 3 years since my youngest was born, and there have been so many new products introduced since then. My sister is due in October, and I had no idea what to get her. I decided to search the web and gather up some products which I think will make great Baby Shower gifts for parents-to-be.  I've included it all here in Livin' The MOMMY Life's
BABY SHOWER GIFT GUIDE
1.  zCush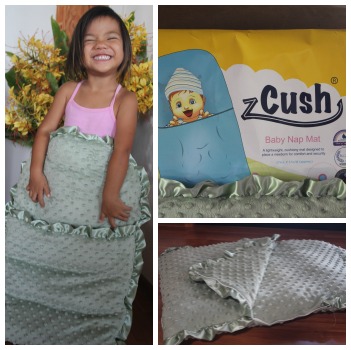 The zCush is a 5-in-1 Baby nap mat.  Not only is it a nap mat, but it can be used when holding your baby and to safely pass her over to others who may want a chance at holding her too.  You can lay baby down during play time, or cradle during feedings to keep her safe and secure.  You can also it while changing baby's diaper.  Baby will always be nice and comfy while snuggled in the zCush.  I love finding products like this which can be used in so many ways!
The zCush comes in various colors and designs including adorable cotton characters and cozy chenilles I chose the firry forest mat which is a nice shade of green.  This soft chenille mat is sure to keep baby comfortable.

It features a side zipper to get baby in and out easily.  The zCush measures 17″ x 27″ x 1″ and weighs less than 3 pounds, which makes it perfect fortaking on the go.  It is 100% machine washable which is great because like it or not, babies can be messy!
You can purchase zCush Nap Mats in stores and online.  Prices range from $34.99 to $49.99.
2. itzbeen Pocket Nanny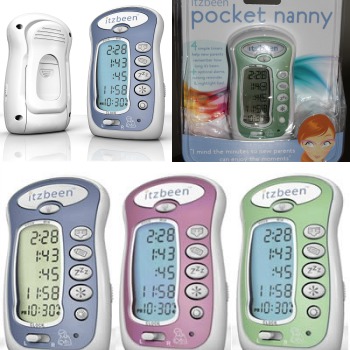 The itzbeen Pocket Nanny is a very neat product.  I wish I had one when my girls were newborns!  The pocket nanny is an on-the-go baby care timer. It received two awards including the 2007 Juvenille Products Manufacturing Associations (JPMA) Innovation Awards and a 2007 iParenting Media Award for Best Baby Care Product.
With the itzbeen Pocket Nanny You can easily keep track of how long itzbeen since babies last diaper change, feeding or when they last took their medication.  You can even time how long they've been asleep or awake.  One of my favorite features is the nursing timer which helps you remember which side baby last fed from.  The backlight helps to see the times in the dark, and the soft-glow nightlight helps you find your way in the dark.  There's also an option to set alarms, so if a the limit is reached, the alarm will go off. The back clip comes in handy when taking the Pocket Nanny with you.  It'll easily attach to a diaper bag or your clothes.
The itzbeen Pocket Nanny can be found in stores and online.  The suggested retail price is $24.99.
3. HALO SleepSack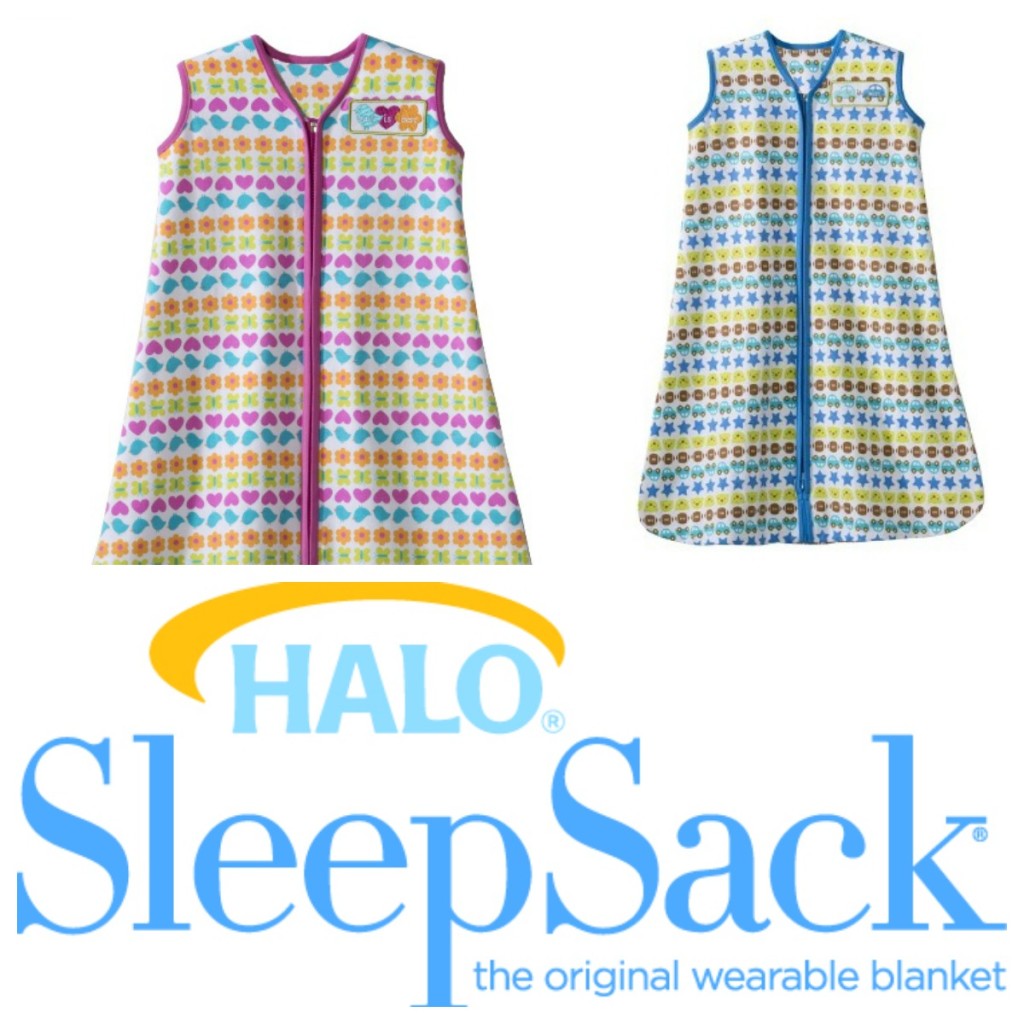 HALO Innovation's SleepSack® wearable blankets have become the standard for hospital nurseries and parents alike. In fact, 1,000 hospital nurseries use the HALO SleepSack Swaddle instead of blankets through the HALO Safer Way to Sleep Initiative. That is 1.5 million births getting first-hand, in-hospital experience with the HALO SleepSack Swaddle and safe sleep practices! Modeling safe sleep practices for parents in the hospital is the key to safer sleep practices at home.  HALO Innovations also offers free Safe Sleep Practices kits to childbirth educators to help further the cause of SIDS prevention.
The HALO SleepSack was one of my favorite products when my daughter was a baby.  I was always so worried about the blankets covering her face when she slept at night.  With the HALO SleepSack, you don't have to worry about that.  This SleepSack is a wearable blanket!  There's no longer a need to worry about the blanket getting kicked off or covering babies face.  The HALO SleepSack comes in a variety of colors and prints, and comes in sizes to fit babies from newborn to 24 months.  It is made of 100% cotton.  Prices start at $26.95.
4. Earth Mama Angel Baby Organics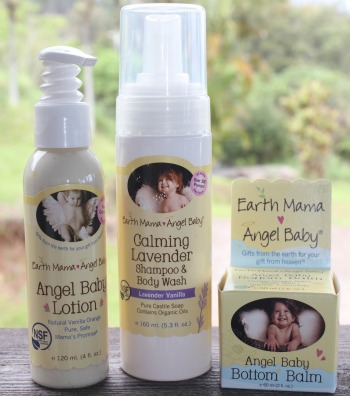 Earth Mama Angel Baby offers the purest, zero toxin, all natural, herbal organic baby products to nurture a miraculous gift from heaven.
I love the fact that Earth Mama Angel Baby products are all natural and so safe for baby.  A lot of people don't realize that some baby products contain chemicals that really aren't good for your little one.  As a parent, I know I always want what's best for my little angel, and with these products you don't have to worry about it being unsafe.
I received the Angel Baby Lotion, Angel Baby Bottom Balm, and the Shampoo and Body Wash.  There are many other products as well that are perfect for babies, new moms, and pregnant women too.
5. The Shade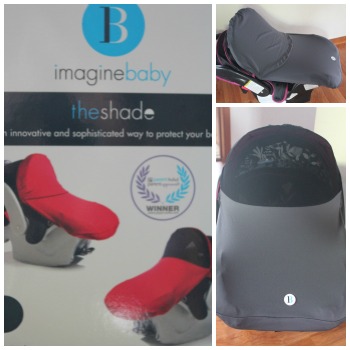 The Shade is a new and innovative way to protect baby while in an infant car seat from the outside elements such as sun, wind, rain, snow and bugs, as well as unwanted touch. It also provides a shaded place for undisturbed napping while on the go. Made from a Micropoly/Lycra blend, the fabric is soft to the touch and has water wicking capabilities that cause it to dry quickly. The Shade has an excellent rating of UPF 50+, protecting baby from the sun's harmful UVA/UVB rays.
The Shade is a great product and I am so happy I came across it.  If you're anything like me, you worry about germ filled hands touching your newborn baby.  Well, The Shade will prevent that from happening.  That's actually one of the main reasons I like this product so much.  Of course, it also protects from other outside elements which is great too.  People always seem to want to touch little babies, and where do they touch them? On their hands!  Where do babies hands go?  In their mouths!  Yuck!  I always worried about all the germs that were being passed on to my little one, and no matter how many times you tell people not to touch it will happen.  Who can resist that cute little bundle?  With The Shade, you'll have one less thing to worry about. I can guarantee my sister will be getting lots of use of The Shade.  It comes in a variety of colors and retails for $39.99.
6. Aden + Anais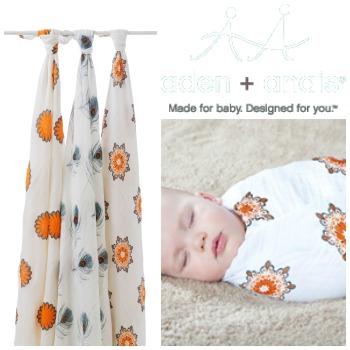 I had heard great things about aden + anais swaddles, but never had them when my daughters were babies.  I sure wish I did!  I remember swaddling my babies when they were newborns, and it definitely seemed to keep them calm and happy.
Here's a little info on swaddling from the aden + anais site,
Swaddling is said to be as familiar to babies as it is to their moms because it recreates the secure and cozy feeling of the womb — and using swaddles made of natural cotton muslin only enhances that blissful feeling. Muslin is a finely-woven breathable fabric believed to have originated in Bangladesh during the Middle Ages. It's delicate, yet durable weave, makes the fabric stretchy, and therefore ideal for swaddling, as the natural give" allows the blanket to be tucked snuggly around a baby without being overly restrictive. 
You can purchase these swaddles from the aden + anais website as well as through other retailers.  A 3-pack retails at $45 and up.
I decided to put all the products in a canvas bin and tied it with a bow!  I like wrapping gifts in things that can be re-used, like bins or re-useable tote bags.  It makes more sense than buying a gift bag or wrapping paper that will just get thrown away.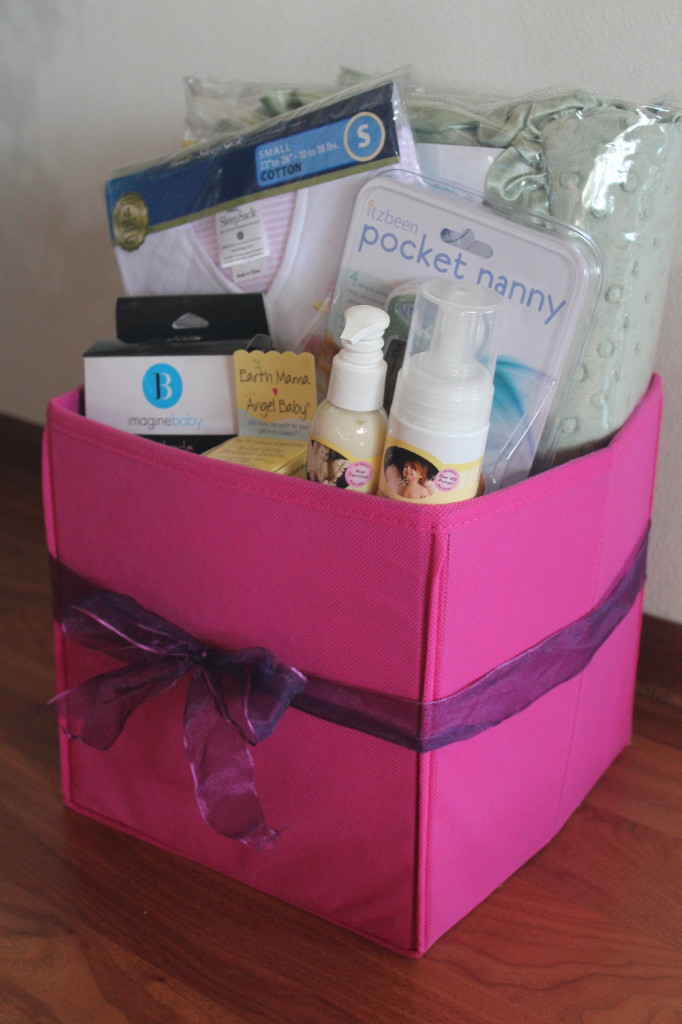 I'd love to hear your thoughts on these gift ideas.  Is there anything you'd add to the list?  What items do you like the most?
Check out My Sister's Mermaid Themed Baby Shower HERE
**Also, Be sure to Enter the Baby Shower Gift Guide GIVEAWAY Extravaganza! For your chance to WIN some of the wonderful items featured here.  Giveaway is open to US residents and ends on 09/30/13
Disclosure:  I received these items from the companies in exchange for being included in this gift guide.  All thoughts and opinions on these products are my own.