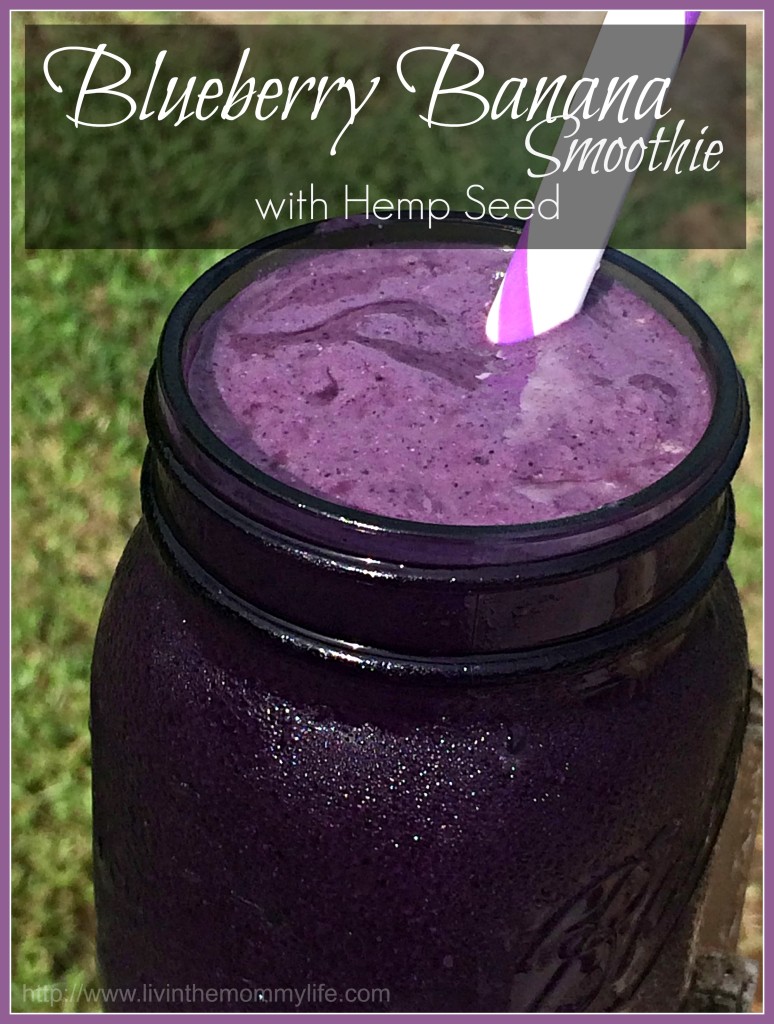 Smoothies are my go-to healthy treat when I want something sweet, but know I should stick with something healthy.  I'll have them for breakfast (Try my Banana Peanut Butter and Oats Breakfast Smoothie), a mid-day snack, or even for lunch.  I enjoy coming up with different flavor combinations.  Some I'll try once, and never again, other concoctions turn into recipes I'll make over and over again.  If my kids are happy, and ask for more, I know it's a keeper.
Smoothies are a wonderful way to get picky eaters, like my 5 year old, to get some extra nutrients.  I often add some frozen spinach to her fruity smoothies and she doesn't even realize she's getting a nice serving of veggies!
I love having a variety of fresh and frozen fruit and veggies on hand for smoothies.  I also like to add in chia seeds, peanut butter & cacao powder from time to time.  This time, I added some Hemp Seeds, and I ended up with such a tasty combination, I just had to share it with all of you.
Hemp Seeds are a great addition to Smoothies as it offers many health benefits.  It's a good source of plant-based protein with about 13 grams in just 3 tablespoons.  Hemp Seeds are high in Magnesium and a good source of B Vitamins, Amino Acids, Vitamin E, Zinc and Iron.  They're also a great source of Omega-3 and Omega-6 fatty acids.
Try this recipe out for yourself, and let me know what you think!
Blueberry Banana Smoothie with Hemp Seeds
Ingredients
1/2 c. Almond Milk
Handfull of Frozen Blueberries
2 Small Bananas or 1 large
1 Single-Serve Pack of frozen Sambazon Acai Berry Superfruit
3 Tbs. Hemp Seeds
Directions
Place all ingredients in blender.  Blend till smooth.  Enjoy!
I use a VitaMix Blender I got from Costco, and I absolutely love it!  I know it's pretty pricey, but if you enjoy smoothies, and plan on using it a lot, I highly recommend purchasing one, it's a great investment towards a healthier lifestyle.
What's your favorite smoothie?  I'd love to hear the different flavor combinations you've tried.