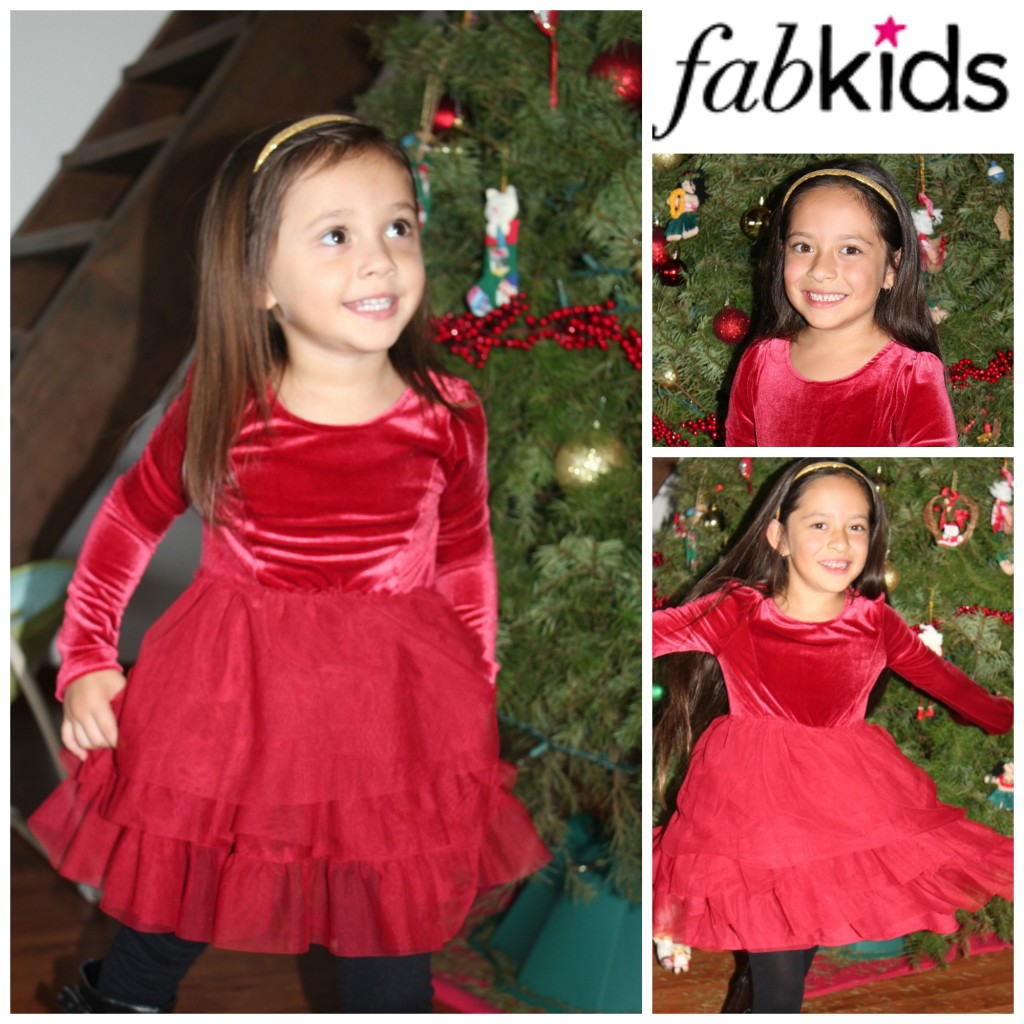 Disclosure:  I received these outfits for review purposes.  All thoughts and opinions are my own. 
A new outfit, delivered to your door every month?  Doesn't that sound fabulous!?  FabKids is JustFab's newest fashion club, started by a team of parents including mom and actress Christina Applegate.  Busy parents can now shop from the convenience of their own home.  FabKids is an outfit club, so parents get monthly selections of super affordable, high-quality fashions personalized for their kids.  Every outfit includes 3 pieces for just $39.95.  You'll get different outfit selections such as  a cute dress, paired with leggings, and an accessory, Or 2 tops and a bottom, etc.  FabKids is currently available in sizes 2-12.  All FabKids outfits ship free.  Outfits come in adorable pink boxes for girls and awesome blue boxes for boys!
My daughters were able to get matching outfits.  I love that they have a wide range of sizes available making it possible to get matching outfits for my daughters even though they are in different sizes.  I always thought matching outfits were cute, but it's really hard to find the same outfits in both sizes especially since my oldest has moved up to big girls sizes.  My youngest is in a three and my oldest wears a seven.
They both received the gorgeous Holiday Party Outfit which is going to be the perfect attire for our family's Christmas Party on Christmas Eve. The Holiday Party Outfit came with an adorable long-sleeved velvet dress with a layered tulle skirt along with black tights and a glitter gold headband to finish off the look.  Every piece appears to be of good quality.  Upon trying on my three year olds dress, I found that it was very snug.  I had a hard time getting the dress on her, but once on, it looked really nice.  In some brands, she still fits in a size two, so I was surprised that the three seemed to be a little small.  The velvet fabric is very thick with some stretch to it.  There is no stretch at the neckline which made it a little hard to get it over her head.  My 6 year old's dress fit fine.  Once on, both dresses were absolutely adorable!  We finished off the outfit with their new pairs of matching black boots.  I can't wait for them to wear their new outfits to our Christmas party!
If you have a fashionable little boy or girl, I highly suggest you check out what FabKids has to offer!  It makes getting outfits so much easier because it's already put together for you.  No more having to search the store for a matching outfit.