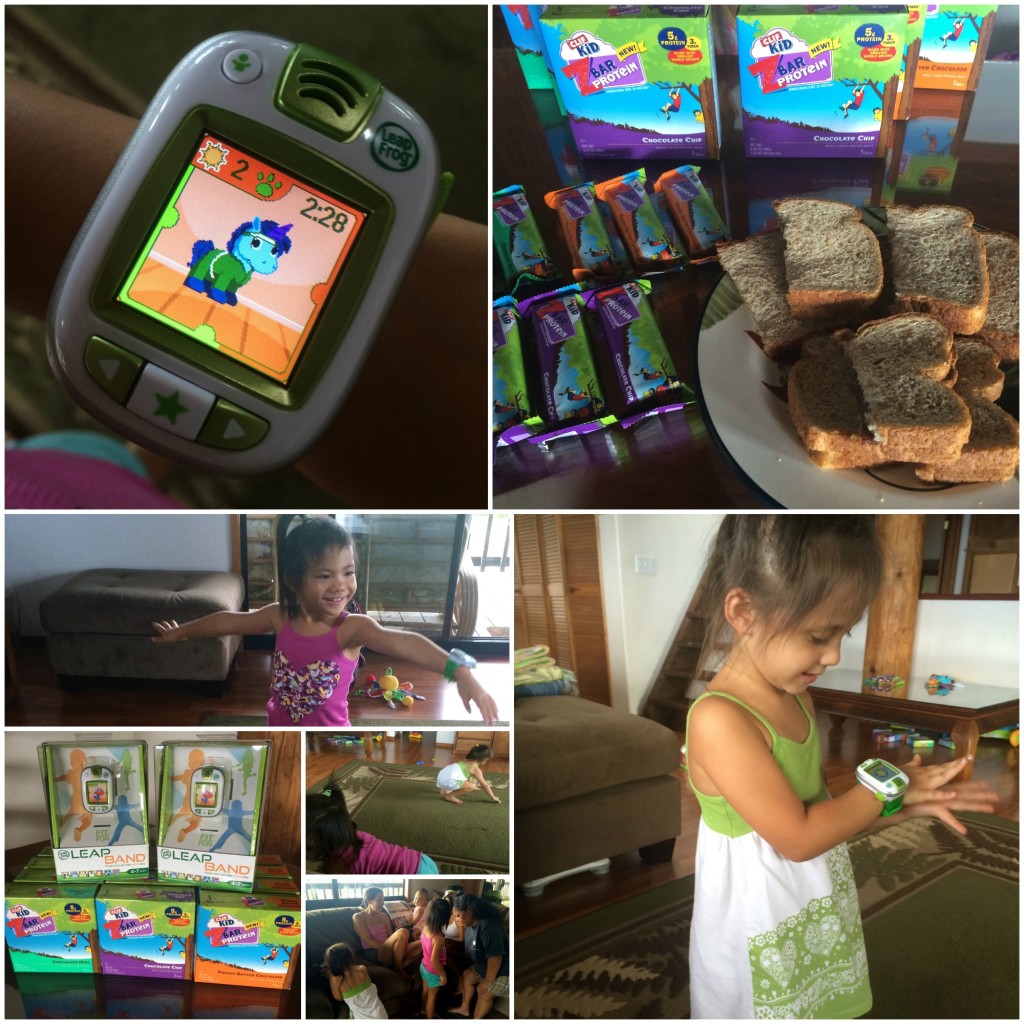 Disclosure:  I received free products in order to host the LeapFrog and CLIF Kid sponsored MommyParty.  All opinions are my own.
It's so important to keep kids active and moving around. These days, you often find kids stuck to the tv or other electronic devices which keeps them sitting around for most of the day. The LeapBand from LeapFrog is an activity tracker made just for kids. The neat little gadget encourages kids to be active and teaches healthy habits. It even comes with a customizable pet pal.  All the features are awesome as it really engages kids and holds their attention.  The more kids move while using the band, the more points they'll earn.  Those points unlock virtual rewards for their pets and help get them to new levels.  It's a nice incentive to keep kids moving and wanting to use their LeapBands as much as possible!
Earlier today I hosted a "Fit Made Fun" MommyParty which was sponsored by Leapfrog and CLIF Kid. Although a few guests that were invited weren't able to make it, those who did had a wonderful time. My main goal for the party was to keep the kids as active as possible, which isn't hard with a bunch of 4-7 year olds! The hard part was having them take turns with the LeapBands. We were given two to use at the party, and of course, everyone wanted one.
The LeapBands were fun and really got the kids listening and playing along. The LeapBand suggests different activities and movements for the kids to do such as "Stomp around like an elephant" or "Swim fast like a turtle". It was so much fun with lots of smiles and giggles.
After everyone had a turn to try out the LeapBand, we all had some peanut butter sandwiches for more energy and water to keep us hydrated. We moved the party outside where I used some ideas from the deck of CLIF Kid 60 Minutes in Motion cards.  We did a few of the motion cards which had the kids do a one minute movement such as Frog Jumps and the Crab Walk.  These cards were a great way to keep kids moving while having fun.
After all the moving around, everyone chose a CLIF Kid Zbar Protein to snack on.  I was given 3 flavors for the kids to choose from including Chocolate Mint, Chocolate Chip, and Peanut Butter Chocolate.  It was a great nutritious snack to end our fun-filled day.  Because we had so many CLIF Kids bars left over after the party, everyone was able to take a few home to snack on later.  I know of more than one party guest who will be getting a LeapBand of their very own.  Parents loved how active their kids were, and how much fun they had with the LeapBand.