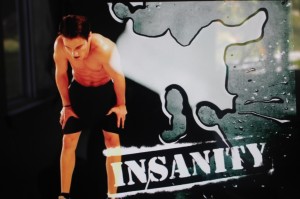 My husband and I have decided to get healthy, get in shape, and lose some weight! We started on Monday July 24th. We have changed our diet, no more junk food! It was actually getting pretty ridiculous, I was eating way too many junk foods, and not giving it a second thought! Ice cream, cookies, chocolates, I'd eat it daily, and it was NOT good for my health or my weight! I must have gained 10 pounds in just a few months. My husband loves dessert just as much as I do and was always asking me to bake a batch of brownies or his favorite Peach dump cake. Between the two of us and our daughters, we finished a pan in just a day or two! Isn't that terrible? My other weakness would be Dr.Pepper. I started drinking a can daily! Defintely NOT good for my health, but tastes so good! I've been drinking water all week and I'm surprised that I don't feel the need to pop open a can of Dr. Pepper.
I went to Target and decided to try on some clothes, and looking in those fitting room mirrors is when I came to the realization that I really needed to do something! I did NOT like what I saw in the mirror!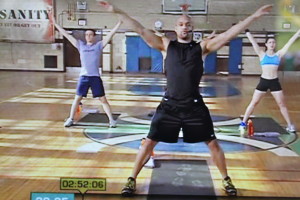 We have been doing Shaun T's Insanity workout, and it is the most exercise I have ever done!  It's definitely an intense workout, and I'm proud of myself for keeping up with it.  I did miss one day, but I got right back on track.  What is Insanity?  Acccording to Beachbody.com, the Insanity workout is "MAX Interval Training. Shaun T took traditional interval training and flipped it on its head—you perform long bursts of maximum-intensity exercises with short periods of rest. Each workout keeps you constantly challenged as you alternate between aerobic and anaerobic intervals performed at your MAX. The results: burn up to 1,000 calories an hour and get the most insane body in only 60 days."
You can't be healthy if you don't eat healthy.  We have started eating as healthy as possible.  Lots of fruits and veggies and whole wheat bread and pasta.  Other than a couple fruit & veggie smoothies, I have only had water to drink.  We've been snacking on almonds and dried fruits as well as lots of fresh fruits.  My husband decided to search You Tube for info on reading nutrition labels and came across some videos that he's enjoyed by Nutritionist Jeff Novick.  He's really serious about getting in shape and eating healthy.   Once he sets a goal, he's going to do everything he can to achieve it!  I just had to laugh when I found him clearing out the pantry of all unhealthy foods!   Going a bit overboard?  Maybe, but it's all with a goal in mind and the hope of keeping our family healthy!
Does This look good?  Find out What it is HERE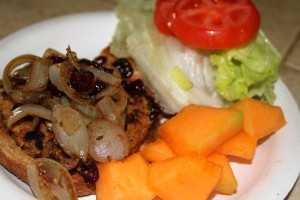 As of today, I have lost 4 lbs. and my husband has lost 6 lbs.  We feel better overall, and have more energy for our workouts!  Insanity is a 60 day program and we've been doing it for 9 days so far.  I can't wait to see my final results!  My goal is to lose 15 lbs.  I'm not sure if I'll be able to reach it in the 2 months, but I plan to continue exercising and eating healthy once the insanity program is over.  My husband's goal is to lose 20 lbs.  I'm hoping we can reach our goals!
I'll be posting updates from time to time as well as some of the healthy recipes we've been coming up with, so check back often and follow us on this journey!
Have you tried the Insanity Workout, or anything similar?  What were your results?
What are your favorite healthy foods?  I'm always open to new ideas, and would love to try some new healthy recipes.
I'd love to hear from all of you, whether you're trying to lose weight, already have, or just want to be healthy.  Feel free to leave me a comment. 🙂