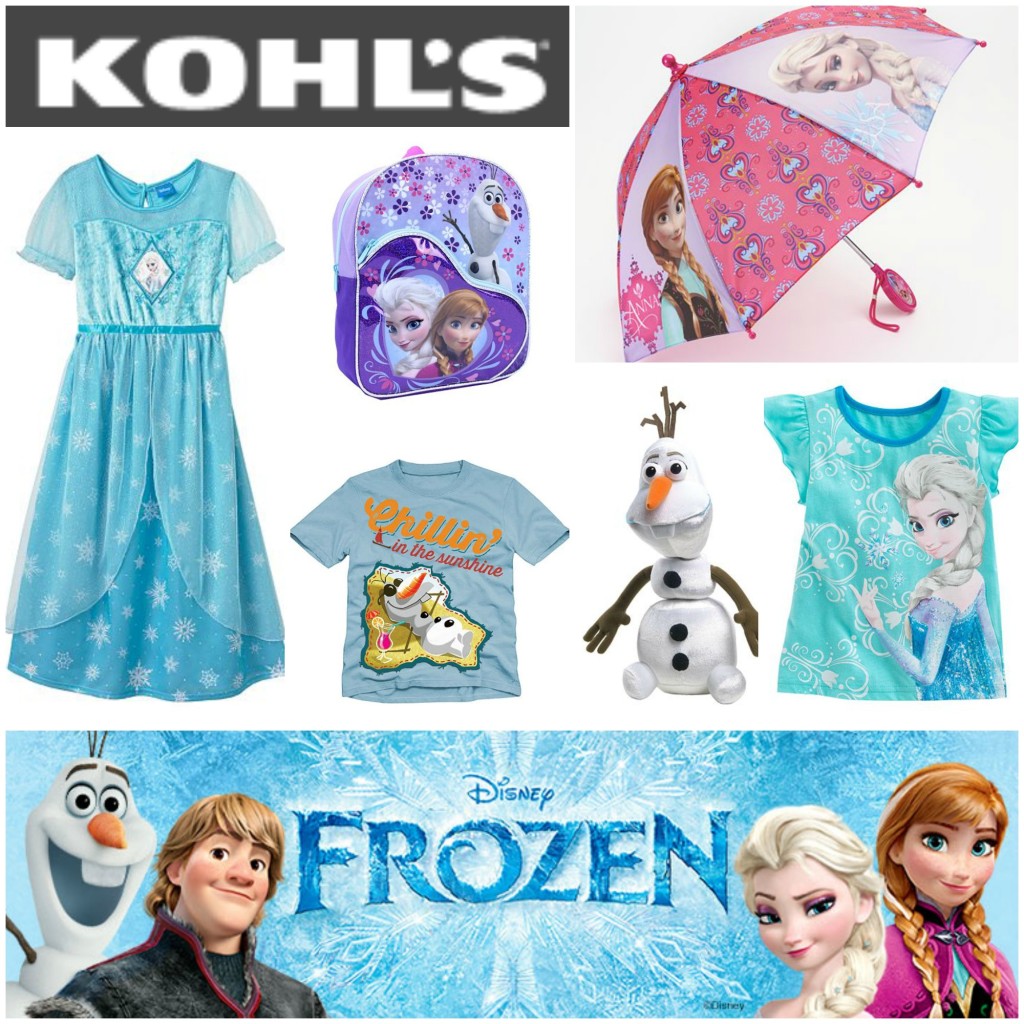 Disclosure: I received a Gift Card from Kohl's to help facilitate this post.  All thought and opinions are my own.
Be a part of the Frozen Frenzy and shop at kohl's for a wide variety of Frozen themed gift ideas.  Disney's popular movie features Elsa the Snow Queen, Princess Anna, and Olaf, the lovable Snowman who likes "warm hugs".  My girls absolutely adore Frozen and are definitely right in the midst of the Frozen Frenzy.  As I scrolled through the Kohl's website I found a lot of cute Frozen merchandise.  There were so many great gift ideas!
Kohl's provided me with a gift card to purchase some Frozen items I thought would make great gifts this holiday season.  The wonderful thing is, I found a nice selection for both boys and girls.  From toys, to clothes, beach towels, and umbrellas, Kohl's is the perfect place to shop for all things Frozen!  If you have a young child in your home, chances are they're a Frozen fan.  All of these Frozen themed items are sure to bring joy and excitement this holiday season.
My kids always end up getting so many toys for Christmas.  When looking for Frozen items at Kohl's I tried to find gift ideas other than toys.  Of course, I did end up choosing one, an adorable plush Olaf Doll.  You can pull him apart, and when you do, he says some pretty fun phrases.  The Olaf doll is too cute and such a fun gift to give and receive.  I found a few clothing items including a pretty Elsa T-shirt with ruffled sleeves, a gorgeous Elsa nightgown, and a super cute Olaf tee.  There were a few Frozen backpacks to choose from and I ended up picking a mini backpack featuring Elsa, Anna & Olaf!  The last item I chose was the Frozen Umbrella, it'll really come in handy while waiting for the bus on rainy mornings.
I loved that the extensive selection of Frozen items offered at Kohl's.  It's definitely the perfect place to shop for the Frozen fans on your list.
Check out Livin' The MOMMY Life's 2014 Holiday Gift Guide for more awesome gift ideas!