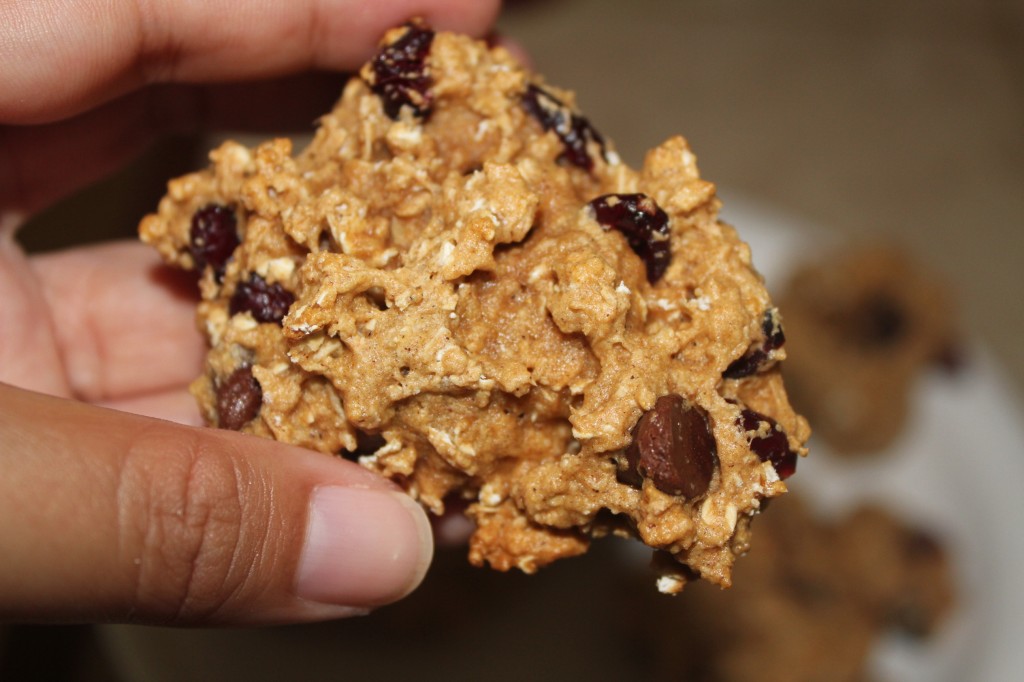 Since we've been eating healthier, I've really missed my sweet treats, especially all of the tasty baked goodies!  I decided to try and come up with my own recipe for a healthier version of an Oatmeal Chocolate Chip Cookie.  As I added ingredients into the bowl, I had no idea how the final product would turn out.  I love experimenting with new ingredients when cooking, but I've always followed a recipe when baking.  I might change a few things, but never the main ingredients.  I couldn't find a recipe that only called for whole wheat flour.  Most recipes still used a little bit of regular four, which I didn't want to use.  So, I just got started adding things to the mix, and hoped for the best.  I used a product called "Real Egg Product", it's an egg substitute we got from Costco.  If you don't have this, or don't want to go out and buy it, eggs should work just fine.
I was actually pretty surprised with the results!  These cookies were tasty.  The texture was more cake like, than a normal cookie.  Almost reminding me of a soft scone, but not too crumbly.  I was happily surprised that they didn't taste "too healthy".  I tried one recipe that I had found for a healthy banana oatmeal cookie and I couldn't even eat them, they just tasted like health food, not like the sweet treat I had wanted.   Not these cookies, they had just enough sweetness to satisfy my sweet tooth.  I savored each bite, especially when I got a hold of a chocolate chip!  The problem with these cookies is, it's hard to stop at just one or two.  I kept wanting to go back for more.  Being that the ingredients are pretty healthy, I think these would even work for a quick and healthy breakfast.  Of course, even healthy choices have calories, and those will add up fast if you eat too many!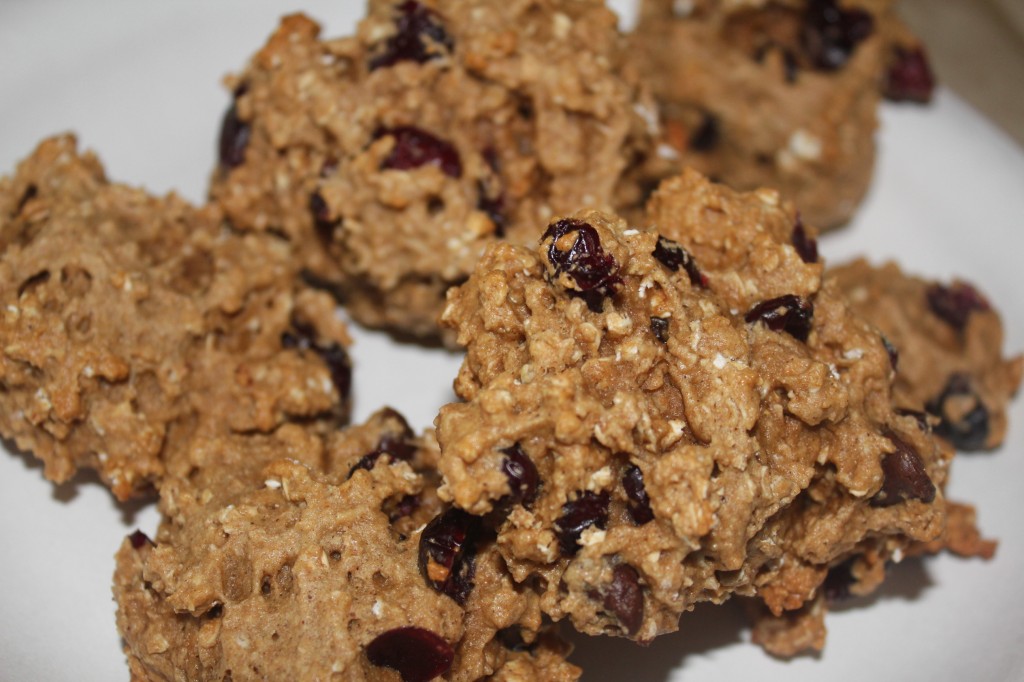 Whole Wheat Chocolate Chip Oatmeal Cookies
1 c Whole Wheat Flour
1 tsp. baking powder
1 tsp. baking soda
1/4 c. brown sugar
2/3 c. "Real Egg Product" (this is a substitute for 2 eggs)
1/2 c. Honey
2 Tbs. Olive Oil
1 tsp. Vanilla Extract
1 tsp. Cinammon
1.5 c. Oatmeal
1/4 c. Chocolate Chips
1/2 c. dried cranberries
Preheat oven to 375 degrees F.  Spoon large spoonfuls onto cookie sheet.  Bake for approximately 12 minutes.  Enjoy!!