Disclosure:  I received this item for review purposes.  All thoughts and opinions are my own.
Have you ever been in a situation where you used up all the battery on your phone or iPad, and really needed to use it?  I have, and it's not a great feeling.  One important gadget everyone with a smartphone or tablet should own is a portable charger like the Vogue Battstation from ibbatz.  If you own one, you'll never have to worry about a dead battery ever again!
The Vogue BattStation 5600 USB portable rechargeable battery charger offers a convenient power solution for those who are always on the go.   You can add more talk time with your Vogue BattStation portable battery so that you never need an outlet. Use the charger to recharge your smartphone, tablet, Bluetooth or other mobile devices when you're not near an outlet.  This trendy little gadget allows you to charge all iPhone, iPod, iPad, Android models and most USB based smartphones as well as other devices which support USB charging. Vogue BattStation 5600 is available in 3 colors including Matte Black, Gloss Red and Gloss White.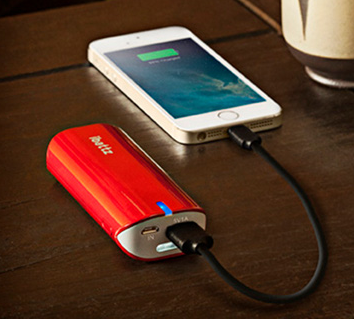 I love how compact this little gadget is.  It's also lightweight and easily fits in my purse.  It provides at least 2 full charges for a regular smartphone.  Another great feature is the built in white LED light.  It's very bright and can be useful in case of an emergency.  The charger comes with a handy carrying case, one micro USB cable, Apple 30 pin, and Samsung Galaxy Tab adaptors as well as the user guide.  It comes with a 1 year international limited warranty.
If you'd like to own a Vogue Battstation, they can be purchased for $49.95.