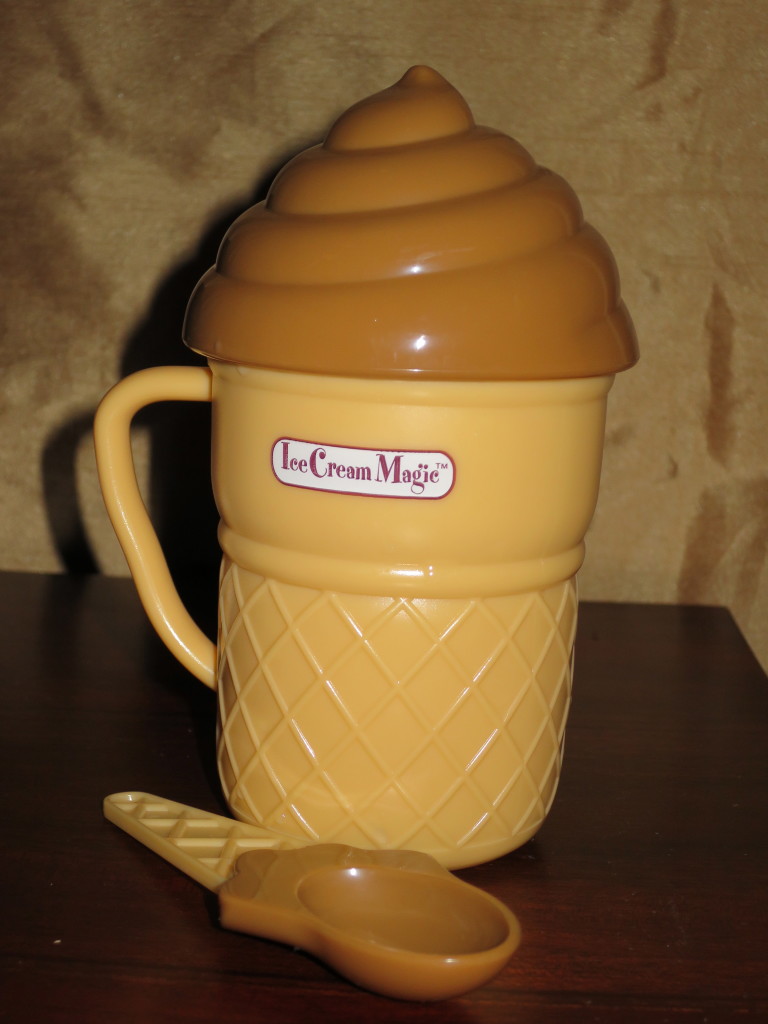 Disclosure:  I received this item for review purposes.  All thoughts and opinions are my own.
Ice Cream Magic is a product which claims to make ice cream in just 3 minutes! I love ice cream, and so do my girls, so when they saw the Ice Cream Magic ice cream maker they were so excited to give it a try.
The Ice Cream Magic is designed to look like an oversized ice cream cone. It's really cute and appealing, especially to kids. It comes in three color options, chocolate, vanilla, and strawberry.  This hand held ice cream maker can be used to make single servings of ice cream.
How Does it Work?
We followed the simple step by step directions by first adding ice, salt and water to the base of the plastic cone. This step is necessary to get the ingredients to freeze. Next we added the heavy whipping cream, vanilla extract, and sugar to the metal freezing bowl to make some vanilla ice cream.  If I had chocolate syrup on hand, I would have added some in to the mix.  After everything was added, I placed the plastic lid and cone cover on, set a timer and started shaking!  I decided to set the timer for 4 minutes, giving it one extra minute to freeze.  The girls were very excited to start shaking and I'm really glad I had them there to help.  After they were too tired to shake any longer, I finished up the last minute.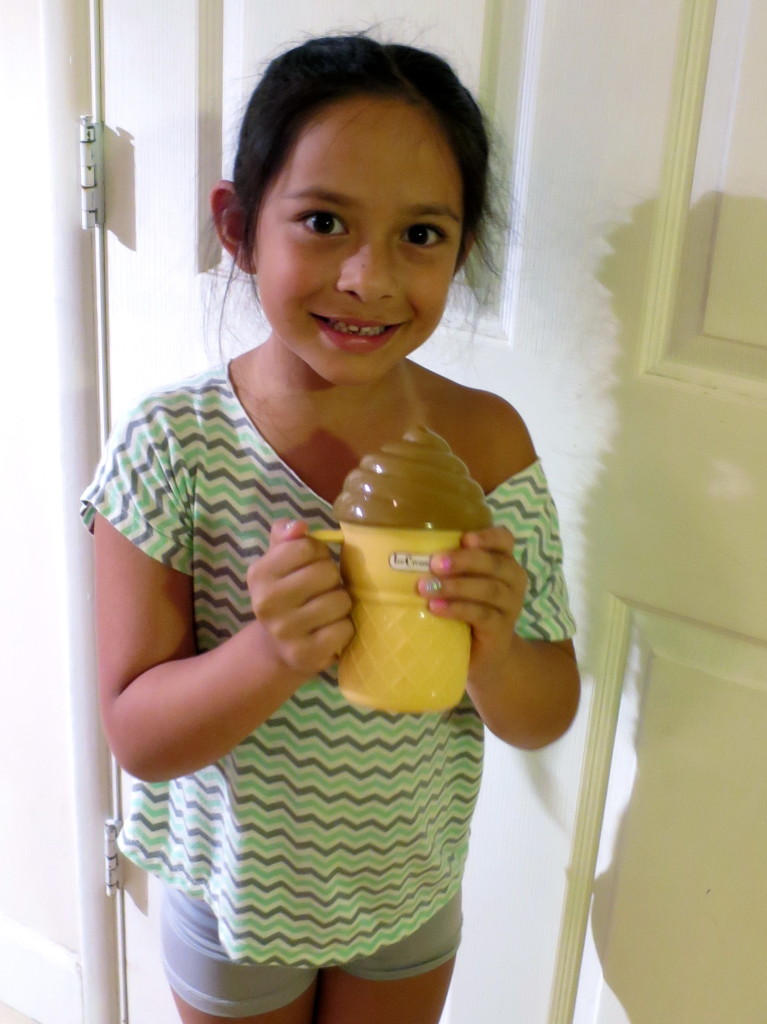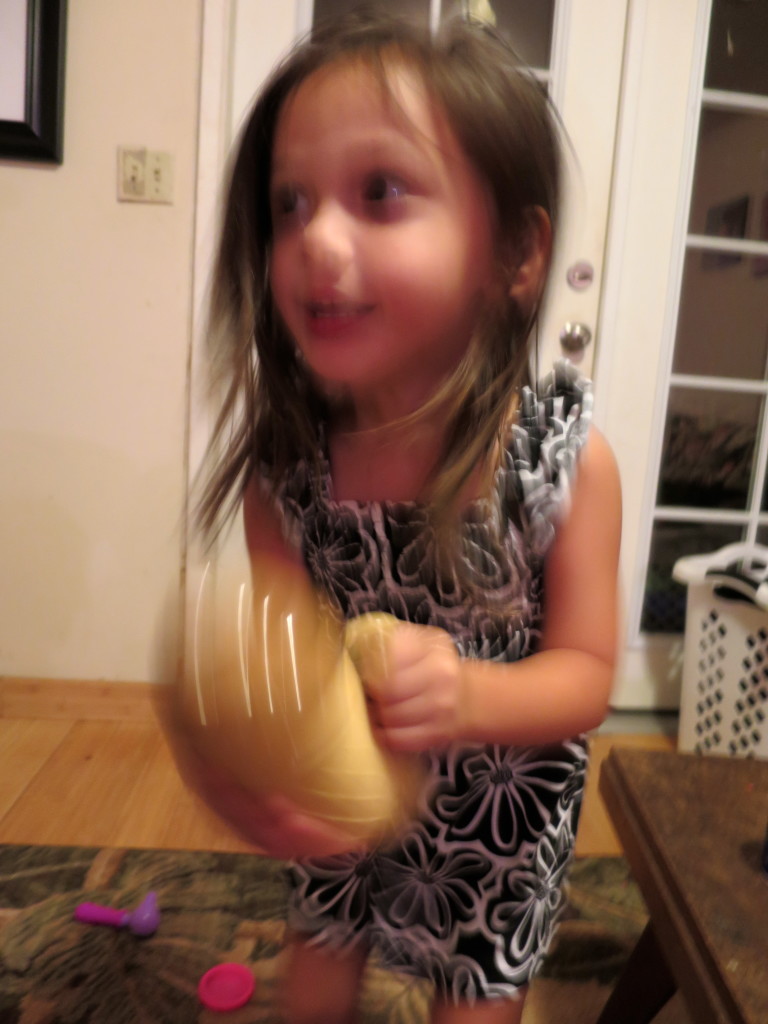 So, did we really have ice cream after just 4 minutes?
Upon opening the lid, I found what resembled melted ice cream. I was disappointed that it didn't completely freeze, especially since we shook the container for an extra minute. When I stuck the spoon in I found that that there was some thicker ice cream on the sides as well as at the bottom of the freezing bowl. I mixed it a little, put the lid back on and we set the timer for two more minutes. This time the girls weren't the eager volunteers they were when we first started, so I continued shaking vigorously for two more minutes. After all that shaking, I really hoped to find some thick and creamy ice cream. Unfortunately, although it thickened slightly, and there was some at the bottom that reached the consistency I was hoping for, the majority of it still resembled melted ice cream. I scooped out the thickest ice cream I could get and gave it a try. There was a strong vanilla taste, but not bad at all. My daughters absolutely loved it.  Commenting on how yummy it tasted. After sharing the little bowl, they asked to make more.  Too bad after all that shaking, I wasn't in the mood to make any more.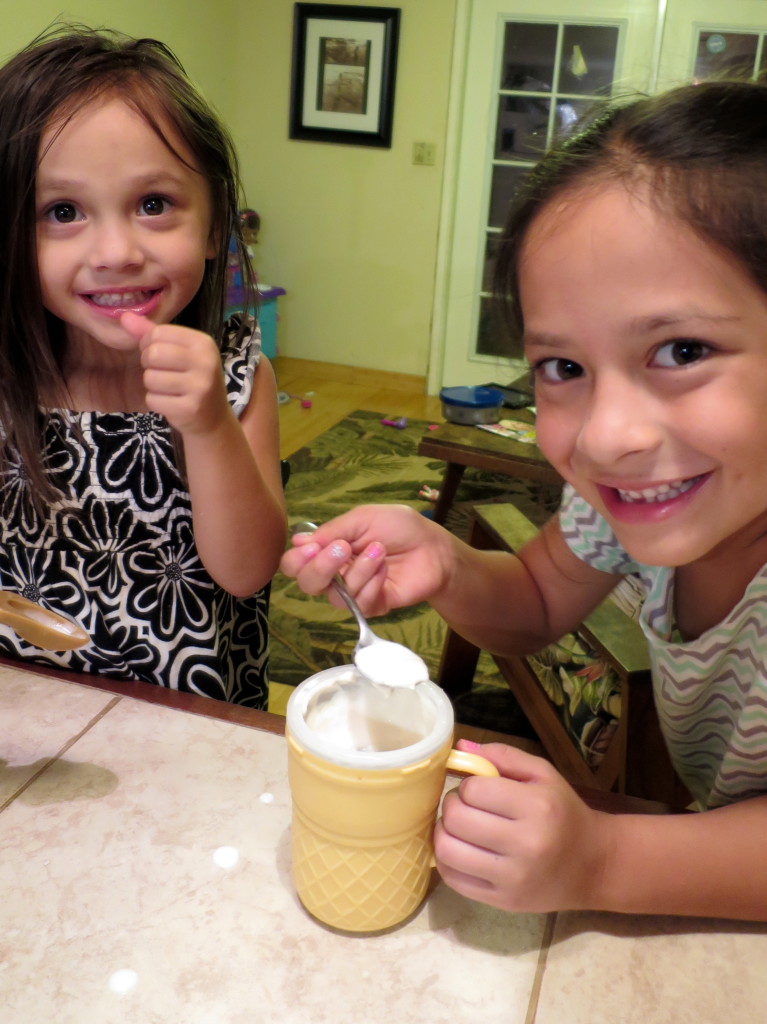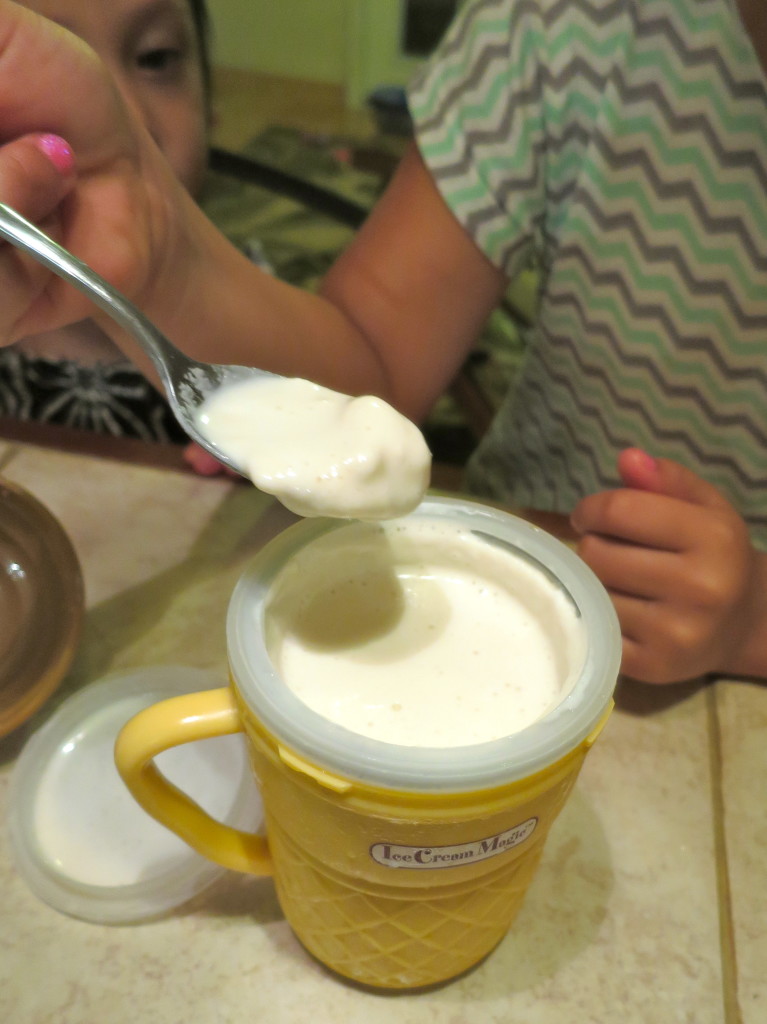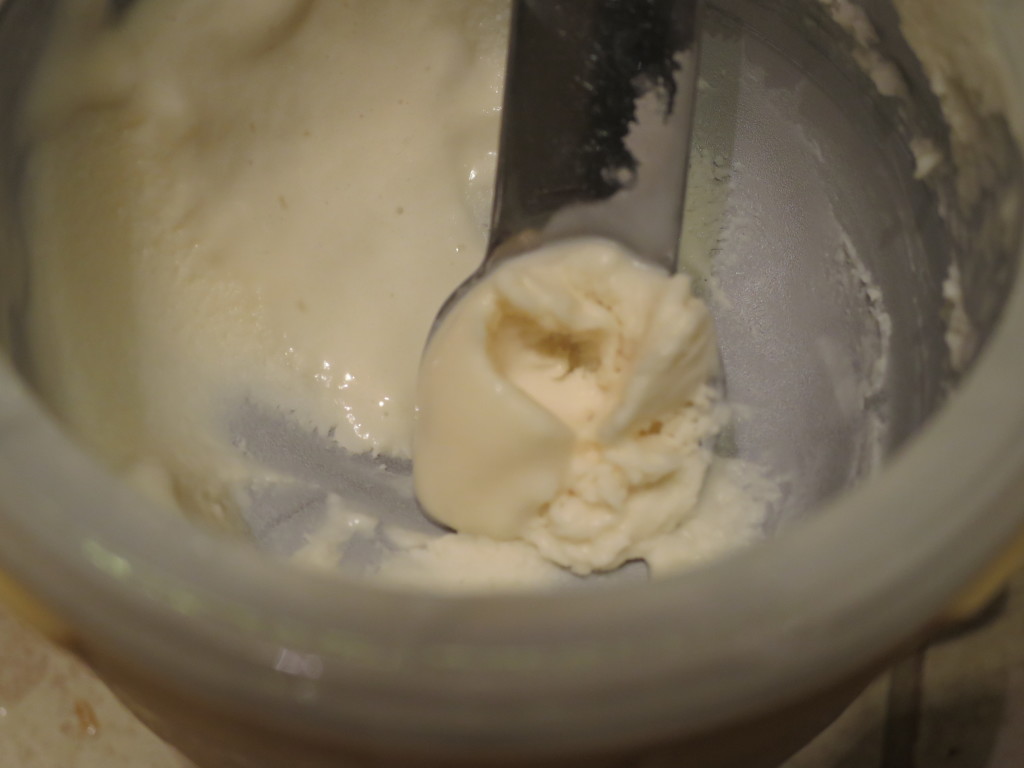 Would I recommend it?
Although it didn't work perfectly, and it's not for everyone, the Ice Cream Magic can still be a fun gift for kids.  My girls didn't mind the ice creams consistency at all, in fact they really enjoyed it!  Doesn't surprise me, they must take after my husband who sometimes lets his ice cream melt on purpose!  What I really love is the fact that you know what you're putting in the ice cream and can leave out all the artificial flavors and colors if you like.  I'm sure it'll also be fun to try new flavor combinations.  The Ice Cream Magic is simple enough to use that if my seven year old wanted to make some ice cream on her own, she could!  She'd just have to spend some time shaking.  Or maybe I'd suggest shaking for three minutes to get the ingredients mixed, then put it in the freezer to get a thicker cream.  If the shaking doesn't sound like fun to you, I probably wouldn't recommend it, especially since it will definitely take longer than just three minutes!
The Ice Cream Magic is priced at $14.99 and can be purchased through their website.