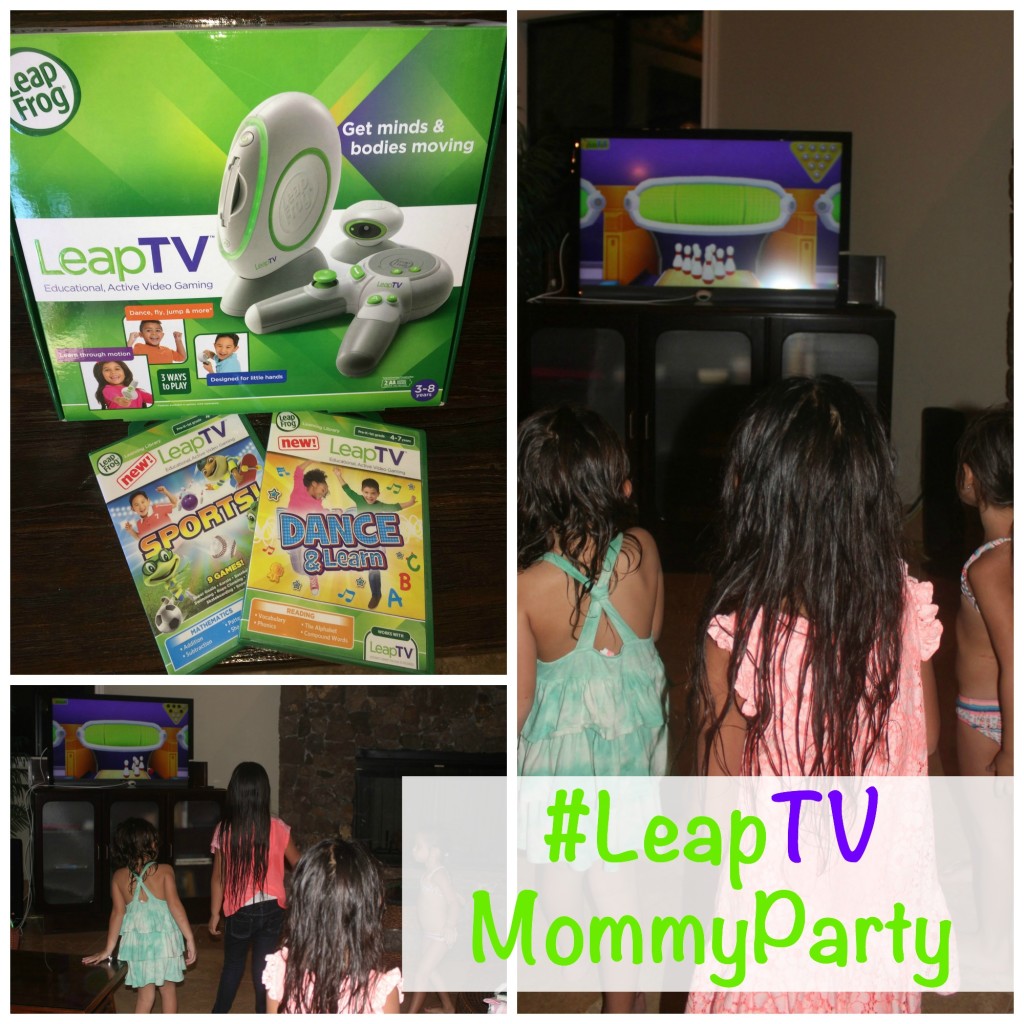 Disclosure: I received free products in order to host the LeapFrog sponsored MommyParty.  The opinions expressed here are my own.
We held our LeapTV "Leap Into Gaming" MommyParty this past weekend.  Everyone had lots of fun!   Along with the LeapTV gaming console we also received two games, Sports and Dance & Learn.  Both games are excellent for getting kids up off the couch and active!
The LeapTV is an active video gaming system from Leap Frog.  Kids learn through motion as they jump, dance, and more.  LeapTV teaches core skills across reading, mathematics, science, and problem solving.  Games adapt to each child's level – starting with age, and then automatically adjusting the learning for just the right challenge.  It was designed specifically for kids ages three to eight years old.  It includes a motion-sensing camera that puts a child right into the game as well as a controller that can be transformed for classic gameplay and pointer control gameplay.    There are three ways to play with the LeapTV gaming system- Body Motion, Pointer Play, and Classic Control.  The suggested retail price for LeapTV is $149.99.
I was able to set up the system easily.  I love that there aren't many cords and the LeapTV gaming system is small and compact and doesn't take up too much space.
We held our LeapTV Party in the late afternoon after my nieces 1st birthday party which was earlier in the day.  It was the perfect time to hold the party as our friends and family were already there.  After playing in the pool, the kids all came inside for some gaming fun!  There were 8 kids at our party who were all very anxious to get started playing.  We started off with the Sports game and the kids chose to try Skateboarding and Bowling.  Everyone took turns and cheered eachother on.  Once we were done with the sports it was time for a little dancing fun! Joy and laughter filled the air!  The Dance & Learn game was awesome, especially for the 3, 4, and 5 year olds who really got into it.  It was great that the games could be enjoyed by a wide range of ages.  Party guests ranged in age from 3 to 11 and everyone had fun playing!
Our LeapTV MommyParty was an absolute success!  Everyone left wanting a LeapTV of their own.  The parents were glad they got to see it in action.  Some had seen it in stores, and was curious to see how it really worked.  One parent had mentioned that they have a Wii, but it's still a little too advanced for her girls.  She loved that the LeapTV seemed perfect for their age range and gaming abilities.  I'm sure a lot of my party guests will end up with a LeapTV under their Christmas trees this year!