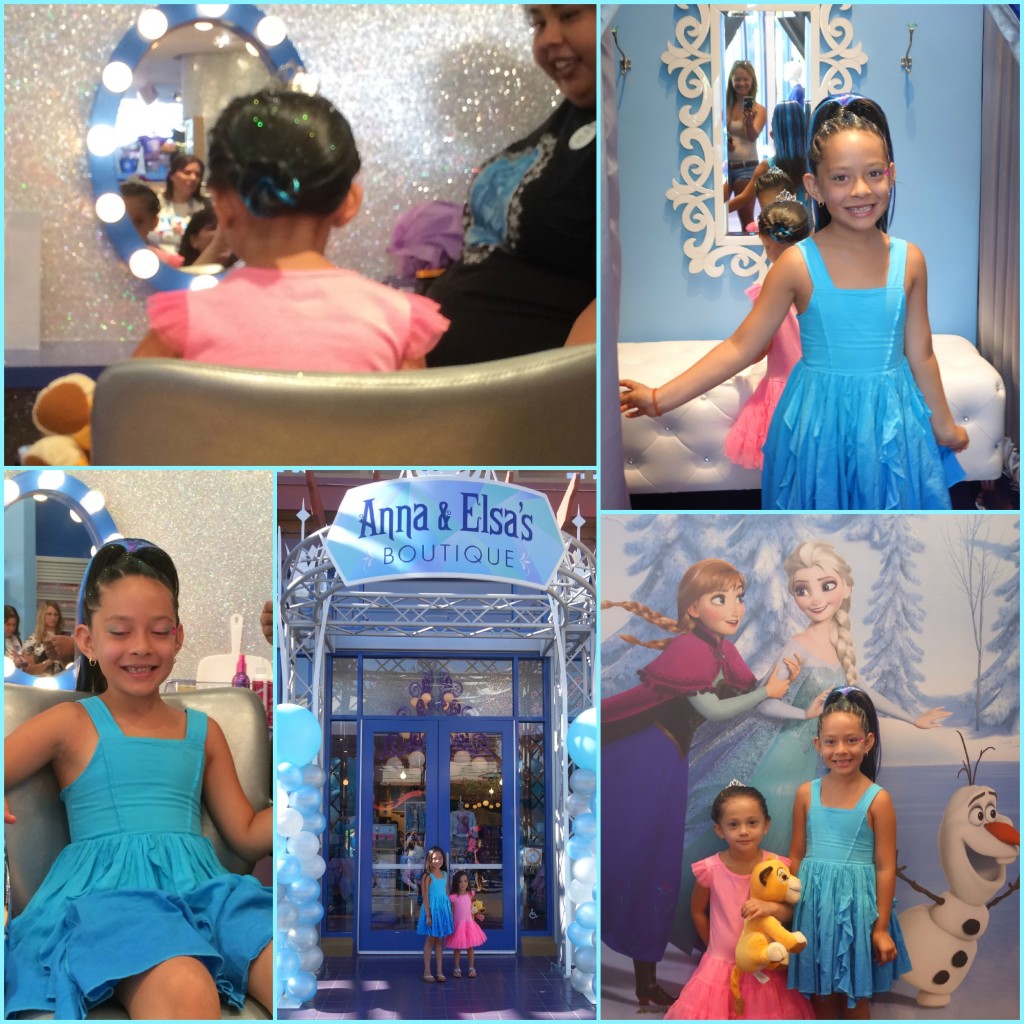 Anna & Elsa's Boutique opened on October 6th, 2014 in Anaheim's Downtown Disney.  I had previously booked reservations for Studio Disney 365.  After I booked, the shop went through a transformation and reopened as Anna & Elsa's Boutique.  Little did I know, the opening date would be the date I had previously reserved!  I had chosen that day as we were attending Mickey's Halloween Party at Disneyland later that afternoon.  What better way to enjoy the Halloween festivities than with a new makeover!
We arrived at Anna & Elsa's Boutique about 10-15 minutes before their 10am opening.  At that time, there was already a long line of Frozen fans waiting outside.  We were told to wait in line, and they came and got us when it was time for the girls makeovers.  Our appointment was scheduled for 10:10.  If we hadn't made reservations, I don't think it would have been possible to get an appointment on opening day, so I'm very glad we did.
Anna & Elsa's Boutique features all things Frozen!  Not only is there merchandise, but also an area where kids can get their makeovers.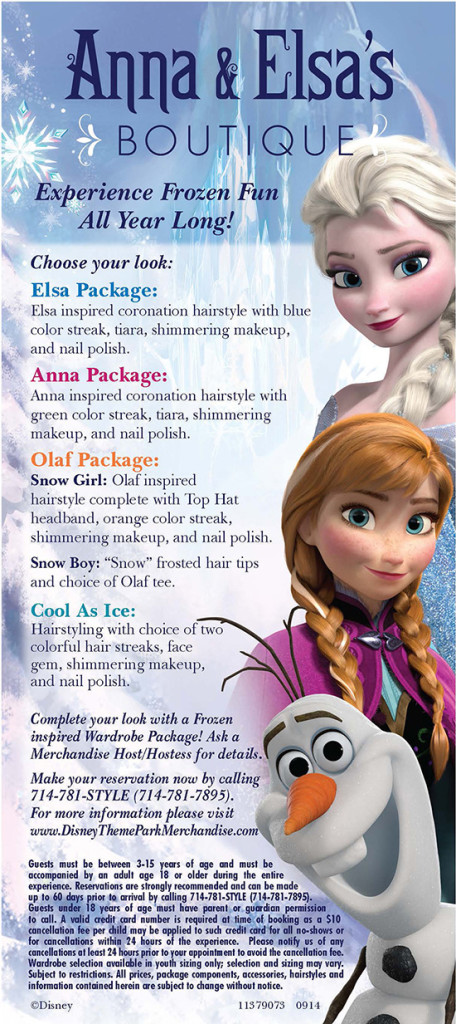 The girls were able to choose from 4 styles – Anna, Elsa, Olaf, and Cool as Ice.  My seven year old was happy to see the Cool as Ice look as she had been really looking forward to Studio Disney 365's Pop Star makeovers.  Cool as Ice was perfect for her and anyone else who feels too "old" for an Anna or Elsa hairstyle.  I wasn't the least bit surprised when my 4 year old chose the Elsa hairstyle.  All options are really cute!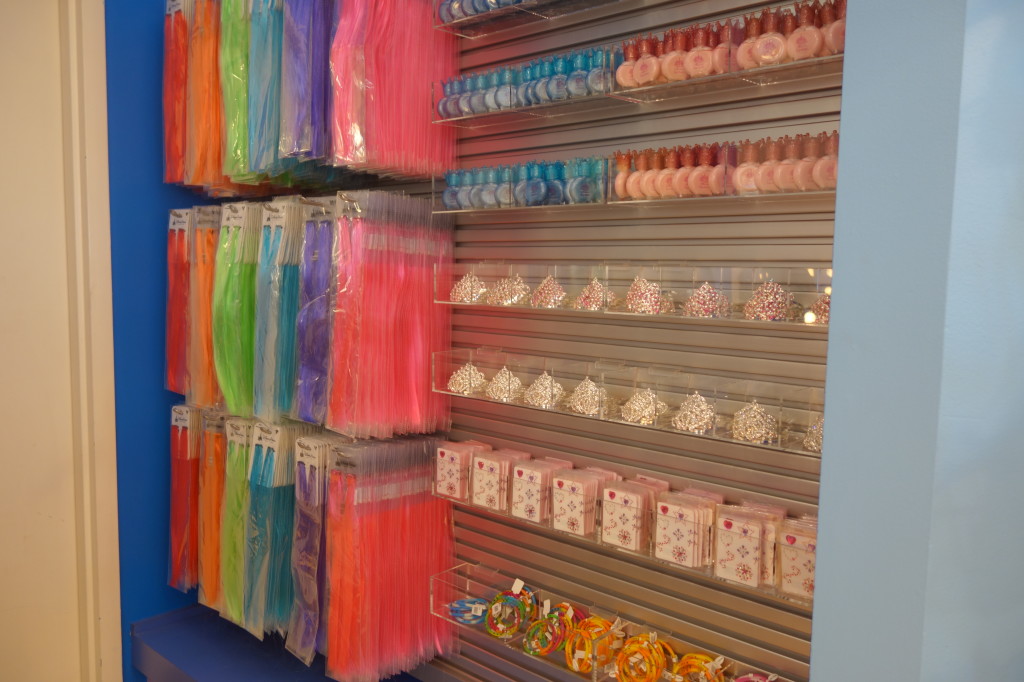 After choosing their hairstyles, the girls were able to choose the color of their hair extensions (Cool as Ice comes with 2 colors & Elsa comes with one), nail polish color (pink or blue) and Tiara (Elsa).  Then they sat at the chairs and the stylists got started.  Cool as Ice seemed to be a bit more complicated and took a little longer than the Elsa style.  It also could have took a little longer because my daughter has very long hair!  After the hair is done, the girls get their nails painted and makeup done.  They're able to choose the color of their eyeshadow and lip gloss.  Once that's done they get sprinkled with glitter and their new look is revealed!  It was a really fun experience.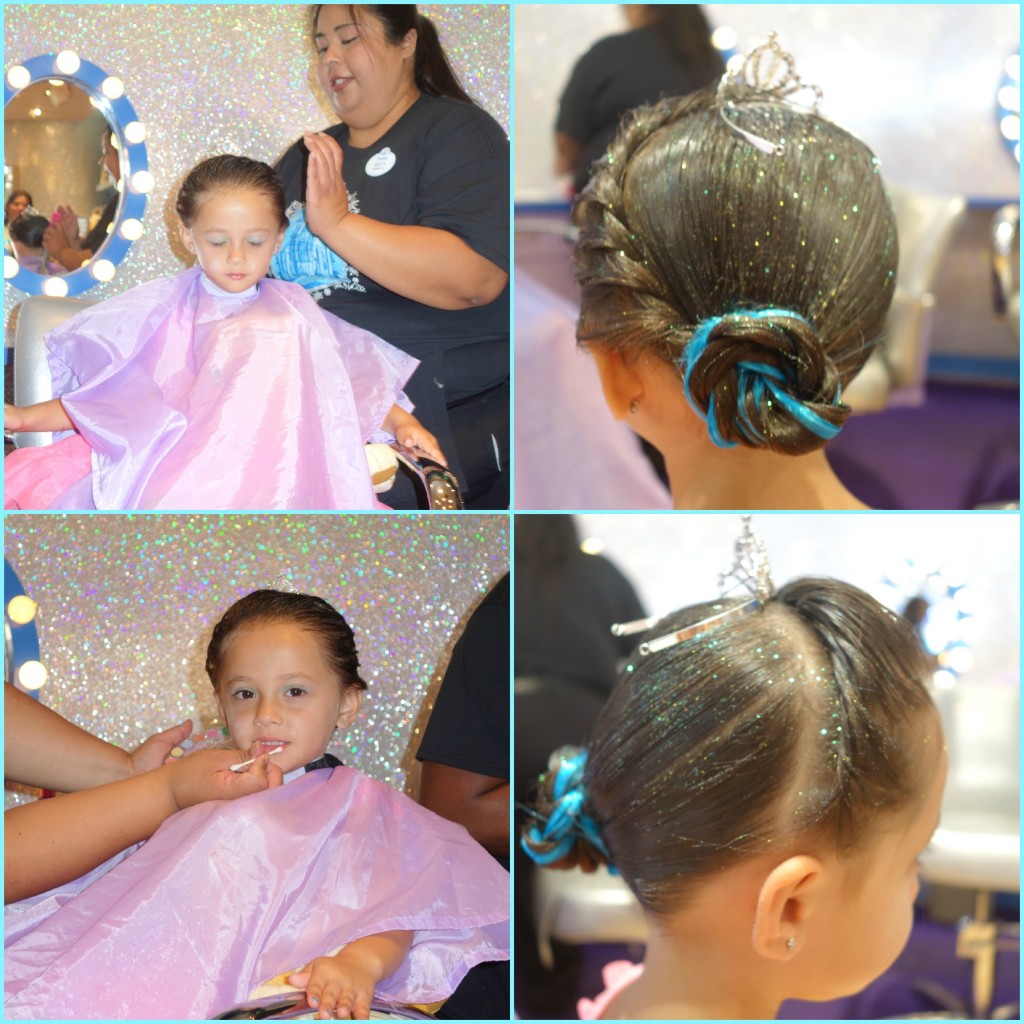 Both girls really enjoyed the whole experience, and felt beautiful with her new looks.  For just $34.95 it's definitely worth it.  The girls were sent home with a goody bag filled with the comb and brush used to style their hair, their makeup pallet and nail polish, extra rubber bands and bobby pins, and for the Cool as Ice look my daughter got to take home the sheet of extra face gems as well.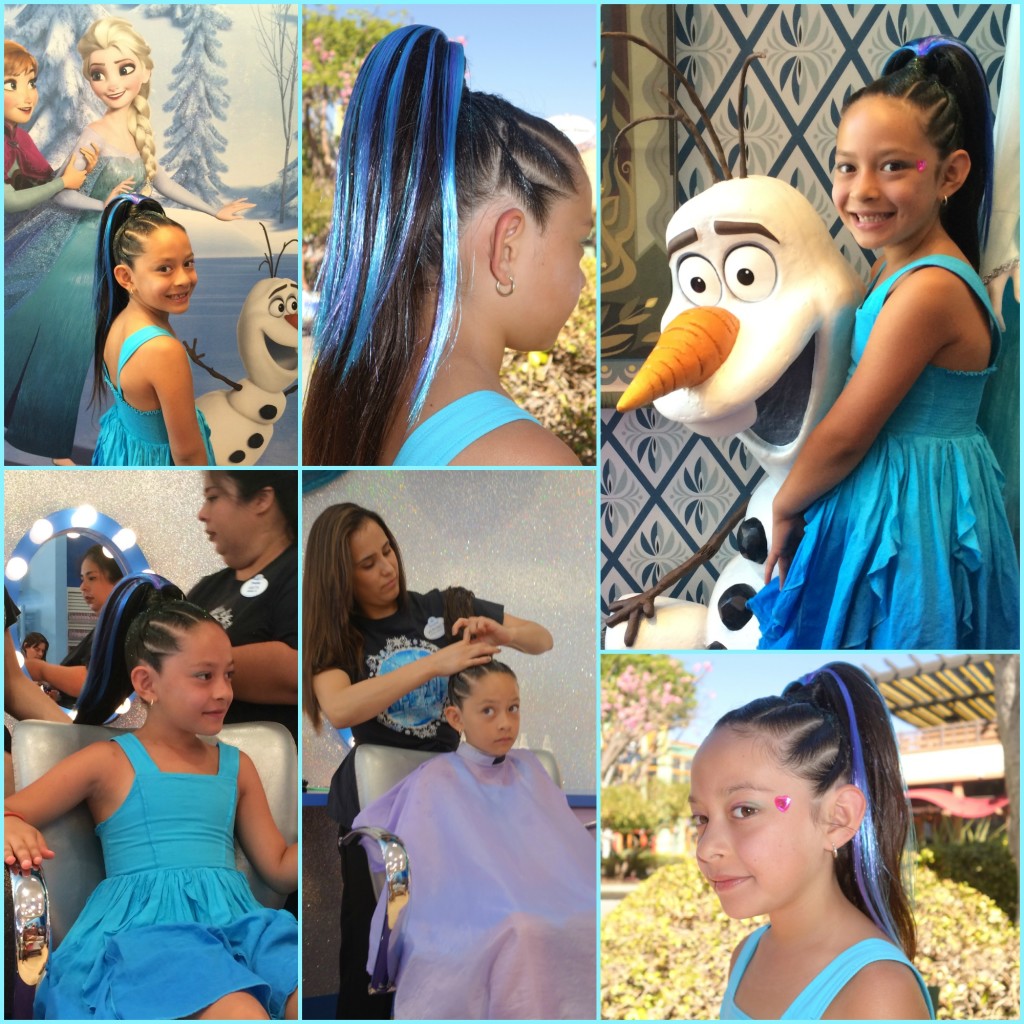 If you have a Frozen fan, I'd highly recommend Anna & Elsa's Boutique.  It's a priceless experience your child is sure to cherish.  Guests must be between 3-15 years of age.