I have two little mermaids who will be absolutely thrilled with their Mermaid Tail Blankets from Cuddly Blankets. I haven't given it to them yet, as I plan to surprise them with it on Christmas morning. These blankets are so adorable! They're perfect for any little mermaid in your life. My girls love to swim and will swim in the ocean or pool any chance they get! Last year, we got them mermaid tails they could use in the water and they really loved them. I can only imagine how excited they'll be to receive these mermaid tail blankets.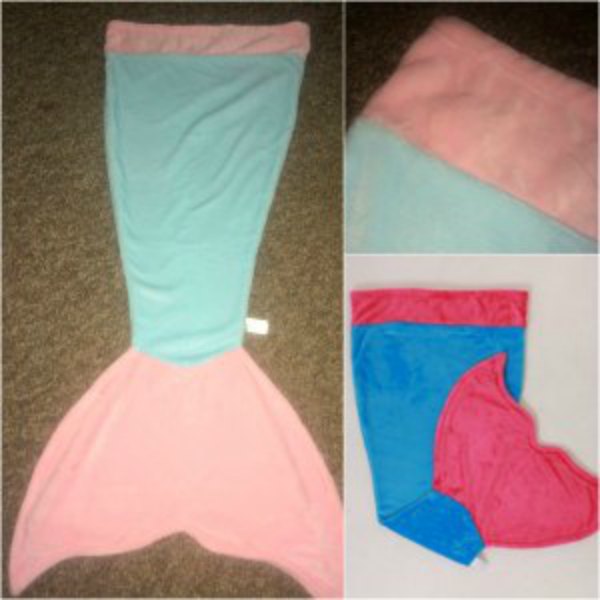 We're in Hawaii, where Winters usually aren't so bad. Well, Winter isn't even here yet, and it's been so cold and rainy! We aren't able to make it to the beach on the sunny side of the island often, so these mermaid tail blankets will have to do!  It's great that the girls can be mermaids even out of the water, with these awesome tails. It'll be perfect for lazy days lounging around at home, watching movies, reading, and more. I'm sure they'll get lots and lots of use out of these mermaid tails. Made out of a polar fleece fabric, these blankets are super soft, cuddly and seem to be of high quality. They exude comfort!
Cuddly Blankets Mermaid Tail Blankets come in a variety of color choices. My girls got the Aqua & Light Pink and the Ocean Blue & Hot Pink. The Aqua tail is a lovely pastel color while the Ocean Blue is nice and vibrant. These blankets measure in at 56″ x 20″ and are made to fit kids from 3-12 years old. It's nice that the younger kids will have room to grow and will be able to use it for years to come. You can purchase these blankets on Amazon for $36.95. Cuddly Blankets Mermaid Tail Blankets will make a wonderful gift this Holiday Season. Any girl will be thrilled to receive one!