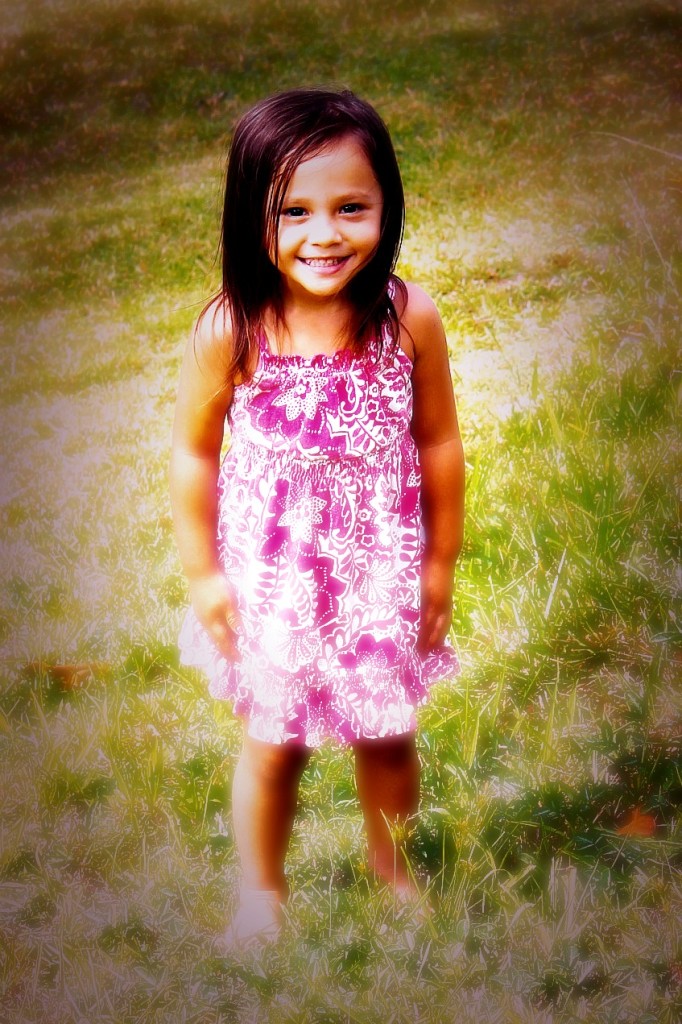 My baby is growing up so fast.  Where oh where has the time gone?  Kanai'a turned 3 years old today.
Kanai'a is my little rascal.  At times she drives me crazy and reminds me so much of Dennis the Menace.  I'm not even kidding!  My pretty little girl isn't always naughty though, she can be the sweetest little thing when she wants to be.  She says the funniest things, and likes to talk…and talk…and talk!  She's always up to something, and loves doing things she shouldn't be doing, like drawing on the walls, furniture, and toys!
Her new favorite thing to do is make "Camp Outs".  I have no idea why she calls it that, but Camp Outs are when she uses pillows, blankets, and the sofa cushions to make little forts, and she builds them well.  When she first started building these Camp Outs my older daughter would come home from school and think I'd helped her, she couldn't believe she had done it herself. After working hard to build a Camp Out, she once told me, "this is the best camp out ever!" I think she just might end up being a Carpenter like her daddy.
A month or so ago I told Kanai'a her Birthday was coming up, and she'd be turning 3.  I asked her what she wanted for her Birthday and she said a "rubber duck".  Really?  That's it?  She really doesn't ask for much.  I've asked her a few times since then as I figured it would change, but each and every time I ask, she'll say she wants a rubber duck!  She has added a monkey to the list as well.
We're taking her out to dinner for her Birthday.  Then, next Saturday, we'll have a party with family and friends at the beach.  My niece was born just 3 days after Kanai'a, so they will be celebrating their 3rd birthdays together.  You'd think they'd be excited right?  Not so much.  When I told Kanai'a she and her cousin would both celebrate their birthdays together at the beach she said, "that's not a good idea, only ME, not Kai Kai".  Yes, that's my Kanai'a for you.  I'm hoping they'll get along for the day, and we won't have any fighting.
Here's some pictures of Kanai'a throughout the last 3 years.  Look at how much she's grown!