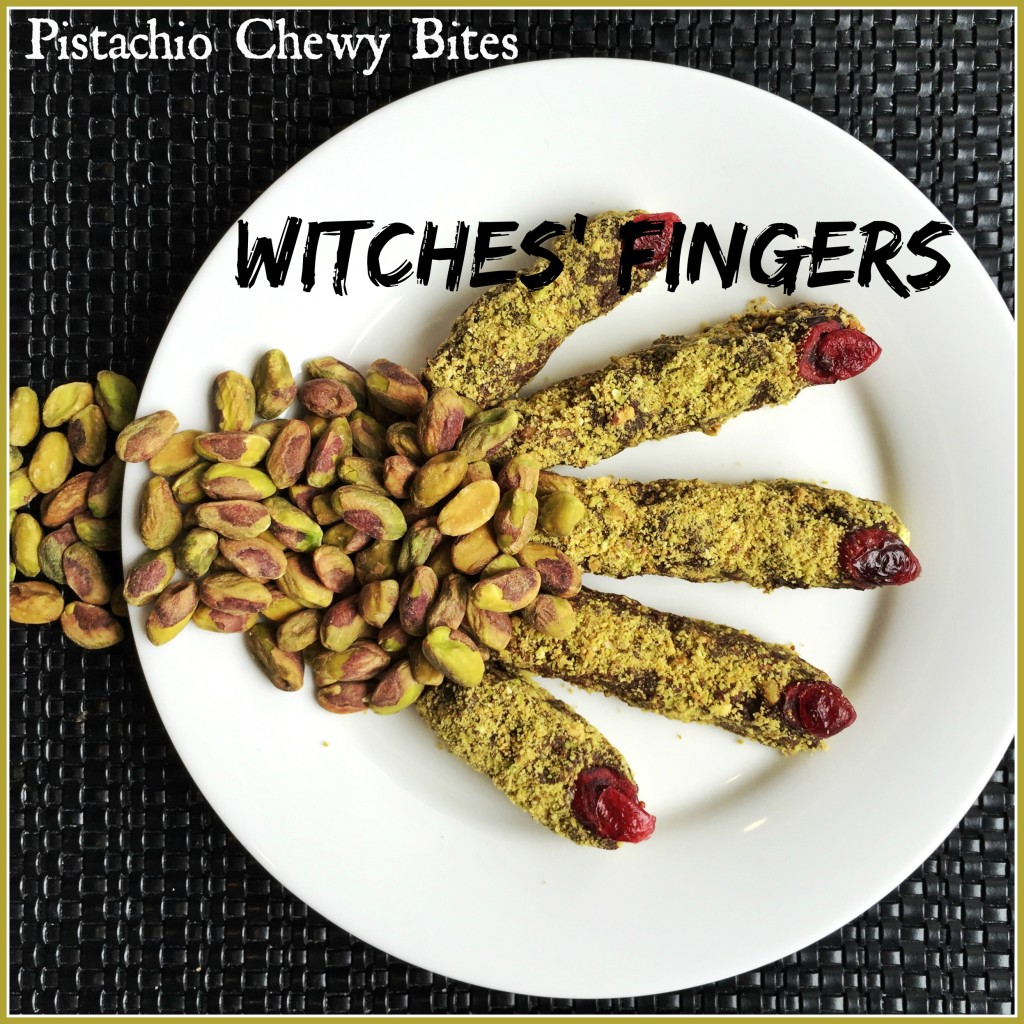 October is here, which means Halloween is near!  As this spooky day gets closer, I'm sure many of you are looking for the perfect treats for a Halloween celebration.  Heather Goldberg and Jenny Engel of Spork Foods have created some scary Pistachio Chewy Bite Witches' Fingers.
I thought their creation was just too cool not to share!  Not only is it a fun, creative Halloween treat, it's healthy too.  I know the kids will be eating loads of candy and other sweet treats, so it's nice to offer healthy treats like these for a change.
Pistachio Chewy Bite Witches' Fingers
Yields 6
Ingredients:
6 Setton Farms Pistachio Chewy Bites
1?4 cup almond milk
1?2 cup non-dairy dark chocolate chips
Dash sea salt
12 dried cranberries
1?2 cup Setton Farms Roasted Pistachio Kernels, finely ground
Directions:
Unwrap all chewy bites and cut each chewy bite in half lengthwise. Gently press the two halves together, with the stickiest sides facing each other, creating one long strip. If desired, to create thumb and pinky finger, leave two halves short.  Set aside.
Place chocolate chips in a heat-proof bowl.
In a small pan, bring almond milk to a boil.  Pour over chocolate chips and let sit for about 20 seconds to melt chocolate.  Add sea salt.  Whisk until smooth.
Dip long Pistachio Chewy Bite strips into chocolate mixture and then sprinkle or roll in pistachios immediately. Place on wax paper lined plate and top each strip with 2 overlapping dried cranberries at the tip.
Set aside for about 20 minutes to firm up.
About Pistachio Chewy Bites
With two main ingredients, Pistachio Chewy Bites provide healthy snack lovers the amazing benefits of pistachios and cranberries in a delicious and nutritious bite-size bar.  Pistachio Chewy Bites are heart-healthy, 100% all natural, gluten and dairy free, low in sodium, GMO free, vegan and a great on-the-go protein snack.  They also have no cholesterol, zero trans-fat and are a good source of dietary fiber.  These nutrient-rich snack bars provide a great balance of carbohydrates, protein and fat for sustainable energy. With 7 grams of protein, 3 grams of fiber and healthy fat, the individually wrapped bars are the perfect one stop shop.
Available in major grocery store chains across the country such as: Bristol Farms, Fairway, Shoprite, A&P, Roundy's, HEB, Safeway, Ingles, Gelson's, King Kullen, Earth Fare, Price Chopper, Wegmans, Save Mart, Lucky, Hy-Vee, Shop n' Save, etc.  They are also available online at Amazon.com and Puritan.com.
Pricing: 6-Pack $5.99 and 16-Pack $12.50
Website: http://www.pistachiochewybites.com
About Spork Foods
L.A.-based sisters and celebrity chefs, Heather Goldberg and Jenny Engel of Spork Foods are vegan chefs that own a Los Angeles-based gourmet cooking school. The culinary duo are also cookbook authors and work with some of Hollywood's elite including Emily and Zooey Deschanel, Kristen Bell, Dax Shepard, Kristin Bauer van Straten, and Alicia Silverstone.