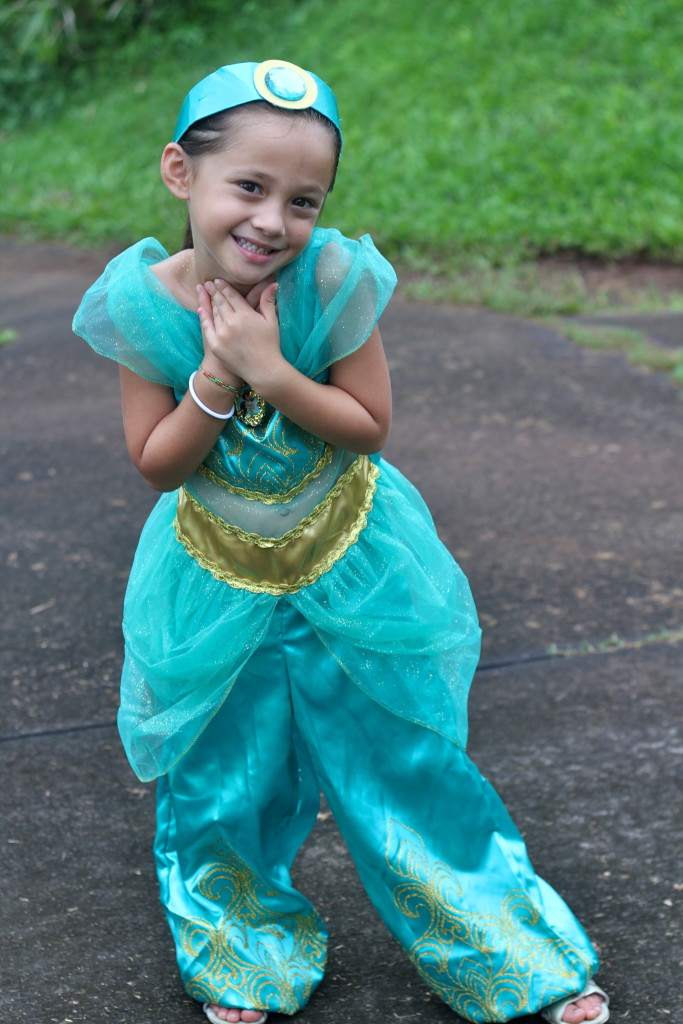 Disclosure:  I received this item for review purposes.  All thoughts and opinions are my own.
Many little girls dream of being a Disney Princess.  I'm sure there will be many princesses out trick-or-treating this Halloween and my 5 year old will be one of them!  When I asked her what she wanted to be for Halloween, she wasn't quite sure.  I had her browse through the costumes on Costume SuperCenter with me and when she saw the Jasmine Sparkle Deluxe Costume, her mind was made up.  I showed her a few others I thought were pretty cute, but there was no changing her mind, she wanted to be Princess Jasmine!
The costume arrived quickly, and as you can imagine, my little one was anxious to try it on.  She's  5 years old and wears sz. 4-5.  The costume states its for sizes 4-6x.  The top portion of the costume fits pretty good, but the legs are way too long.  I guess that's to be expected in a costume that's made to fit a variety of sizes.  It still works fine, but I may just have to roll the legs up a little if they start dragging too much.  I'm hoping that her sandals will help to keep them up.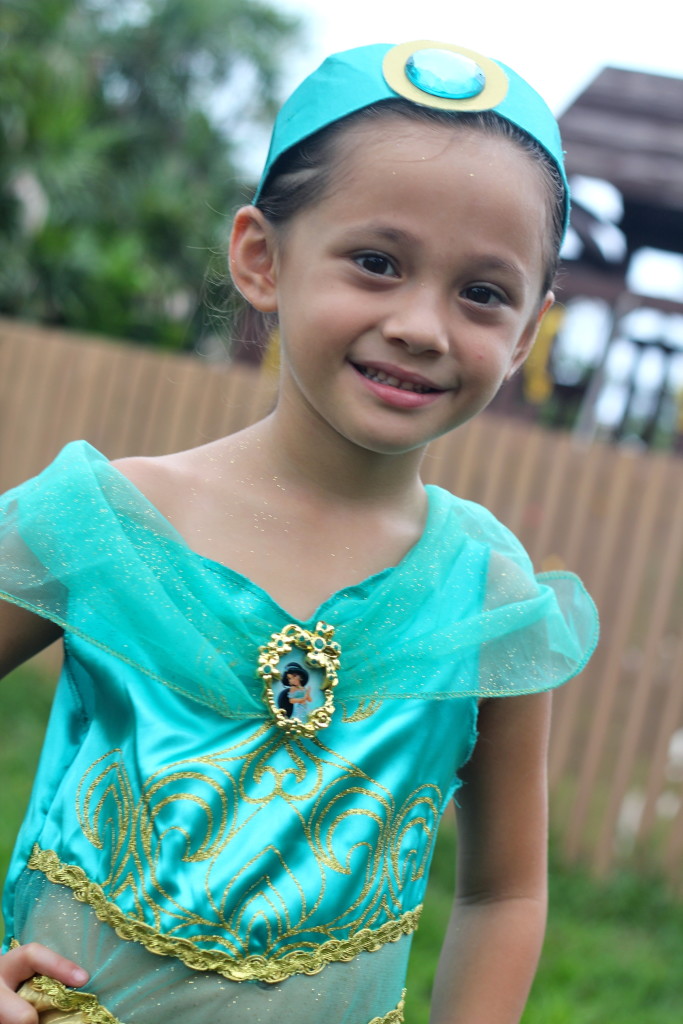 Other than the fit, I must say, the costume is beautiful.  After my daughter put it on, she walked to the mirror and admired herself, smiling and posing in front of the mirror.  From the look on her face, I could tell she felt absolutely gorgeous!
The costume is made of 100% polyester.  The package includes the aquamarine colored Jasmine pantsuit featuring a Princess Jasmine Cameo at the neckline and a headpiece.  I love the beautiful details on this costume.  A see-through glittery mesh adorns the top and hip of the outfit which really adds to the overall look.  Pretty gold glitter designs along the top and leg portions of the costume adds just enough sparkle and shine.  My favorite feature is the see-through midriff.
Overall, the Jasmine Sparkle Deluxe Costume is absolutely beautiful.  It isn't the highest quality costume, but it's priced reasonably and worth what you pay.  After wearing it for a while and taking pictures, my daughter did complain a little of it being itchy.  However, I felt it and it doesn't really feel "itchy" to me.  It's a really pretty costume and if you have a girl who wants to be Princess Jasmine, I do recommend it.
You can also find Costume SuperCenter on Facebook.